Flow Film Festival – All about board sports
It's the final countdown perhaps to the biggest board sports event in Greece, the much anticipated Flow Film Festival.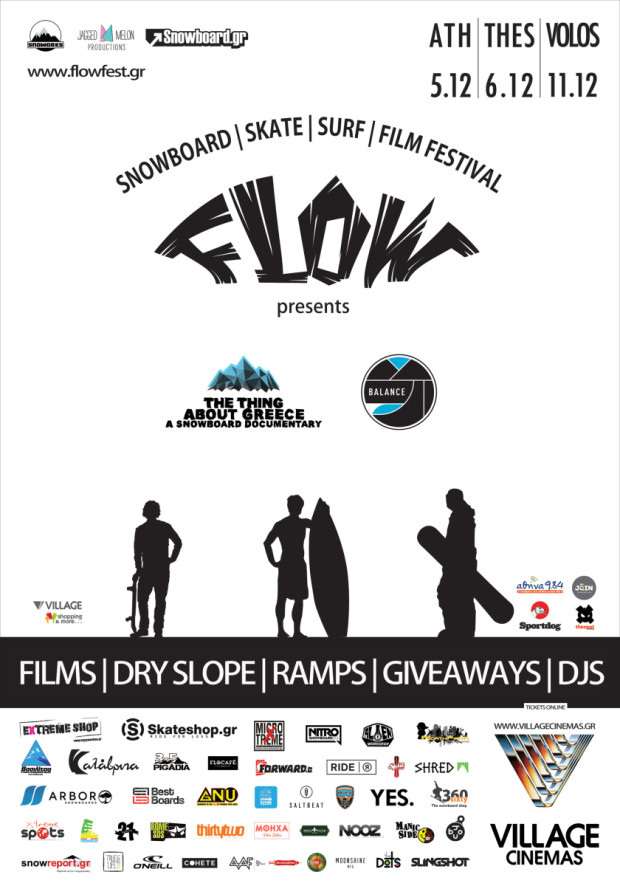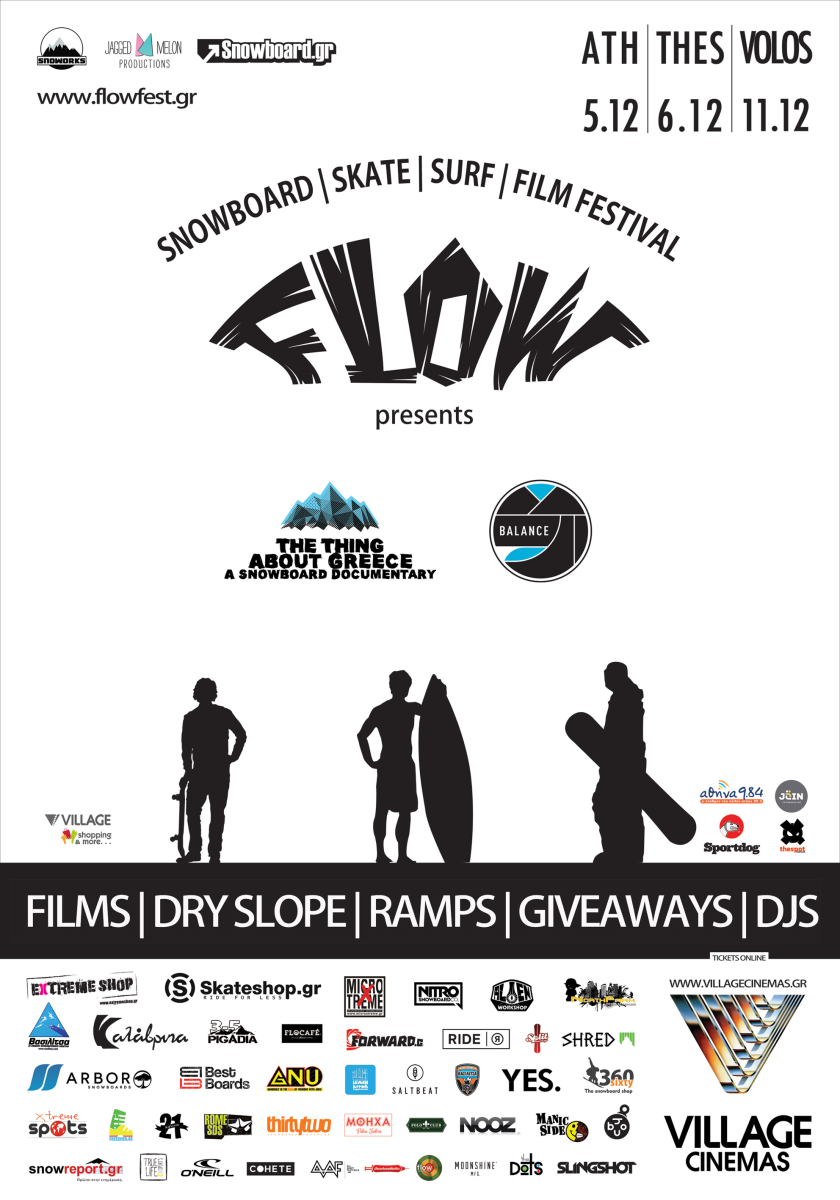 The event involves screenings of movies and documentaries from the International scene; high quality productions that guarantee to take your breath away. The screenings evolve around snowboard, surf, skate and skiing and are of course enhanced by music events and other happenings.
This year and for the very first time, besides the standard screening of the excellent foreign film BALANCE by David Carrier-Porcheron, the Flow Film Festival is proudly screening the premiere of the pioneering Greek production "The Thing About Greece – A Snowboard Documentary", directed by Themis Lamprides and produced by Jagged Melon Productions.
A few words about the documentaries.
BALANCE:
D.C.P.'s production is exploring the culture and state of mind of the people strongly involved with the most beloved boardsports. Powerfully breathtaking scenes of snowboard, surfing and skating and stunts performed by first class riders. The film maker traveled to Indonesia, Shanghai, Canada, Norway, Costa Rica, Japan, Kamchatka and Switzerland and he's trying to make his viewers feel what the riders feel when riding their way to ultimate happiness.
The Thing About Greece:
In simple words, this is a documentary praising the unparalleled beauty of the Greek mountains. If you like many thought that Greece is all about the sun and the beach, this documentary will change your mind. The talented Greek-American film maker, Themis Lamprides, is following a group of the most passionate Greek snowboarders on a tour around the breathtaking and unexplored Greek mountains, aiming to transmit their passion through his lens and motive more people to get involved with the sport, but mostly to follow their dreams and passions regardless.
Greeks wouldn't be called as such if they didn't surround the screenings with a massive party! The pioneering organizers of the 5th Flow Film Festival have arranged for several side action events and happenings to be held, many of which are happening for the first time in Greek rural centres.
What to expect:
Dryslope (an artificial slope for ski & snowboard)
Prize grab – Huge giveaways
Skateboarding – mini ramp
Music (everyone knows that Greeks know how to party!
Flow Film Festival is taking place on the 5th of December in Athens, on the 6th in Thessaloniki and on December 11th in Volos. The screenings will take place in Village Cinemas in all 3 cities and the side events will be taking place in spaces nearby.