Angela Eiter and The Gloom of Triumph
The "grande dame" of climbing, 25-time golden World Cup winner and 4-time lead climbing champion Angela Eiter found herself in Lakonia, Greece and more specifically in beautiful Kyparissi last June. This was the second time that Angela had been in the area. The first time was in November 2014 and she left enchanted by the countless potential routes on the untouched cliffs dominating above this almost microscopic village by the sea.
The Red Bull athlete conquering the grandiose rock over Kyparissi – www.redbull.com
With the help of local pioneer climber Aris Theodoropoulos, Angy – as her friends call her –  got the first information about the huge rock: a few established routes in the sector called Babala, but the rest of the wall was completely unexplored. His words sounded like music to her ears. Angela has not long ago developed a new passion for doing first ascents and with just a hand full of new established routes, this was a great chance for her to add more under her belt.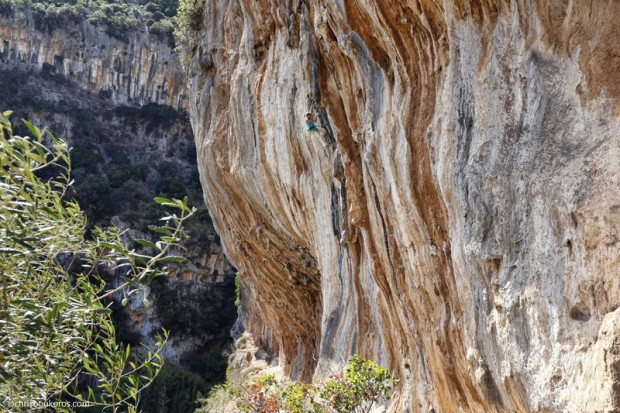 Can you spot Angy in this one? – www.redbull.com
With her boyfriend Bernie by her side, to help her with the bolting which proved tricky as she mentions, Angela's attention was drew by two independent lines. A 35-meter long one, with a lot and extreme overhanging and a variety of tufas. A probably 8c grade line, which Angela though managed to climb fast. These characteristics are very much close to Angy's climbing style.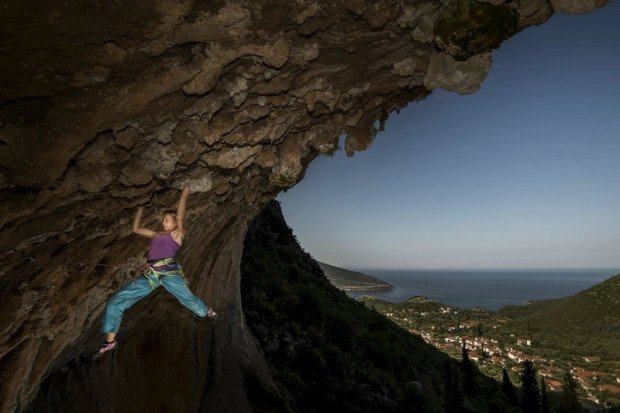 The unexplored routes proved to be very close to Angela Eiter's climbing style – www.redbull.com
The second one proved to be much harder. The route was neither as long nor as steep as the first one. However, the combination of tufas, pinches and crimps required a complex set of movements to get through and made it difficult to get to the top. Slowly yet steadily, after a few days of trying, she made it to the top "super happy but with totally pumped forearms", as she said. She named the newly established route "Gloom of Triumph" in recognition of all the major moments in her climbing career.
Enjoy her in the video below: