The Legend – Way(t) for it – Danny
"Nothing is too gnarly" – Danny Way
It is very unlikely to recognize his name, unless you are a serious skateboarding aficionado. You might have heard though, of what he accomplished on July 12, 2005.
Let me start a year earlier though, 2004, when Danny Way – considered by many as the greatest skateboarder of all time – managed to convince the X Games to make the Mega Ramp the center of their skateboarding competition. That was his "stipulation" if he ever would consider competing at the games. Coming the end of the X Games 2004, Danny Way took home gold.
What is a Mega Ramp?  Think of your neighborhood's skateboarding ramp… now multiply that by a scary lot! A Mega Ramp is the name used to describe or refer to a large-format, half-pipe, vert ramp structure used in skateboarding (and freestyle BMX).
The Mega Ramp built over the Great Wall of China – www.sports-entco.com
A Mega Ramp was what the fearless superhuman Danny Way used to jump over The Great Wall of China and become the first person to leap the wall and land successfully, without the aid of any sort of propeller or motor. Way broke two world records that day, with a shattered ankle, a foot the size of a football and a non-functioning knee; after climbing ten long flights of stairs on a broken bone, to launch off a wobbly platform a couple hundred feet off the ground, to find himself literally flying over the seventy-feet wide wall.
In fact, he performed the jump five times that day, in front of a crowd of Chinese dignitaries and officials, members of his family and some thousands lucky locals, just to take advantage of the – more than half a million dollar – mega vault ramp. Plus he had nothing more to prove. He just had his life on the line.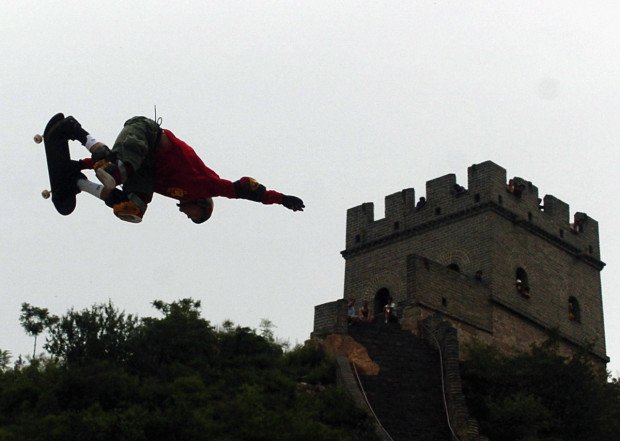 Danny Way literally flying over the Great Wall of China – www.emmalindblad.com
Danny Way is unstoppable. That is his trademark. A non-quitter, a gladiator, a warrior, as fellow extreme sports athletes describe him like.
In 2012, Jacob Rosenberg directed a documentary on Danny Way's tough childhood and his contributions to the sport. The documentary, which inludes footage of his achievement over the Great Wall of China, is called "Waiting for Lightning" and it's a tribute to the athlete's life, accomplishments and way of thinking. Not just through his own eyes, but as seen and described by other pro extreme athletes like pro surfer Laird Hamilton.