The phenomenon of extremely skillful and talented groms (surfing slang for "young surfers") is prevailing more and more in our time. It is no longer rare or strange to see pre-teens being towed in massive waves and totally owning it!
Shaggy sun-bleached hair, irresistible smiles, ingenuity and a lot of talent are just a few of the characteristics of the little grommets below, some of which have grown to be even more talented young adult surfers!
Kauli Vaast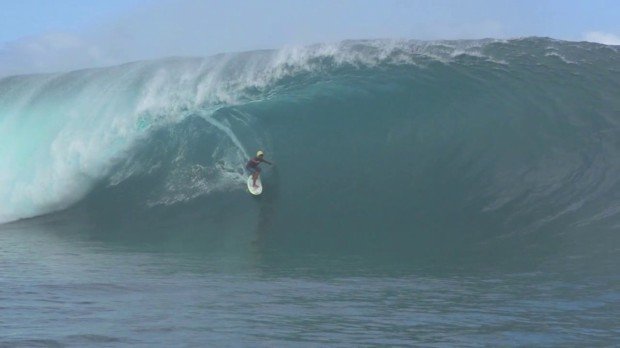 Kauli charging Teahupoo like a Pro – www.carvemag.com
Much older and way more experienced Pro-surfers get all shaky in the idea of "Chopes" but this little grom is not! 12-year old Kauli Vaast from Tahiti has charged one of the heaviest waves in the world, the renowned Teahupoo and he did it so comfortably that many pros would envy! The talented Polynesian is now traveling and surfing the world's most famous spots, but the powerful waves of his homeplace are the ones he's most having fun with.
Riley Laing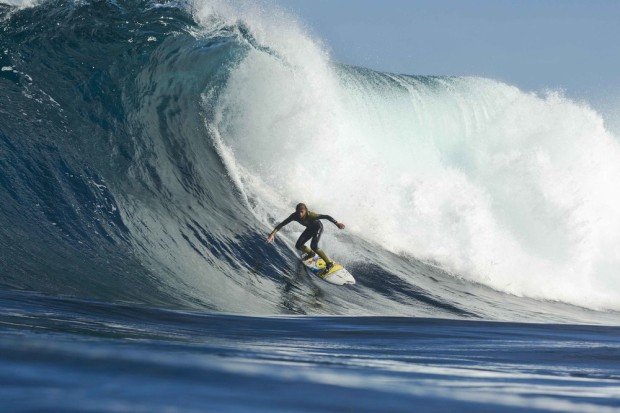 Riley Laing riding the Tazmanian Devil of waves, Shipsterns Bluff – www.rileylaing.com
What were you doing at 13 years old? Aussie Riley Laing was towed into one of the most unpredictable waves of Australia and one of the heaviest on Earth, the Shipsterns Bluff! Not only he charged it solidly, but he also did it alongside his surfing heroes Marti Paradisis, Kelly Slater, Mark Mathews, Tyler Homer-Cross, Ryan Hipwood, Danny Griffths, Wade Goodall and Laurie Towner. Riley, now 17,  is the youngest person to have ever charged this monster.
Noah Bescher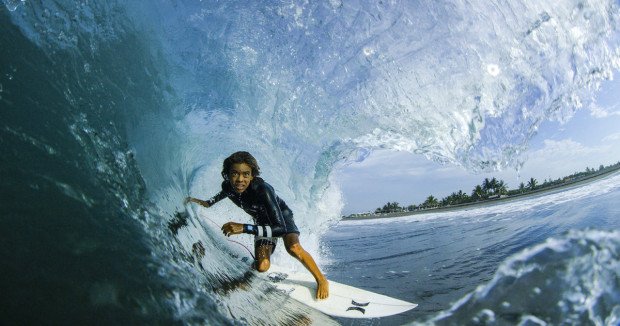 Surfing prodigy Noah Beschen slicing a wave – www.lieberfilms.com
Son of the surfing legend Shane Beschen, this little grom was born with the perfect genes for surfing, at the perfect location too, on the North Shore of Oahu in Hawaii. Noah was identified from the age of 9 as a surfing prodigy and he's only getting better since. Featured in Aaron Lieber's short surf film "The Wild", Noah is doing what a 12-year old does best: having fun and enjoying life whilst gliding through waves triple his size, living up to his father's  legacy.
Jett Schilling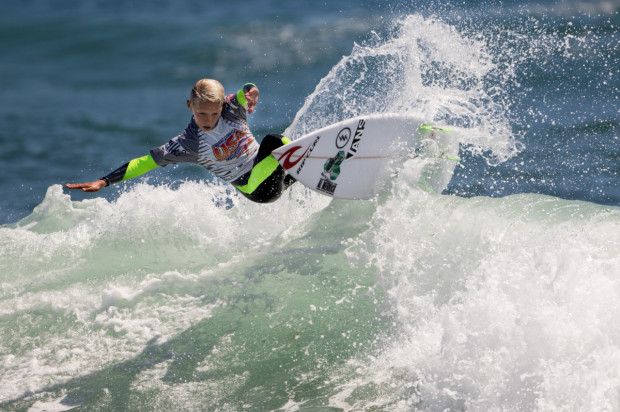 Twelve-year old Jett Schilling – www.sanclementetimes.com
 The "real surf city" born and raised grom, Jett Schilling is considered by many to be the future of surfing. The pint-sized grommet, from San Clemente – USA, is surfing with the novelty of his age, yet looking at him one sees the experience of Pros well above his age. Always wearing a smile on his sun-tanned face, this 12-year old is one to have your eyes on in future competitions.