We are all living challenging lives in a challenging world. Some people though are more challenged than others. Whether you believe in karma or destiny or just in random facts, it doesn't matter really. The situation remains the same.
In a world where everything depends on performance, from the simplest to the most complicated action or chore, I am constantly pleasantly surprised by what people are capable of. When the mindset is strong, the body can't do anything but follow.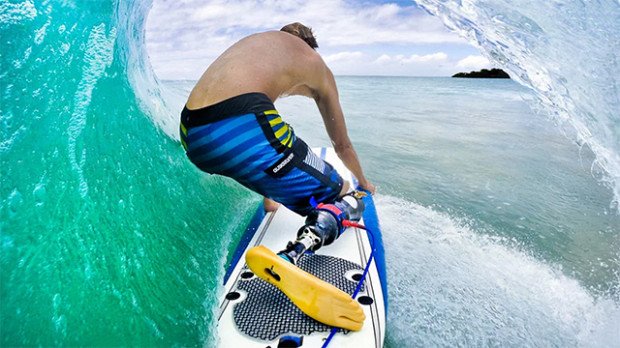 Adaptive surfing ambassador Mike Coots pulling into a barrel – www.isasurf.org
When it comes to challenged athletes, I become particularly sensitive. And I do so because my own physicality has been challenged and I know the hard work, the pain, the determination and the mental strength needed to lift yourself off the floor and RISE! Rise to who you were born to be.
Somewhere here, I'll put a semi-colon to my sentimentalism and I'll tell you more about what the International Surfing Association (ISA) is doing, in collaboration with the Challenged Athletes Foundation® (CAF)*.
The two organisations have recently joined forces and unified global efforts for the advancement and development of adaptive surfing. In fact, the first ever ISA World Adaptive Surfing Championship took place in September 24-27 in La Jolla, California, bringing together adaptive surfers from 18 countries! The athletes competed in four categories depending on their physical challenge: prone, assist, stand and upright. The first four Gold Medalists are: Bruno Hansen (DEN) in Prone, Jesse Billauer (USA) in Assist, Mark "Mono" Stewart (AUS) in Stand and Felipe Lima (BRA) in Upright.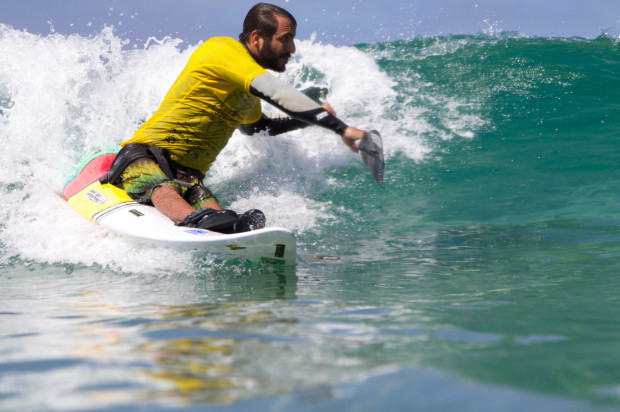 The first to obtain a Gold medal at the event, Brazilian Felipe Lima – www.isaworlds.com
Thousands of people, regardless their challenges, gathered to cheer up the athletes and be inspired by each athlete's unique story. Most of these athletes have been through serious injuries to get to where they are now, so they became quite emotional after competing at the event. Winner of the Assist category, Jesse Billauer of USA, said amongst others: "After I got injured, competition was not something that I thought about, and now I am the ISA World Champion. It's amazing to be a part of this and have all of the countries involved."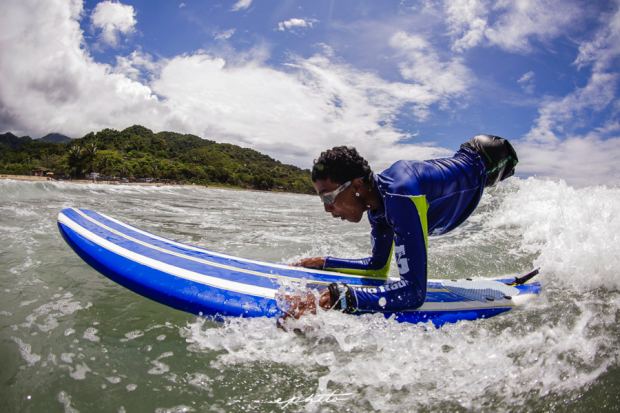 Venezuelan adaptive surfer Alfonso Mendoza – www.isasurf.org
Brief history of the sport:
Adaptive surfing emerged from Brazil. Alcino Neto, a.k.a. Pirata (Pirate), born in Guaruja on July 6, 1969, is the "inventor" of the sport. Pirata started surfing when he was 8 years old, taking part in several regional surfing championships. A serious motorcycle accident, at the age of 16, left him with his left leg amputated. His determination to return to doing what he loved, made the impossible possible and the obvious obstacles that appeared after his accident were overcome one by one, step by step. In 1996, he set up a surfing school at Pitangueiras beach, in Guaruja and introduced for the first time Adaptive Surfing to Brazil. He is now introducing it worldwide, with the help of Quicksilver Foundation and ISA.
*The CAF is a noteworthy non profit foundation that believes in the participation of the physically challenged people in sports; in living full and active lives, participating fitness activities and competitive sports.  The CAF's purpose is to encourage independence and enhance people's quality of life through this exact participation in sports.