Riding Waves – Robbie Maddison's Pipe Dream
Name an element! Call it Earth? Air? Water? There isn't one that, pro freestyle motocross athlete, Robbie "Maddo" Maddison hasn't conquered with his dirt bike!
Maddo is a dreamer. As he says, his inspiration about his projects comes straight from his heart. Give him a bike and a good challenge and he's instantly in; or on, or under it! Creativity is not an issue with Robbie. From jumping over a football field to jumping onto a replica of the Arc de Triomphe, to backflipping over an opened London Tower Brigde, to an 85-meter long jump over the 80 meters deep Corinth Canal in Greece; need I say more?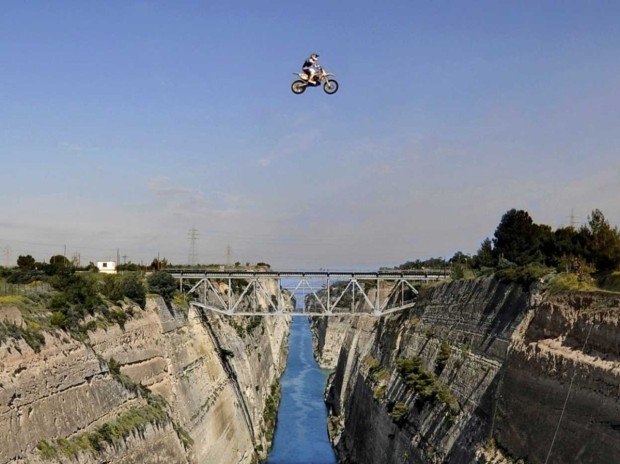 Robbie Maddison flying over the Corinth Canal in Greece – www.businessinsider.com
Having explored with his bike all jumps above (and more), Robbie decided to turn to surfing… He only had one issue. His unwillingness to be separated from his bike! Did that stop him? Of course not! Blurring the lines between what's been previously done and what he dreams of being able to be done, is an everyday routine to Maddo. And when Maddo goes after something, there ain't a thing in the world strong enough to get in his way.
Dreaming two dreams ahead, in summer 2015, the 34-year old motocross extraordinaire took on surfing his bike into a wave. He baptised his venture the Pipe Dream and of course it wasn't just any wave he wanted to ride. Nothing less than Tahiti's legendary Teahupo'o, in the French Polynesia, would be enough for Robbie. Briefly talking about Teahupo'o, it is considered one of the most dangerous surfing spots in the world, counting 5 recorder deaths in the last 15 years.
The whole dream begun from a wakeboard adventure with friends. It was then when he first saw himself riding the waves with bike, given the right mechanics were applied. It took two years of trying and failing, before Jeff Taylor – of DC Shoes – decided to support Maddison's new project. A few months later, Robbie was riding his KTM 250 SX straight into Teahupo'o. His first try failed, so did the second. The third one was flawless and his crew had enough material recorded to make an excellent video. Ohhhh… if only Maddo was happy with excellence…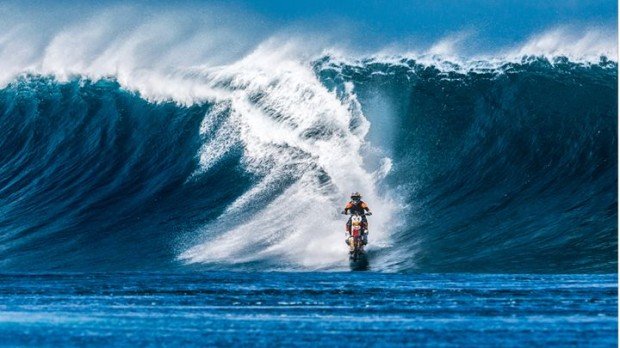 The 34-year old surfing his KTM 250 SX into Teahupo'o, Tahiti – www.rollingstone.com
The weather reports for the days that would follow his third and succesfull ride, were calling for waves over 20feet – that's about what Teahupo'o produces at its peak. He managed to convince his crew to hang around a few more days, so that he'd go after a wave of that magnitude. The surfers from all over the world that literally flooded the area to surf that kind of wave that Maddo was hoping for, led Raimana Van Bastolaer – Tahiti's unofficial mayor and well respected surfer – who was highly involved in the making of the Pipe Dream, to move the shooting north to Papara, another famous local surf spot. The waves there were gigantic, calling fearless Robbie Maddison's body, heart and soul.
In his last ride going after epic shots, Maddo found himself being swallowed by the great Tahitian waves. Maddo was already missing for four to five minutes when his rescue crew spotted him and rushed to his aid. Luckily, he was safe and sound and all he could think about was that his dream project was a success.
Enjoy the epic video below: