With the end of October came the season finale of the Red Bull X-Fighters World Tour. The 2015 season has been an exciting one, with an even more exciting finale and the tightest showdown ever in the 15-year history of the Red Bull X-Fighters.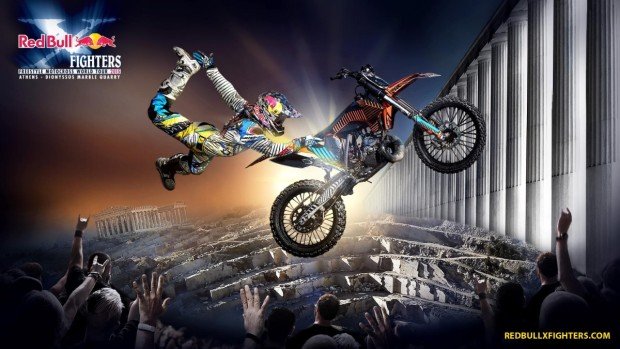 Redbull X-Fighters 2015 Tour made a stop in Athens for the first time in the event's history – www.redbullxfighters.com
Twelve freestyle motocross pioneers found themselves competing at the final stop of the Red Bull X-Fighters Tour at the famous Corniche in Abu Dhabi, however the Title was up for grabs just for two of them. The Aussie Clinton Moore, who dominated in the first two stops, and the French Tom Pagès who won the third and fourth events of the Tour. The finale was expected to be thrilling and such it was!
The two were even on points getting to Abu Dhabi and they were meant to fight in the quarter finals in a battle that would determine their fate in the event.
Pagès, as usual, performed an unbelievable performance filled with his new tricks from this season, but it was a signature trick of his that cost him progressing, as he crashed in the quarter finals trying to pull off his own Alley-Oop Flair stunt.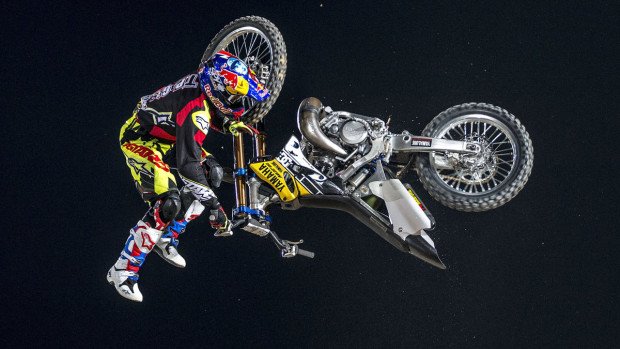 Tom Pagès' backflips and signature trick, though very impressive, weren't enough to grant him the Champion Title – www.redbullxfighters.com
Moore's more conservative – if any stunt can be called as such in motocross – yet flawless performance saw him advancing to the semis where he won the battle over the Spanish Maikel Melero. With an extraordinary performance in the final he secured his third win for the season against his compatriot Rob Adelberg and the 2015 title of Red Bull X-Fighters Champion!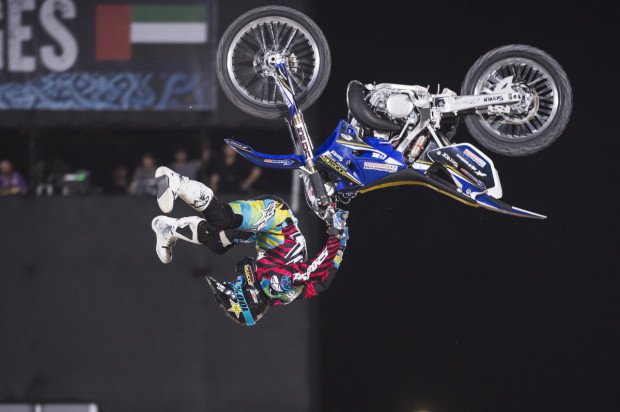 Clinton Moore in an impressive stunt in Abu Dhabi – www.redbull.com
It's been an unbelievable year for Clinton Moore. Not only it was the first time he advanced beyond the quarter finals (2015 season opener), but he finished the season in style, being the overall Champion with three consecutive wins and having performed huge tricks like the Volt. In fact, it was in this last stop in Abu Dhabi that he impressed everyone with the first ever Bundy to no-hand lander; a Bundy flip with no-hands on landing. Undoubtedly, Moore completely deserved this title!
This 15th season will also be remembered for Josh Sheehan (reigning 2014 Champion and 3rd in Abu Dhabi) and Tom Pagès' performances. Sheehan is the first to land a double backflip at the competition, whereas Pagès, even though he only advanced to the quarter finals of this last stop, left the competition with a perfect Bike Flip, a new signature stunt (Alley-Oop Flair) and a promise for even more new tricks for 2016.