Two months after his encounter with a Great White during the final of the J-Bay Open, Mick Fanning jumped over Adriano de Souza at Trestles Beach, California, in the Hurley Pro Final.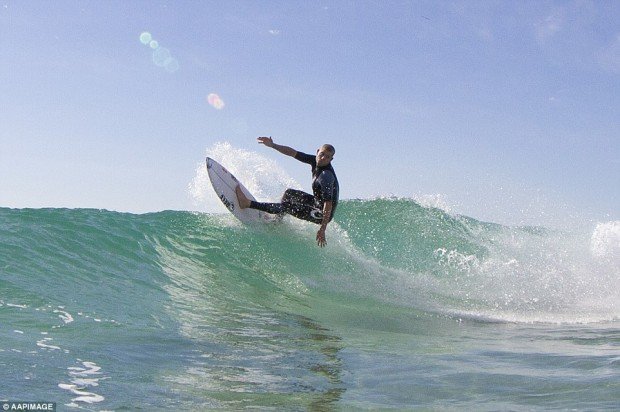 Mick Fanning in action at the Quarter final at the J-Bay Open event at Jeffreys Bay, South Africa – www.dailymail.co.uk
Fanning won the duel over his Brazilian rival, with an almost flawless ride in the 5-foot waves of the Californian beach and scored a 9.77, which added to his previous score 7.67 put him in the lead with just three events remaining for the completion of the World Surf League.
Mike's win at Trestles Beach is even more impressive if you think that he came to California after being eliminated pre-maturely in the third round battle at the reef break of Teahupo'o about a month ago. In Tahiti, logging low scores he lost to Aranburu who ranks 39th in the League. Leader Adriano de Souza had been eliminated in the heat just before, giving him the advantage to place himself on the top, but unfortunately for Fanning he didn't manage to take advantage of it.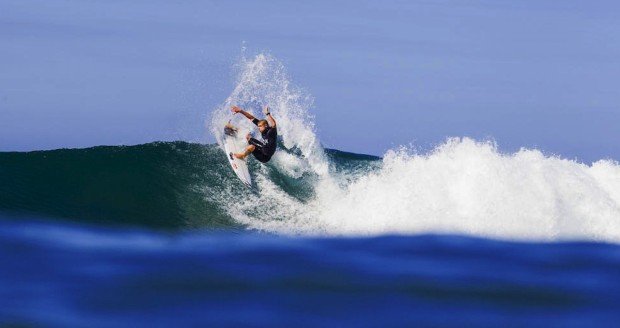 Mick Fanning competing at Trestles Beach, California – With this win, Fanning took a giant leap from #13 to #1. His win didn't come effortlessly though. The athlete went to the spot, with his renowned thirst for win, a week prior to the competition, training hard, getting used to the swell and seeking advice from the local and former professional surfer Mike Parsons.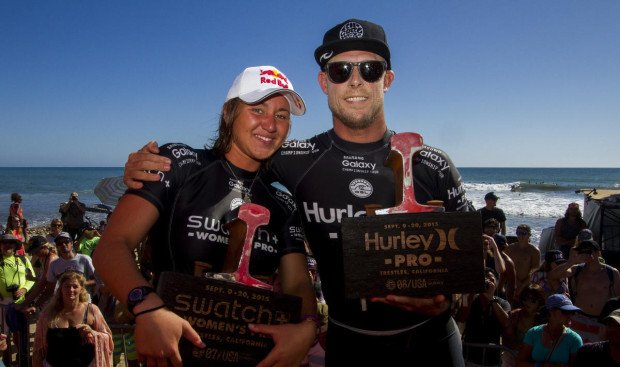 Australian Mick Fanning (winner of Hurley Pro), here with Carissa Moore from Hawaii (winner of the Swatch Women's Pro) – www.worldsurfleague.com
If Fanning manages to stay on the lead for the remaining three events at Landes in France, Peniche in Portugal and Pipeline in Hawai, he will be winning his fourth World Title, adding to the ones he won in 2007, 2009 and 2013.
If not, the line behind him is really impressive. Fanning is followed closed by the second in rank Adriano de Souza with just 2,000 points behind, but both are also closely chased by De Souza's fellow Brazilian Felipe Todedo, ranking third. Aussie's Owen Wright and Julian Wilson are also following and let's not forget the eleven-time champion Kelly Slater.
Let's wait and see!