Top 5 Paintball Gear for Beginners
Paintball is quickly becoming a popular sport in which two teams compete with each other to defend their flag. The objective of the game is to eliminate your opponent by hitting them with a paintball gun. Since the game offers a good learning experience in terms of focus and tactical experience, it's not just fun to play but also quite strategic.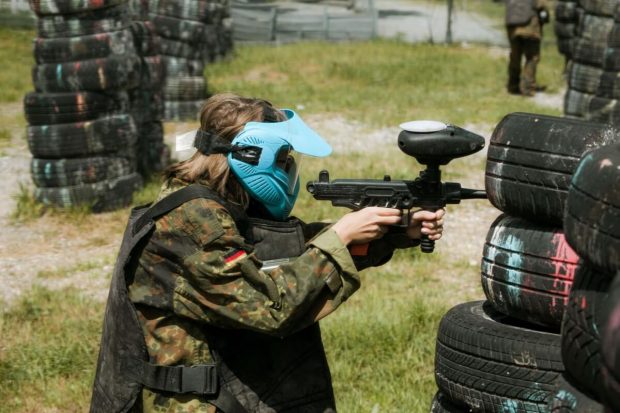 To get started with paintball, you just need a few basic pieces of equipment. Paintball gear for beginners doesn't have to be expensive. From a gun or marker, which can easily be acquired for under $300, a mask, tactical vest, boots & gloves, and base clothing are all you need. In this article, we will look at this gear so you can acquire it and get started with this amazingly entertaining game. 
So, let's get down to it. 
Must-Have Paintball Gear to Get Into Paintballing
1. Paintball Markers 
Marker in paintball refers to the gun you are going to need to shoot down your opponents. There are many types of guns available out there meant for playing this game. It's possible to rent a paintball gun but it's better to get your own especially if you want to polish your skills and play frequently. 
Since a gun is the most important paintball gear for beginners, it has to be selected after careful research. Look at the features including power, speed, and design, shooting accuracy, ease of assembly, durability, price, and weight and then make an informed decision. Some of the best paintball guns under $300 include; 
The Tippmann TMC, which is lightweight and very easy to use and hence one of the most for beginners

 

The Azodin KP3.5 Kaos Pump, which is known for its stability and precision

 

The Tippmann A-5, which is highly customizable and one of the most highly rated guns in the paintball world

 
All three of these guns are available in the price range of $200 to $300, but it's possible to find less expensive guns as well. Make sure you get yourself a marker that comes with user-friendly features and is long-lasting and looks visually appealing. 
2. Paintball Masks
You can play the game of paintball without a mask but getting one will help protect your face from minor injuries and bruises. A paintball mask is particularly recommended for beginners because a flying paintball can even hit your eye and cause a serious injury. Many types of protective face masks are available on the market for playing paintball and some of them also come with goggles. 
It is recommended to get a full face mask, which offers features like an anti-scratch surface, comfortable wear, forehead and ear protection, and maximum durability. You can get a good quality mask in the range of $60 to $100. It's advisable to invest in protective gear for paintball to safeguard yourself against serious injuries. 
3. Base Clothing 
People who play paintball regularly are often seen wearing clothing that matches the surrounding environment. This helps them hide from their opponents and increase the odds of winning. When it comes to specific garments, it is recommended to wear a long-sleeved shirt as the base layer and then wear a tactical vest on top. Choosing the base clothing for paintball also depends on the time of the year and whether you are playing indoors or outdoors. 
As a rule of thumb, remember to wear; 
Long sleeves

 

Long and breathable pants

 

Comfortable shoes that allow jumping, running, and coming to a halt suddenly without slipping

 
Even if it's hot outside, don't feel tempted to wear short-sleeved tops. Make sure you don't leave any part of your skin uncovered. When it comes to shoes, hiking boots are considered the best for playing paintball.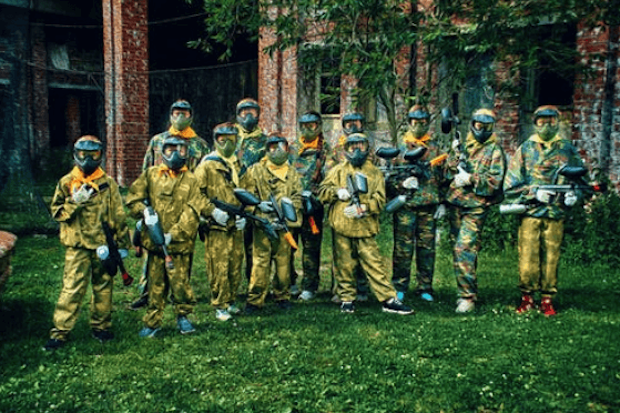 4. Tactical Vest
A tactical vest for playing paintball is another one of those protective and highly useful gear. It not only offers protection but also provides multi-purpose and various sized pockets for keeping your o-rings and paintballs handy. This piece of clothing is designed like a military tactical vest and makes the game even more thrilling and enjoyable. 
Make sure you get yourself a high-quality tactical vest that includes; 
A buckle closure

 

Adjustable sizing

 

Comfortable material

 

Multi-purpose pockets and pouches

 
5. Tactical Boots & Gloves
Among other things, you need slip-resistant tactical boots and gloves to take your game of paintball to the next level. There are boots out there designed for bad weather and difficult playing conditions. Moreover, you can find boots that are made of breathable materials, are lightweight, offer extra arch support, and are most durable. Depending on your budget, you can get yourself a pair of boots just for playing paintball so you can increase your chances of winning and stay safe while playing. 
Many beginners overlook the importance of tactical gloves; however, this protective gear not only protects your hands but also offer a better grip and helps to enhance your performance. Gloves that come with reinforced foam padding or rubberized elements are even better. It is also a good idea to go for fingerless gloves that also offer shock absorption. 
Here are a few suggestions to help you make an informed decision. 
Tippmann Armoured Gloves, which are fingerless and very budget-friendly

 

HK Army Full Finger Paintball Gloves, which offer extra protection and come with aero-mesh ventilation

 

AXBXCX Camouflage Full Finger Tactical Gloves, which are designed like biker gloves and offer maximum protection

 
The Verdict 
If you are ready to start playing the thrilling game of paintball, it's time you got yourself the basic equipment. In addition to the marker without which it's not possible to play the game, you are also going to need some protective gear, such as masks, gloves, and a vest to enjoy the sport to its fullest and stay safe while playing. We have discussed in this post the top 5 paintball gear for beginners that you absolutely need if you want to start playing this game regularly. Choose wisely depending on your budget and other requirements and get ready to take your skill to the next level!