The Beginner's Guide to Stand Up Paddle Boarding
Whether you've surfed or used a wakeboard before, you're still a beginner as a paddleboarder. It will require some practice to get a good handle on it, though it's nowhere near as difficult as learning to surf. Here is a short beginner's guide to stand up padding boarding to make this sporting activity more accessible.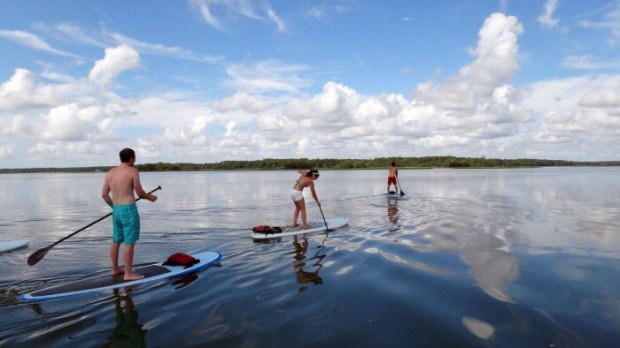 Stand Up Paddle Boarding 101
To get started, you'll need to learn to stand on the board over a body of water. It's possible to kneel on the board at first to get more certainty over your balance before standing up on the board. Once your center of gravity is good, then paddling steadily on either side is the next step to move through the water.
The choice of water is important. Calmer places are preferable over the open ocean with more volatile water. As a beginner, picking a calm lake to learn on is far better, especially if you're a nervous person.
Focus on the Horizon, Not the Board
In the same way that it's best to look ahead and not down at your feet when learning to ice skate, the same mistake is common with paddleboarders in the first few tries.
Maintain stability by keeping a rigid core and looking ahead of you towards the horizon. Don't look down at the position of your feet. By looking down, it trips up your sense of balance and overall equilibrium; it often leads to falling backwards and into the water! By keeping your head level and looking ahead, one of the biggest mistakes is avoided.
Leave Your Dog at Home
While you might feel like your best friend will love it out on the water, don't try it until you've gotten more experience under your belt. If you lose your balance, not just you, but also your four-legged friend will get a wet landing. There's also the risk of landing on him or her too. However, once you're well versed with your standup paddleboard (SUP), then taking your dog out on the water will be fun!
Keep Your Distance
While most lakes are reasonably wide, it's common to see paddle boarders knocking into each other on the water and someone taking a dunk. While you might feel like keeping other water users nearby, don't. By all means, stay nearer to the shore, but avoid other water users because when you have less control over what you're doing, you require space to make mistakes while not causing an accident.

Paddleboards as Part of Your Exercise Routine
While paddle boarding can be considered a sport under some circumstances, as a beginner you shouldn't take it seriously. Think of it as a new activity to learn while enjoying being out on the water.
Rather than trying to be the best and risking disappointing yourself, just consider it good exercise! You can burn a respectable number of calories when on (and off) your SUP too.
Getting the Right SUP for You
There are inflatable SUPs for the ultimate in portability, yoga SUPs to get into flexible positions like a Yoga master, or even fishing SUPs to put a new dimension on getting a rod in the water to catch your evening meal.
Whatever type of SUP you're considering, you'll want a SUP with a guarantee. The longer the guarantee period, the better too. It shows that the manufacturer is standing behind their product, which should give you confidence in their brand too.
Once you have an appropriate SUP for a beginner and you've learned what you need to before setting off, then it's time to get over to a body of water and see how you cope. Expect to be unsteady and get submerged a few times – that's all part of the learning experience. However, you'll be a master on the water soon enough, and that's when it gets really exhilarating.