Moche Rip Curl Pro, Portugal
Unfavorable surfing conditions in Peniche, Portugal, led the World Surf League organizers to call Tuesday (October 20, 2015) a "lay day" for the men's surfing, with the prospect of holding the first round on Wednesday (October 21, 2015). Unfortunately, the same unfavorable pattern will continue on both Wednesday and Thursday, but conditions look promising from Friday onwards with the swell filling in and reaching desirable heights for such an event.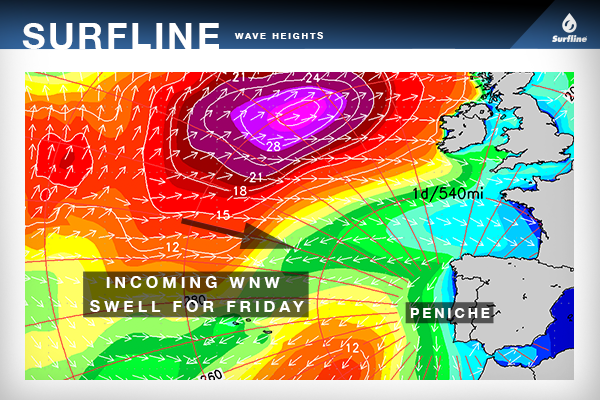 Head high WNW swell fills in and peaks on Friday 23rd October, 2015 – www.worldsurfleague.com
The Moche Rip Curl Pro in Portugal is the penultimate event prior to the last one in Hawaii, and two athletes are the closest to winning the world title. World No. 1, Aussie Mick Fanning is the closest to it, with World No. 2, Adriano de Souza from Brazil following Fanning with 450 points behind.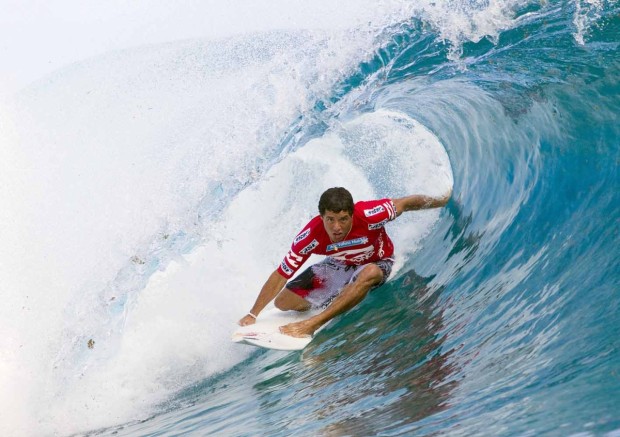 Adriano de Souza (BRA) surfed with an injury in Portugal in 2014 and still made it to the Quarter Finals – www.innovacion.gob.sv
The world's biggest surfing prize is still at stake and both athletes are expected to give a strong fight for it, without any surprises, just by surfing the way they know is working best for them. With the title within reach, no high risks should be expected.
To get there though, both athletes have to move up from Round One. The Brazilian is against Kolohe Andino, surfing for the USA, and Frederico Morais of Portugal, whereas Fanning is up against Sebastian Zietz of Hawaii and Tiago Pires, also of Portugal.
Full round one match-ups below:
* Heat 1: Filipe Toledo (BRA), Jadson Andre (BRA), Tomas Hermes (BRA)
* Heat 2: Gabriel Medina (BRA), Miguel Pupo (BRA), Mason Ho (HAW)
* Heat 3: Julian Wilson (AUS), Keanu Asing (HAW), Caio Ibelli (BRA)
* Heat 4: Owen Wright (AUS), Michel Bourez (PYF), Vasco Ribeiro (PRT)
* Heat 5: Adriano de Souza (BRA), Kolohe Andino (USA), Frederico Morais (PRT)
* Heat 6: Mick Fanning (AUS), Sebastian Zietz (HAW), Tiago Pires (PRT)
* Heat 7: Kelly Slater (USA), Adrian Buchan (AUS), Aritz Aranburu (ESP)
* Heat 8: Italo Ferreira (BRA), Joel Parkinson (AUS), Brett Simpson (USA)
* Heat 9: Jeremy Flores (FRA), Matt Wilkinson (AUS), Ricardo Christie (NZL)
* Heat 10: Nat Young (USA), Kai Otton (AUS), Glenn Hall (IRL)
* Heat 11: Bede Durbidge (AUS), John John Florence (HAW), CJ Hobgood (USA)
* Heat 12: Josh Kerr (AUS), Wiggolly Dantas (BRA), Adam Melling (AUS)