How Traveling in a Trailer Allows You to Bring Your Sports Gear to Distant Locations
Do you love to go on outdoor adventures but don't like the hassle of packing and carrying all your sports gear? If you're like me, you probably want to bring your mountain bike, kayak, or camping gear with you wherever you go. But lugging all that equipment around can be a real pain. That's where traveling in a trailer comes in handy. In this blog post, we will discuss the many benefits of traveling in a trailer and how it allows you to bring your sports gear with you wherever you go. Let's get started.
More Carriage Space
One of the biggest advantages of traveling in a trailer is that you will have much more carriage space than you would if you were packing your gear into the trunk or backseat of your car. With an enclosed trailer, there's no worrying about cramming everything in tight spaces. As seen at www.milltrailers.com/gooseneck-enclosed-trailers/, a trailer can easily fit one or two mountain bikes, kayaks, and/or camping gear. This is great for those who want to bring all their equipment on a trip.
Besides, a trailer can provide additional space for other items you want to bring along, such as a cooler with food and drinks. This makes it easier to bring along refreshments for your trip and have everything you might need in one spot. A good example is if you work with an enclosed trailer, you can store all your equipment and have a cooler right outside to keep drinks cold and snacks handy.
Additional Security
Another great benefit of traveling in a trailer is providing additional security for your sports gear. By putting your gear in an enclosed trailer, you can be sure it is safe from prying eyes and potential theft. Not only does this give you peace of mind, but it also allows you to rest assured knowing your equipment will arrive safely wherever you go.
Additionally, trailers come with locks which add an extra layer of security so that no one can access your gear without permission. This is great for those who are often away from their vehicles and must leave their trailer parked in a public area. So, if you are looking for an extra layer of protection for your sports equipment, then traveling in a trailer is the way to go.
Cost Effective
In addition to the convenience and security of traveling with a trailer, it's also cost-effective. When you compare the price of an enclosed trailer to the cost of renting or buying multiple items, such as a bike, you will find that investing in a trailer makes more sense.
Plus, if you have multiple trips planned throughout the year, the trailer will pay for itself in no time. And if you plan on taking extended trips or multiple people with you, investing in a bigger trailer can be a great option. This benefit is for those who regularly travel with their sports gear and want to save money. The medium-sized trailer could be the perfect choice for you.
Versatile
Traveling with a trailer is incredibly versatile. With a trailer, you can easily take your sports gear to far-off places you would otherwise not be able to reach. This opens up endless possibilities for travel and adventure. For instance, if you are a mountain biker, you can take your bike anywhere from the Cascades to the Coast or even further.
And if you're an avid kayaker, you can take your boat on a river trip to explore remote areas. The possibilities are endless when it comes to traveling with a trailer. You only need to ensure that the trailer is the right size to fit all your sports gear. Moreover, you can use the trailer for other purposes, from moving furniture to cargo storage.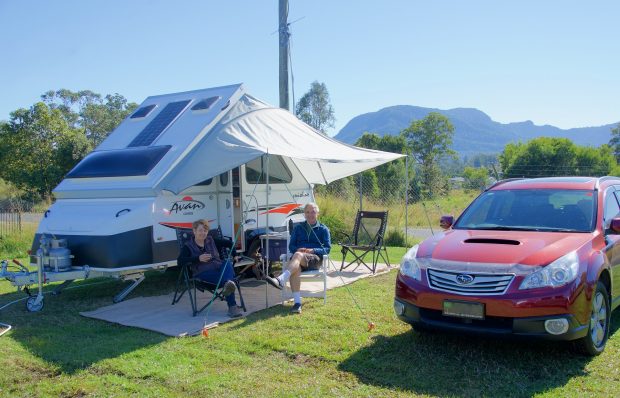 A Great Alternative to Tent Camping
If the sports are in a remote area, you may not have any accommodation options. So, the next best option is to tent camp. But with a trailer, you can bring all your camping equipment, including a tent and sleeping bags. You can then use the trailer as your "base" during the trip and enjoy all the amenities that come with it – such as electricity and protection from the elements.
Besides, you can customize your trailer to ensure it has everything you need, such as a kitchenette and seating area. This is perfect for those who are looking to take longer trips or want more than just the basics of their camping adventures. You can also get fully customized trailers to make your camping experience more enjoyable.
Low Maintenance
One of the great benefits of traveling with a trailer is that it doesn't require much maintenance. You don't have to worry about filling up gas tanks or emptying waste tanks as you would with an RV. And trailers also come in different sizes, so you can find one that fits your needs and budget.
Plus, if you ever need to make any repairs, they are typically simple and cost-effective. So, if you plan on traveling with your sports gear and don't want to spend too much time or money on maintenance, then a trailer is certainly the way to go. Besides, you will protect your equipment from the elements and have a comfortable home away from home.
Protection From Elements
When you're traveling with your sports gear, it's essential to keep them safe from the elements. When you transport them in a trailer, they will remain in their protective cases or bags and won't be exposed to rain or dust. This gives you peace of mind that your equipment is properly stored and ready for use when needed.
Moreover, trailers are made of sturdier materials than motorhomes and are typically more secure. This makes it a great option for those who want to transport their equipment long distances without worrying about theft or damage.
Traveling in a trailer allows you to bring your sports gear to distant locations while providing the protection they need from the elements. Trailers are versatile and easy to maintain, making them a great alternative to tent camping or RVs for efficient and cost-effective transport. With a trailer, you can easily take your sports gear to far-off places you wouldn't otherwise be able to reach and enjoy the freedom of camping on your own terms. Get a trailer today and enjoy the adventure!