7 Awesome Tips And Tricks For Paddleboard Enthusiasts
Paddleboarding is a sport that has grown in popularity over the last decade. It's hard to imagine how this board-less water sport would have gained so much traction if it weren't for social media, where people post videos of themselves doing all sorts of tricks on their boards.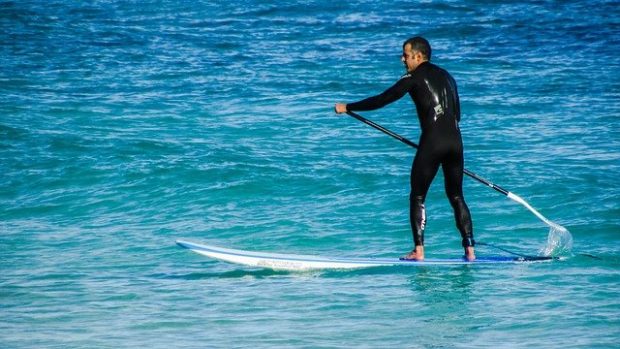 Paddleboarding has become popular among surfers and sailors alike, as well as those who are looking for an alternative workout or just want to spend some time out on the water. Paddleboarders come from all walks of life – whether they're beginners or experts – there are still a few things you should know before heading out onto the waves with your new board! 
In this article, we will cover essential tips every paddleboarder needs to know.
Get a board that is right for you
There are many different shapes and sizes of paddle boards to choose from, which can be very confusing when shopping around for your first one. The most important things to consider before buying a paddleboard are what you will use it for, how tall you are and where the board will be stored.
Choose the right water sports accessories
In order to enjoy being on the water to its fullest potential, investing in some basic paddling gear is certainly worth it. You will need a good paddle board leash, which is an essential piece of equipment that can keep your board from floating away if you happen to fall off the board while paddling. A retractable anchor line (it's important for the line not to get tangled in your feet) and a good set of paddle boarding fins are all things that beginners should have on their shopping list when buying gear or accessories for their board. Additionally, you will need paddle board carts (if you don't want to have to carry your paddleboard around everywhere), a good pair of water shoes or sandals, and a workout mat (for laying out on the beach before heading into the water). Not only will they make it easier to get in and out of the water, but also provide some much-needed protection for your skin from all that sun!
Know where and how you will use your board
The best paddleboards for beginners are the flatwater boards, also known as touring paddles or river boards, which typically have a shorter length/width ratio than freeride boards. The longer and wider the board is, the faster it can navigate through waves and rapids, but this comes with what is also the biggest downside that thicker boards have – they are significantly slower than shorter, more narrow boards.
Try different paddleboard brands
Ever heard of the saying "you get what you pay for"? Because there are so many different brands out there, with a wide variety in terms of quality and price, it is hard to know which one will be best for you. What we can say is that if you want a good-quality board without breaking your bank account, check out BIC Sport boards or Starboard paddle boards. They are one of the most expensive paddle board brands on the market but their products last longer and are more durable than other low-cost alternatives.
Stay safe and be conscious of your surroundings
Paddleboarding is a very fun activity that can be enjoyed by all ages. However, because the boards are flat and made of hard material, there is more risk for impact injuries than with other water sports (such as swimming). It is extremely important to wear protective gear such as helmets or life vests at all times when out on the water. And remember to stay close to your board when paddling near shore – even if you are an experienced paddleboarder – it's better to be safe than sorry!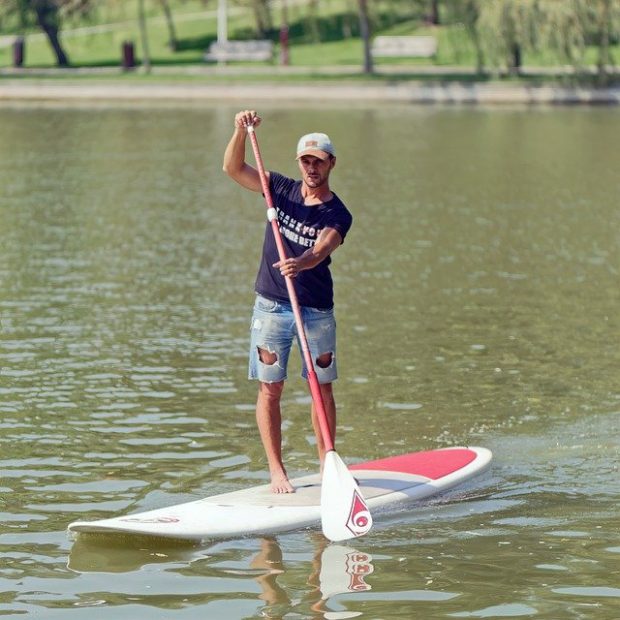 Get in shape before trying any tricks
Although paddleboarding might not seem like an overly physical sport, it requires some serious upper body strength if you want to properly learn to paddle. Try not to get discouraged if you can't do it the first time around – everyone has to start somewhere, right? If you struggle with putting on or taking off your paddleboard, consider buying a board that comes with a handle for easier handling and transporting.
Be creative with your paddle boarding tricks
One good way to expand your horizons as a paddleboarder is by trying new things! For instance, grab a friend and try the "buddy carry" (you two get on the board together, then have one person lie down all the way onto the board while their partner stands up). Even if it seems impossible at first, using this manoeuvre can help you get from point A to B quicker and easier. As long as you don't forget about safety first, feel free to experiment with different moves such as flying spins or backflips – just make sure that they are safe before attempting them to avoid injuries.
Paddleboarding is an increasingly popular water sport and with good reason. It's challenging, exciting, a great full-body workout and it doesn't require much technical know-how to get started (although there are some things you should keep in mind). 
We want to help people like you find boards that work best for their needs so they can enjoy the sport more easily and without frustration or injury. In this article, we provided helpful tips and tricks for paddleboard enthusiasts of all skill levels. Hopefully, you find them useful!