Top Baseball Songs of All Time
No sport has managed to spread its influence over the popular culture more than baseball. Baseball is often a central theme in movies, on TV, in literature, and especially in music. 
There are countless songs celebrating the sport and dealing with baseball in one way or another.  Almost everyone in the United States loves baseball and singers and songwriters are not much different. It's just that they have enough talent to pour their love of the game into catchy melodies and captivating lyrics. 
The connection between baseball and music is more than 150 years old. In that time, we have been treated to some truly classic songs.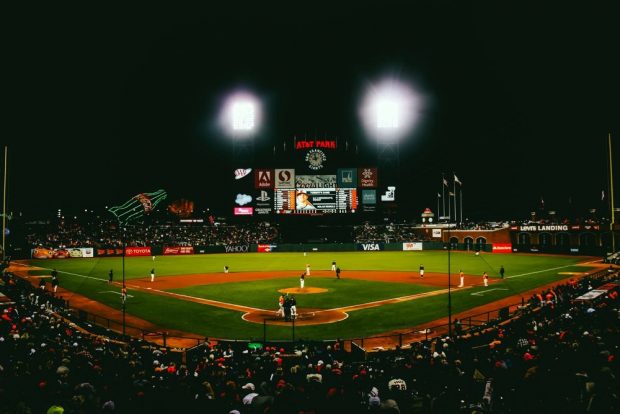 Below are the tunes that best embody the heart and soul of the game and deservedly hold their place among the best baseball songs of all time. 
Take Me Out to the Ball Game – Jack Norworth and Albert Von Tilzer
The first and the least surprising entry on the list, "Take Me Out to the Ball Game" is practically synonymous with baseball.  It's probably the most famous baseball song and the one everyone who's ever been to a baseball game knows.  The song is also an inseparable part of baseball culture, as it's a tradition for everyone in the stands to sing it at every 7th inning stretch. 
"Take Me Out to the Ball Game" is so ingrained in minds of baseball fans that it's guaranteed to lift the spirits up, no matter if you hear it from a state-of-the-art sound system at an MLB ballpark or through a portable speaker during a backyard game with friends. 
Centerfield – John Fogerty
The only song that comes even close to "Take Me Out to the Ball Game" in terms of popularity at ballparks is John Fogerty's "Centerfield."  Frequently played as the gates open before the game, "Centerfield" is often considered the greatest baseball motivational anthem.  The narrative of the song is fairly straightforward. 
It talks about Fogerty's earlier baseball memories, but it also serves as a metaphor for overcoming life's challenges and keeping your head held high in face of adversity. 
"Centerfield" has been inducted into the National Baseball Hall of Fame where it plays on a continuous loop. 
Glory Days – Bruce Springsteen
Any music list would be incomplete without The Boss himself. Springsteen contributed to the musical history of baseball with his 1984 hit, "Glory Days." 
The song kicks off with a story about Bruce's high school buddy who was a baseball star in the making, which he uses to reminisce about the glory old days. 
Of course, as it's often the case with Springsteen, the song takes a satirical twist and ends up ribbing himself and anyone else who lives in the past. 
Cheap Seats – Alabama
As baseball is an integral part of American tradition, no list would be complete without country songs on it.  And, undoubtedly the most popular among those is "Cheap Seats" by Alabama.  Most baseball songs sing praises to big league teams and players. This one, however, puts its focus on minor league baseball on Minors. 
It's a comedic ode to all the die-hard fans in the stands of the small ballparks across the US and the way they turn every game into a delightful experience even if they don't know who's playing or the names of the players. 
Knowing the baseball game length and how long it can drag from time to time, some fun is always welcomed. 
Right Field – Peter, Paul, and Mary
Released in 1987, "Right Field" by Peter, Paul, and Mary is dedicated to all awkward and uncoordinated kids on the baseball field.  These are the ones who spent most of their time during the game praying that the ball doesn't come their way.  The song tells a story of a gawky kid who spends his time in the right field watching dandelions grow. 
However, it's also a testament to how fun a game of baseball can be even if you're untalented and how even the clumsiest kids can get their opportunity to shine. 
All the Way – Eddie Wedder
A fair share of baseball songs was made out of undying love for one's favorite team. "All the Way" by Pearl Jam frontman Eddie Vedder certainly belongs in this category. 
A Chicago native and life-long Cubs fan, Vedder wrote the song about the undying hope of a baseball fan that his team will win it all someday.  Released in 2007, the song also served as a good omen for the Cubs' World Series win that came 9 years later. Interestingly,  Vedder wrote the song at the suggestion of Cubs legend Ernie Banks. 
Tessie – Dropkick Murphys
Some songs are forever linked with a certain baseball team or a player. That's exactly the case with Tessie by Dropkick Murphys and then 2004 Red Sox. 
In 2004, the year Red Sox ended their 86-year-old drought the New England punk-rock legends gave a new life to the 1904 song "Tessie."  Once a frequent tune at Fenway Park, the song, now performed by Dropkick Murphys, quickly became a rallying cry for Boston fans. 
Fun fact, several Red Sox players can be heard in the song, singing backup vocals.  The song gained even more popularity as a part of the soundtrack for the MVP Baseball 2005 video game. 
Conclusion
Compiling a list of the best baseball songs of all time may be a fool's errand.  If someone else made this list, it would likely look different, even though some classics are hard to omit.  One thing is certain, there's no right or wrong answer when it comes to choosing the greatest baseball songs. 
Often, fans create intimate connections with particular songs as they remind them of their childhood and first baseball experiences.  For this reason, most baseball songs are capable of withstanding the test of time, 
They frequently become classic even though they don't mean much to the people outside the game.  At their best, baseball songs have a certain warmth that perfectly captures the feeling of being at a baseball game.