Specific Introduction About Electric Tricycles
Electric tricycles are very popular among adults. Even if you don't have the experience of riding them in your childhood, why not give it a try? The three-wheel electric bike gives an ultimate experience to the users. It is an eco-friendly product that is a good choice for those who want to keep the environment safe. 
The best part is that this tricycle doesn't put any pressure on your body. It will be great fun and entertainment when you move smoothly on your journey. However, you need to choose a good product for long-term use.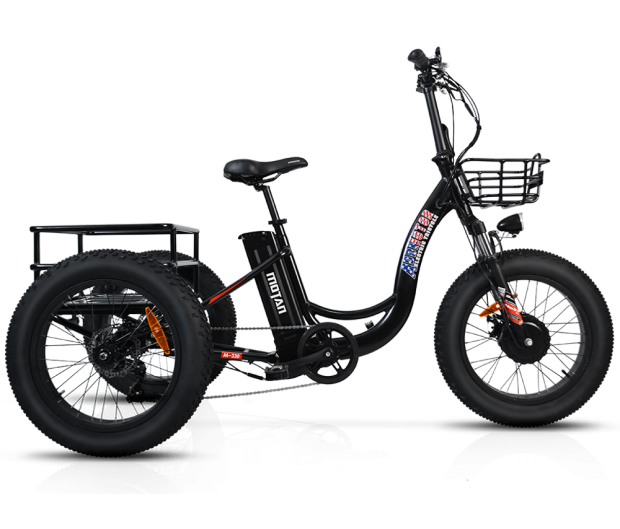 What Are Electric Tricycles
An electric tricycle is very much similar to an e-bike. It features an extra wheel that has two rear wheels and a front wheel. The motor is strong and will kick start as soon as you start your journey. You can move faster without putting much pressure. 
How Do Electric Tricycles Work
The electric tricycles make use of three different sensors, torque and speed. Even the mechanical process is straightforward to handle. This is how you can start your journey:
Once you start with the pedal, the speed of the sensor will also pick up right away. It will eventually send a signal to the motor and offers the best electric assistance.
The torque sensor responds at the right time and will match up with your speed. Users can regulate the speed anytime they want. If you are tired, you can keep the speed lower than usual.
An electric motor will not only control the torque but will give you a lot of power when you ride. You can do it effortlessly and glide away using these three wheels.
A lithium-ion battery is used in this three-wheel electric bike. The best thing is that you can just plug in a charge, which will work like any other suitable electronic device. It is a good choice for the environment and people who are conscious of keeping themselves healthy.
You have to keep the level of motor intact and start pedaling to begin your tricycle ride.

 
Are Electric Tricycles Suitable For Everyone?
If you are looking to purchase an electric tricycle, there are plenty of Addmotor electric tricycles for sale. They offer sturdy electric bikes, and you can get the best of everything. Many adults find it challenging to ride other types of bikes. However, an electric trike is a good option for them. These bikes offer a lot of stability and don't put any pressure on your body. 
The best thing is that adults don't need to put an effort and balance themselves on the trike. Even the seating position is convenient and offers a lot of conveniences. If you have to make many deliveries daily, it can become tiring. However, a tricycle features ample storage space and a basket to help you organize your belongings. You will be surprised to know that most of these electric cargo trikes will help you take your child along.
Benefits Of Using An Electric Tricycle
Addmotor offers a wide range of 3-wheel electric bikes. You can purchase a product that seems suitable for you. Here are some benefits of these bikes: 
The electric tricycle will be accessible on your joints. When you get a lot of help from the motor, you don't have to put in extra energy. It is an ideal way to keep the strain away from your muscles and joints.
A trike offers stability and mobility with the help of an extra wheel. You can easily stay secure while riding the bicycle and won't be afraid of falling. It turns out to be the best choice for the elderly.
It is an eco-friendly product, and you don't have to worry about harming the environment. It will keep the carbon footprints lower than usual.
You can quickly get on and off the trike as it has a recumbent seat. It will be easy to mount and dismount without taking much effort or time.
Users don't have to get any license or insurance for this product.
Adjusting your riding style will be much easier as compared to other types of bikes.
Almost all the e-bikes come packed with baskets and huge storage spaces.

 
How To Maintain The Quality Of Your Electric Tricycle?
If you want your e-tricycles to run for a longer time, it is best to carry about essential maintenance at home. You need to replace your battery at the right time. Always try to keep your battery charged within 20% to 80%, or it can affect the quality. It is necessary to clean your trike after every bike ride, and this will help it look great. 
Conclusion
If you want to purchase a three-wheel electric bike, there are many good options available at Addmotor. You can choose the type and model as per your convenience and requirement!