Have you seen those donut-shaped metal devices on your skateboard?  Those are skateboard bearings.  They reduce friction, which helps wheels roll faster and smoother.
It doesn't matter what the size of the wheels is; skateboard bearings follow a universal dimension:
Inner diameter – 8mm
Outer diameter – 22mm
Width – 7 mm
Each wheel contains two bearings, separated by spacers within the wheel.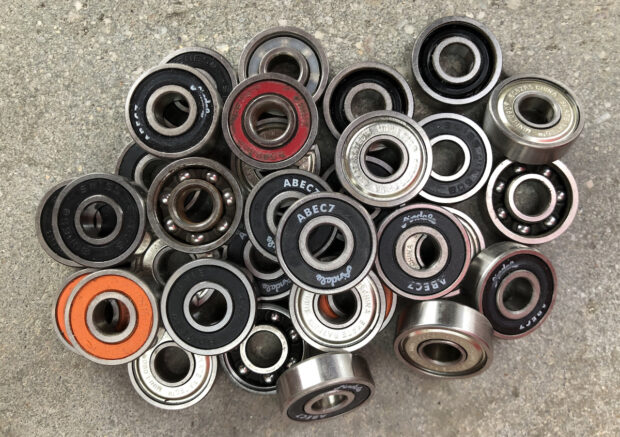 ABEC
When searching for bearings, you'll come upon a term – ABEC. You may wonder what that is.
ABEC is a rating system to measure the tolerance and precision of any bearing, not just skateboard bearings. Ratings are 1, 3, 5, 7, and 9.
The best rating is ABEC 9, which provides low tolerance and high precision, that is perfect for items spinning at faster RPMs.
In skateboard bearings, ABEC 9 could be the best possible one to roll fast. But remember, the ABEC scale is not a material quality factor in the make of bearings.
Materials
Steel and ceramic are the two most popular materials used in Skateboard bearings, and both have pros and cons. Steel comes at lower costs than ceramic but requires maintenance, while ceramic requires low maintenance and has a longer life but comes at a premium price.
Although ceramic bearings also come with steel encasing, it is usually higher in quality. Thus ceramic bearings are not affected by rust, giving them a long life and higher performance.
Therefore, the high cost of ceramic bearings is due not only to ceramic balls but also to the overall quality.
Ceramic bearings could be one of the best investments if you're a pro skater, but steel bearings with high ABEC are an excellent option for beginners.
Spacers
Bearings Spacers could be a positive investment if you skate hard, slide or do tricks. It is a metal cylinder 8-10mm in diameter that goes between two bearings. They help distribute equal weight to each bearing while providing extra support between the two bearings. This results in more stable and smoother turns and longer life for bearings.
Washers
Washers are the cheapest investment with the highest reward for your skateboard. They separate the bearings from additional nut friction, making your wheel faster while protecting the bearings' face.