Must-Have Accessories For Your Recreational Vehicle
One way that you can make your RV as comfortable as possible is to add some accessories that will make your life on the road easier. However, the expenses associated with going on an RV trip makes affordability a major concern. This is why any RV improvement project that you have in mind usually takes a backseat if the budget gets in the way.
RVing provides you with a minimalistic lifestyle. No fuss, just pure fun. You also have to travel light without sacrificing comfort and convenience. Shopping for RV accessories can be exciting but if you are not careful, you can blow your money on fancy gadgets.
The golden rule is to avoid buying accessories which you do not really need. While buying a portable ice machine is great, not using it frequently is a waste of money. Even if you are a savvy traveler, you can still occasionally run into camper accessories and supplies that you might deem useful even if they are expensive. For sure you do not mind spending your money on high-quality accessories, especially if you know that they are going to be useful. If you are planning to buy your RV some accessories, check out these must-haves: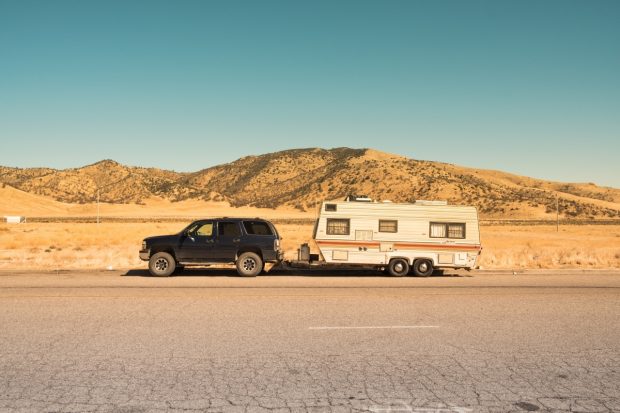 1. Solar Powered Cell Phone Bank
An RV trip may not always give you access to power. This is why you need to be prepared by having another energy-efficient option for charging your phone. Traveling without a phone can bring a lot of inconveniences. What if your RV breaks down or you run out of gas in a remote area? Having a solar powered cell phone bank helps you stay connected anywhere you are. This charge bank is made from environment-friendly silicone rubber. It is also water proof. You can be sure that you will have a way of keeping in touch as long as the sun powers up your cellphone bank.
2. Fridge Brace
Another accessory that you should consider purchasing for your RV is the fridge brace. When you are on the road, it seems a challenge for food to stay where you place it in the refrigerator. A moving vehicle causes your milk or orange juice to spill. With the fridge braces, you will be able to deal with mess. There is no need to worry about overturned gallon of milk or other beverages.
3. Digital Tire Gauge
A camping trip in an RV requires safe driving. However, being a defensive driver is not enough to prevent accidents. When your tires are not working properly, you will only subject yourself to accidents. Using a digital tire gauge allows you to check the pressure of your tires. Even when you are on the road, there is no need to worry about worn tires. This accessory will help you gain peace of mind and ensure safety.
4. Oxygenics Showerhead and Hose
RVers are tired of dealing with subpar water pressure. After all, going on a camping trip should be fun and stress-free. While a problem with water pressure might not seem like a big deal, failure to address it can also be frustrating. A disappointing shower should not ruin your trip. This is why oxygenated RV showerhead should be one of the accessories you should purchase. This accessory increases pressure and power without wasting excess water. With the benefits that it offers, it is definitely worth every penny.
5. All-inclusive First Aid Kit
The only way to ensure that you will have a fun and exciting RV trip is by making safety a top priority. When you build your own first aid kit from scratch, the process can be quite daunting. You need to make sure that you have gauze, bandages, emergency safety blankets, burn gel and other first aid kit essentials. By buying an all-inclusive first aid kit, you do not have to worry abou these things. The kit also comes with a convenient carrying case so you can guarantee safety anywhere you go.
6. Smart Solutions Add-a-Drawer
Another common problem that most RVers are facing is the lack of storage space. No matter how you try to make sure to be as minimalist as possible, there are still instances when you need additional space. As stuff starts to creep up, you will soon find yourself needing more space for your things. With smart solutions add-a-drawer, you will be able to keep things organized without retrofitting a new cabinet.
7. Folding Step Stool
If you are trying to reach an item that sits atop your drawer, a folding step stool will be a useful accessory. This stool has the ability to hold up to 300 pounds. You do not have to think about collapsing down because this stool is made from durable materials. This stool is what you need when your stuff is barely out of reach.
A Dallas RV dealer can also make some recommendations on the accessories that can maximize comfort during an RV trip.