Glamping Overnight in a Fire Watch Tower Lookout
It can be extremely satisfying to hike up a steep peak to take in the glorious views on display at that altitude. It can be so satisfying, that you hate the thought of hiking back down shortly after arriving.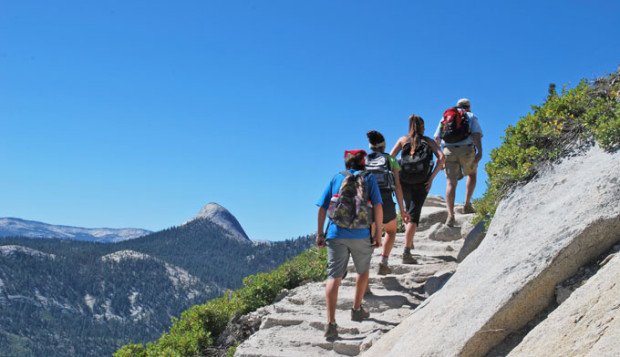 So why not stay overnight? Right at the top, and with a roof over your head.
This is possible with the advent of fire watch tower lookout rentals. The rentals are offered by the US Forest Service in fire lookouts that are no longer in use during the fire season. Lookouts that are still in use can sometimes be rented out during the winter months.
Fire lookouts are not often part of any definition of glamping that you will find online, but now that many of them are available to rent, they should be. They offer many of the same amenities as other glamping options, like a roof over your head with beds or bunks and a working kitchen.
For example, here is the Forest Service description of the Calpine Fire Lookout facility in California:
"The interior measures 14′ by 14′ and currently has two single twin beds, a dry sink, a table and chairs, three propane lights, a propane heater, a propane stove/oven and a fire finder. A limited assortment of cooking utensils, pots and pans are provided. The facility has its own propane tank. An accessible vault toilet, a picnic table and fire ring are located outside, at the base of the lookout. Firewood is not provided. When fire restrictions go into effect during the summer, no campfires are permitted. Visitors should plan on bringing their own bedding, groceries, toilet paper and other personal items."
As can be seen from that description, fire lookouts can serve as a wonderful home base for high altitude activities like hiking, mountain biking, snowmobiling and more. There are often well maintained hiking and mountain biking trails near the fire watch towers.
For example, here is what the Forest Service has to say about the recreation opportunities near the Arid Peak Lookout in Idaho:
"The Hiawatha Bicycle Trail is considered the crown jewel of rail-to-trail mountain biking trails as it zips across seven trestles and through 10 tunnels in the magnificent Bitterroot Mountains. The trail can be accessed just over 10 miles from the lookout.
The lookout offers access to the Arid Peak Trail #173, Mozier Peak Trail #174, and Kyle Creek Trail #175. All three trails are great for day-hiking, but can also be explored over longer backpacking treks or on horseback."
As you might imagine from that description, many of the fire lookouts require a hike just to access them. Continuing with the Arid Peak example, here is how you would get there:
From Avery, turn left and head north up the North Fork of the St. Joe River Road #456 toward Wallace. Travel about 4.5 miles, then turn left down the hill just before the bridge across the river. You will then be on Road #1997, which is a single lane gravel road with pull outs. Drive about 3.5 miles and turn left on the first road (also labeled Road No. 1997). Travel 6.5 miles to Trailhead #175. A turn-around is just past the trailhead before the gate. Do not block the turnaround or the gate. Park in the wide spot by the trailhead. Hike up Trail #175 for 1.5 miles to the junction with Trail #173. Turn right and hike 1.5 miles on Trail #173 to Arid Peak.
If this stirs your imagination and thirst for adventure, you may be interested in a full list of 53 fire watch tower lookouts available to rent. That page has images of each lookout, as well as a short description and link to more details & images for each lookout. You can reserve your spot online from the lookout detail pages.
All in all it is a great resource when it comes time to plan your next extreme adventure in the great outdoors!