What's the link between the Japanese fearsome warriors and extreme sports? The answer is "Noodles"! Have I gone crazy you ask? No… well, not entirely at least. But, trust me when I say that when you add Samurai and Cup Noodles, the answer is extreme samurai!
Allow me to elaborate a bit. Nissin Cup Noodles has recently released their new advertisement featuring seven Samurai doing extreme sports. The video has since gone viral reaching 3,5 million views on YouTube and constantly rising. The seven extreme Samurai are in full traditional Samurai armors whilst conquering the waves, the slopes, the pavement and above all impressions!!!
From surfing to skateboarding, from BMX to freestyle skiing, and from pogo to slacklining and absolutely awesome freestyle football skills, the seven extreme Samurai are taking extreme sports videos to a whole new level. In fact, Iron Mountain Armory, a company specialising in making traditional Samurai armors has officially challenged Samurai armor owners – this is a word combination I never thought I'd use – to show them what they can do in their armors by posting online. The challenge is full-on on Facebook.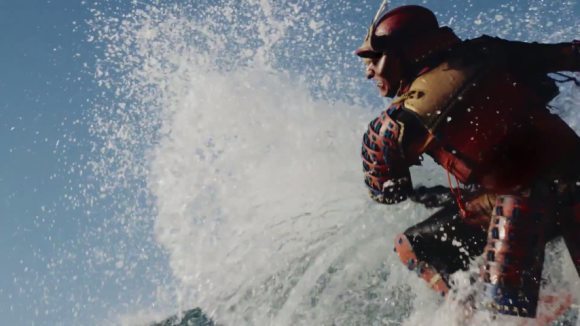 The extreme Samurai video was shot in different countries and it's featuring extreme sports athletes who show off their talents in seven different sports. As if the stunts aren't difficult enough on their own, the super bulky and seemingly uncomfortable full Samurai armors are increasing difficulty levels by a lot! Surely, Samurai armors are not made for floating or surfing on water, neither for perfectly landing back flips on ski terrain.
Apparently, this Samurai obsession is not a new thing. If you search YouTube you will find several videos featuring modern day Samurai doing all sorts of weird stuff. Some of these videos, belong to the same cup noodles company.