Breaking Away From The Ordinary: Unique Ways To Experience June 2023 USA With Himiway
Are you ready to take your USA travel adventure to the next level with a Himiway fat tire ebike? If you're looking to break away from the ordinary and experience something truly unique, then riding a Himiway ebike is the way to go.
This June, you have the perfect opportunity to explore the USA like never before, and this article will guide you through some of the most extraordinary ways to make the most of your Himiway fat tire ebike.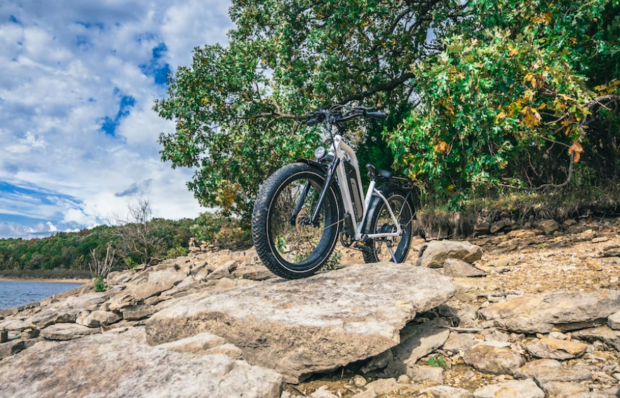 Imagine cruising through unusual destinations, indulging in exotic foods, discovering scenic routes, and engaging in thrilling adventure activities. Well, now you can experience all these; with a Himiway electric bike, the possibilities are endless. From exploring off-the-beaten-path routes to staying active while on vacation, with  Himiway you can create memories that will last a lifetime.
So let's dive in and explore the best ways to experience June 2023 USA with a Himiway fat tire ebike.
Unusual Destinations to Visit on a Himiway Ebike
The USA is filled with hidden gems and offbeat locations that are perfect for exploration on a Himiway fat bike. Here are a few examples of some extraordinary places you can visit on your Himiway ebike, offering unique experiences that are sure to leave you mesmerized.
Bodie Ghost Town, California
Take a trip back in time to the fascinating Bodie Ghost Town in California. This well-preserved ghost town is like a time capsule, with deserted streets and remnants of a bustling gold mining town.
While you're in the area, don't miss the nearby attractions including the Mono Lake Tufa State Natural Reserve, known for its otherworldly limestone formations, and the stunning Mammoth Lakes for outdoor activities like hiking and fishing.
Outer Banks, North Carolina:
Why not leave the crowds behind and embark on a journey to the hidden beaches along the Outer Banks in North Carolina? Hop on your Himiway ebike and cruise along the picturesque coastline, immersing yourself in the peacefulness and natural beauty of these secluded sandy stretches.
Also, take a break to unwind by the water's edge or take a refreshing dip in the ocean. While exploring this offbeat destination, make sure to visit the Cape Hatteras Lighthouse, one of the tallest lighthouses in the USA, and explore the unique maritime history of the region.
Sedona, Arizona:
Get yourself ready to be awestruck by the magnificent red rock landscapes of Sedona, Arizona. This quirky and offbeat destination is a haven for ebike enthusiasts, with a plethora of off-road trails to explore. Here you can ride through the mesmerizing canyons, conquering thrilling terrains while being surrounded by breathtaking natural beauty.
Also, don't miss the opportunity to explore the famous Cathedral Rock and Bell Rock formations, known for their stunning views and spiritual energy. Sedona has much more to offer beyond biking, with numerous hiking trails, art galleries, and wellness retreats to cater to all interests.
Apostle Islands, Wisconsin:
Explore the enchanting Apostle Islands in Wisconsin, a cluster of 22 breathtaking islands nestled in Lake Superior. Make your way to the picturesque shores, where you'll be greeted by the mesmerizing vistas of crystal-clear waters and sandy beaches.
Also, you can take a break from biking and indulge in activities like kayaking, paddleboarding, or boating. And yes, don't forget to visit the historic lighthouse and take a scenic boat tour to appreciate the area's natural wonders.
Exotic Foods to Try on Your Himiway Ebike Adventure
Exploring the USA on a Himiway ebike isn't just about the rides; it's also about immersing yourself in the local culture and indulging in regional cuisines and local specialties. From farm-to-table experiences to food trucks and breweries, the USA has a lot to satisfy every foodie's palate.
So, here are some exotic foods to try in the USA while traveling on your Himiway ebike adventure:
Regional Cuisines
The USA is the foodie paradise to a wide variety of regional cuisines, from the Cajun food of Louisiana to the Tex-Mex food of Texas like fajitas, enchiladas, and burritos, New England clam chowder, and Hawaiian food including poi, laulau, and kalua pork.
Culinary Adventure
If you are looking for a culinary adventure, the USA offers a diverse culinary landscape. Try dishes like Mission-style burritos, cioppino (a seafood stew), Dungeness crab, wild salmon, marionberry pie, and fortune cookies.
Local Specialties
In addition to regional cuisines and culinary adventures, there are also many local specialties that you can try in the USA. Some of the most popular local specialties include lobster rolls in Maine, Dungeness crab, geoduck (a giant clam), fresh oysters, deep-dish pizza in Chicago, Poutine, Banh mi, Falafel, Sushi, collard greens, and peach cobbler.
Make sure to visit farmers' markets along your route to discover fresh, local flavors. And, don't miss out on the craft breweries that have been popping up across the country, offering unique and refreshing beverages.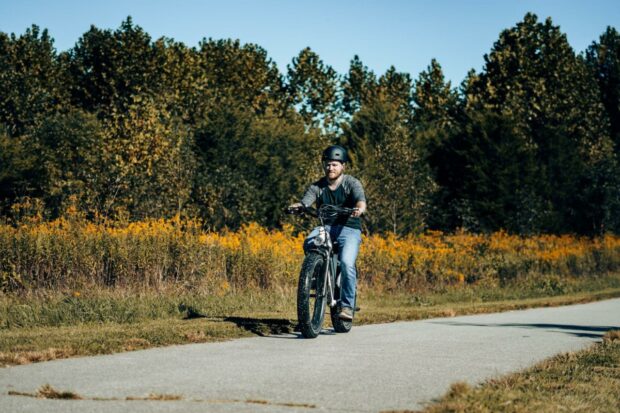 Scenic Routes to Take on a Himiway Ebike
One of the greatest advantages of riding a Himiway fat tire ebike is the ability to enjoy the scenic drives of the USA up close. The USA is a vast country with diverse terrains, and each region offers its own unique natural wonders; where you'll find no shortage of picturesque landscapes to explore.
Plan your adventure along coastal routes like the Pacific Coast Highway in California, and the Overseas Highway in Florida, or take a leisurely bike ride along the Outer Banks of North Carolina where you'll be treated to breathtaking ocean views.
If mountains are more your style, consider riding through the Rocky Mountains in Colorado, Beartooth Highway in Montana, the Blue Ridge Parkway in Virginia, and North Carolina, where panoramic views will leave you in awe. For mountain riding, the Himiway electric cruiser bike is just perfect; offering you improved traction and stability with its 24 x 4 inches fat tire and durable frame.
National parks are also perfect destinations for Himiway ebike riders. Visit Yellowstone in Wyoming, where you can witness geysers, hot springs, and stunning wildlife. Or go hiking in Yosemite National Park in California and explore the natural wonders of Zion National Park in Utah, where you can bike through red canyons and hike to mesmerizing viewpoints.
Just remember to plan your rides according to the best times of day or year to fully appreciate the beauty of these routes.
Adventure Activities to Try on a Himiway Ebike
If you're seeking an adrenaline rush and outdoor adventure, Himiway's best electric bikes can be the perfect companion. Embark on thrilling activities like mountain biking, ATV trails, extreme sports, or zip-lining to take your Himiway ebike experience to the next level. These activities provide an opportunity to push your limits and explore the natural wonders of the USA from a whole new perspective.
But, before engaging in any adventure activities, make sure to prepare adequately and prioritize safety. Research the trails and routes, wear appropriate protective gear, and always follow the guidelines and instructions provided. Combine your adventure activities with visits to nearby attractions and sights, such as natural parks, waterfalls, or scenic overlooks.
Conclusion
your June 2023 USA travel adventure awaits, and there's no better way to break away from the ordinary than by experiencing the country on a Himiway fat tire ebike. From exploring unusual destinations and indulging in exotic foods to riding along scenic routes and engaging in thrilling adventure activities, the possibilities are endless.
So, hop on your Himiway ebike, let the wind guide you, and get ready for an extraordinary journey that will leave you with a sense of awe and a taste for adventure.