African Kite Racing Championships in Soma Bay |Race Day 4
African Kite Racing Championships in Soma Bay
June 24-28, 2014: Race Day 4
Soma Bay, June 27, 2014: The African Kite Race Championships 2014 saw some dramatic moments on Day 4 at 7Bft Kite House in Soma Bay as only two more race days remained. The competition is getting tougher as Florian Gruber still has a chance to defeat Riccardo Leccese, but Leccese's drive to win is only getting stronger.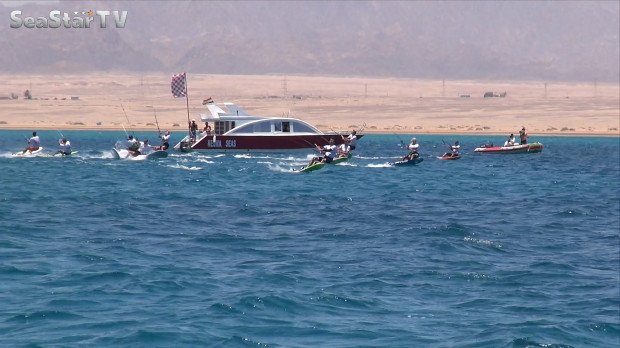 Riccardo Leccese/ Italy: "Since I came here I had the podium on my mind. I want to win this competition. Last year I was injured and I have been getting ready for this. I have been telling to myself that this year is my year. I haven't backed off, I am pushing it every day and it has not been easy but 11 bullets on the score make me feel that I can win this competition. I have good scores and tomorrow I will make it harder for my opponents so I think I can win this and I am looking forward to tomorrow."
Florian Gruber / Germany: "Ricky has gained a big lead in the first 2 days, it is hard to catch up with him now, but not impossible. I will give it a 100 % and if he makes a couple of mistakes, everything is possible. If he presents a solid race then I have to accept the 2nd rank and that one I will not give away."
In the men's division, the three main players – Leccese, Gruber and Oliver Bridge – are still in the lead. In the women's division, Elena Kalinina is ranking first just above Steph Bridge. None of these kiters are ready to let their competitors take their place on the podium on the final day and are using every ounce of skill to make sure of that.
Steph Bridge/ UK: "I got beaten today in all of the races by Elena who was on her 11 meter kite which seems to be pretty quick in these winds. However, we still got a final day tomorrow which is gonna see slightly lighter winds and it's the medal races, anything can happen and for sure I will give it 110 percent."
The morning rounds ended with a dramatic scene when several kiters crashed early in the race, including Leccese, who made a miraculous recovery and raced to finish second, just behind Gruber taking first.
Gruber: "The 4th day today went well, I am happy that I could win 2 races. At the second race there was a big crash at the start but I got out of this and could catch a lead. That gives me a lot of motivation for tomorrow, tomorrow is the last day and all the 10 top racers get together. My 2 wins give me a huge push. I will see how I can grill Ricky and will give my best."
The UK's Oliver Bridge, at just 16 years old, competed in the 2013 championship in Soma Bay and has since become a contender for races around the world. After ranking 23rd in last year's race, he's currently close on Gruber's tail in third place.
Oliver Bridge: "Last year in the African Kite Championships I was still quite young and not very experienced. After that I did a lot of training and practicing a lot and in July I won the Men's European Championships which I was very happy with, later that year I kept on training a lot in Hainan for the World Championships so I came 4th which I was very happy with too, and also managed to win the Youth World Championships. For this year, hopefully, I am gonna be able to win the World Championships in Turkey in August."
The top kiters in 2014 are already very familiar with Egypt as prime kiting destination and Soma Bay as a perfect venue. With the participation and sponsorship of the Egyptian Sailing and Waterski Federation for the African Kite Race Championships 2014, everyone is looking to improve sports tourism in Egypt through this wonderful collaborative effort.
Commander Hassan Luxor / Chairman of Jury Committee / Egypt Sailing and Waterski Federation: "The area and the wind make the competition – without wind, no competition. The Egypt Sailing and Waterski Federation has chosen this place and the organizing committee (IKA) has also chosen this place because it is wonderful for the participants to come here. The Federation is helping very much with all our ability, all our efforts, all our facilities."
Soma Bay – one of the world's best kite spots
At Soma Bay, the best elements of the sea and desert converge at 7Bft Kite House's world-famous kite spot. Not only naturally beautiful, the spot offers the flat-water conditions and side-shore and off-shore winds perfect for world-class kitesurfing events. Soma Bay's five resort hotels, luxury spa, championship golf course, and vast house reef are what define it as an ultimately relaxing and exciting destination.
Organizers and patronage
Organized by the Egypt Sailing and Waterski Federation and the International Kiteboarding Association, chaired by the Egyptian Ministry of Youth and Sports, the Formula Kite Class and the TwinTip:Racing invited kiteboard sailors to take part in the 2014 Formula Kite Course Racing African Championships under specified conditions laid down by the International Kiteboarding Class Association in co-operation with the International Sailing Federation (ISAF).
Further information: