African Kite Racing Championships in Soma Bay |Race Day 3
African Kite Racing Championships in Soma Bay
June 24-28, 2014: Race Day 3
Soma Bay, June 26, 2014: The African Kite Race Championship 2014 continued for its third day at 7Bft Kite House in Soma Bay. The day saw the possible come-back of Florian Gruber and offered some surprising twists, proving this championship is still any man's game.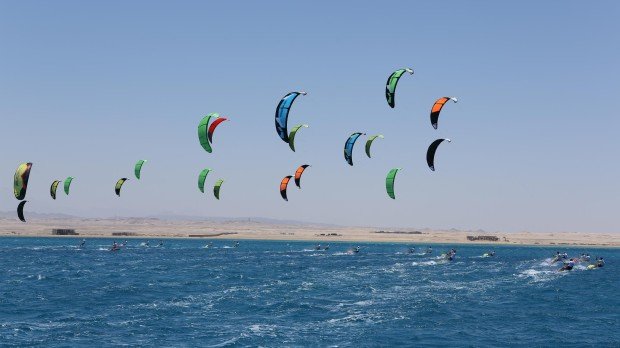 Florian Gruber was determined to reclaim the course and grabbed first place in two of Day 3's races. Riccardo Leccese was not far behind, placing first in the third race of the day. Slowly sneaking up on Gruber and Leccese is emerging young talent Oliver Bridge, son of last year's defending champion Steph Bridge. Oliver Bridge landed in third by the end of Day 2 and surprised everyone by effortlessly winning the second race of Day 3.
In the women's division, Elena Kalinina began to lag behind Steph Bridge who dominated the day, winning three out of four races. After some serious defeats by Kalinina earlier in the week, it seemed Bridge was about to accept her fate of placing second to Kalinina, but with still two race days left to go it is obvious she will not give up this championship without a fight.
Day 3 was risky from the start as Gruber had fallen ill and Leccese decided to make some unconventional choices with his kites, opting for an 8 meter kite which proves to be more challenging on lighter wind days. Still, both found themselves thriving in these unfavorable conditions.
Quote Florian Gruber / Germany: "The 3rd day of the African Championships had not started so well, I had a bit of an ear- and headache but as soon as I got myself on the water I was fine. I won twice, which gives me a push for tomorrow and I came third another 2 times. I know that I can be on top of the race and will put even more wood on the fire tomorrow."
Quote Riccardo Leccese / Italy: "In the third race, all my other competitors were on a 10 meter and I finished neck and neck with Florian. That means even if I'm underpowered I can keep the rhythm and I don't back off: I always push to the limit."
Midway through the race, it is clear there is still a lot of tough competition between these riders and the title. Adding another twist to the week's events is the introduction of the TwinTip:Racing challenges on Day 4.
It was an eventful race day in Soma Bay and after really pushing to prove themselves on the course, the riders are happy to polish off the day with some rest and relaxation.
Quote Riccardo Leccese / Italy: "I'm looking forward to going back to The Breakers. A swim in the pool would be great and to sit around the bar."
Soma Bay – one of the world's best kite spots
At Soma Bay, the best elements of the sea and desert converge at 7Bft Kite House's world-famous kite spot. Not only naturally beautiful, the spot offers the flat-water conditions and side-shore and off-shore winds perfect for world-class kitesurfing events. Soma Bay's five resort hotels, luxury spa, championship golf course, and vast house reef are what define it as an ultimately relaxing and exciting destination.
Organizers and patronage
Organized by the Egypt Sailing and Waterski Federation and the International Kiteboarding Association, chaired by the Egyptian Ministry of Youth and Sports, the Formula Kite Class and the TwinTip:Racing invite kiteboard sailors to take part in the 2014 Formula Kite Course Racing African Championships under specified conditions laid down by the International Kiteboarding Class Association in co-operation with the International Sailing Federation (ISAF).
Further information: