African Kite Racing Championships in Soma Bay
The world's best kiters are ready for takeoff – Soma Bay, June 24, 2014: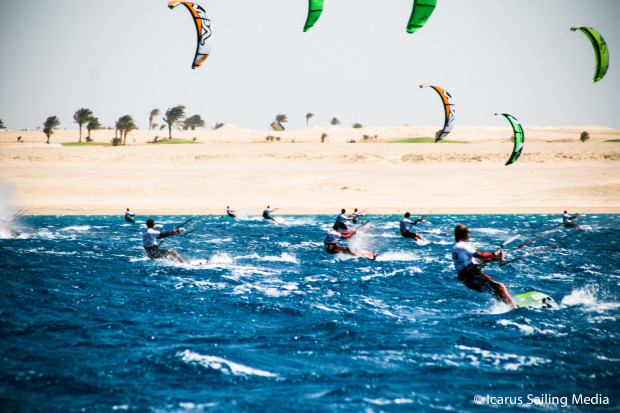 The kites fly high, the adrenaline soars – today June 24, 2014 the African Continental Course Racing Championships, one of the largest kitesurfing competitions worldwide, have returned to the Red Sea at 7Bft Kite House in Soma Bay. Champions from around the world, from Colombia to New Zealand, world ranked sailors, and emerging young talent have travelled to Egypt to compete for the 20,000 Euro prize money and join in the thrilling challenge to hunt down the German kite world champion Florian Gruber in his efforts to defend his title in 2014.
The German Kite World Champion defending the title:
The Kite World Champion Florian Gruber from Garmisch-Partenkirchen in Germany is well prepared for a hot competition:
"In 2013 I managed to finish the African Championships as the runner-up. At the end of the year I was in top form and could seize the world championship in China. Afterwards, I won 2 more world cups in Melbourne and Perth and finished the year successfully. Now I am first in the world ranking and have a world champion title to defend. At the African Championships I am not the hunter but the hunted. All racers want to defeat me and have prepared immensely for the race. My toughest competition is last year's 4th rank Riccardo Leccese from Columbia. I am gonna give my best!"
 Organizers and patronage
Organized by the Egypt Sailing and Waterski Federation and the International Kiteboarding Association, chaired by the Egyptian Ministry of Youth and Sports, the Formula Kite Class and the TwinTip:Racing invite kiteboard sailors to take part in the 2014 Formula Kite Course Racing African Championships under specified conditions laid down by the International Kiteboarding Class Association in co-operation with the International Sailing Federation (ISAF).
Soma Bay – one of the world's best kite spots
Soma Bay is again the host of the African Championships for the second consecutive year. At the spectacular bay of the 7Bft Kite House — with its pristine beaches, fantastic flat-water conditions, perfect off-shore and side-shore winds — the best elements of the sea and desert converge and define Soma Bay as one of the best kite spots in the world. This spot is not only naturally beautiful, but is comprised of excellent conditions for world-class kitesurfing events. The hosting hotel for the race is "The Breakers Diving and Surfing Lodge". Soma Bay's 5 luxury resort hotels, one of the world's best house reefs, one of the top golf courses in Africa and a Leading Spa of the World cater for a luxurious holiday.
Further information: