13 Fantastic Adventures and Where to Find Them
The Earth is vast, and so finding its hidden gems can be time consuming and difficult. As an avid traveler and thrill-seeker, you want to find and discover the most beautiful and adrenaline-fueled adventures. You want to experience new countries, cultures and activities; you want to show your accomplishments to your friends and family. You may also need to select your next great exploration carefully due to money and time constraints.
However, traveling is becoming increasingly important to people nowadays; teenagers are taking gap years before university, or postponing a career once they've accomplished their degrees in favor of seeing the world. This surge in popularity is because exploring the planet is becoming more feasible. There are greater opportunities, and the youth of today are making sure they take these chances before working a 9 to 5 lifestyle. How do you go about choosing your first or next big adventure, though? Here are 13 fantastic adventures and where to find them.
Mount Thor, Canada
At 1,675 meters tall, Mount Thor does not claim the title of 'world's tallest mountain,' however, it is the steepest with a 4,101-foot vertical drop and an average angle of 105 degrees. This Canadian summit is made of pure granite, and although it sits in a remote location, it is still a popular destination for avid and professional mountaineers. Climbers can also ascend Mount Asgard, which stands at 800 meters.
For those who may not be able to stomach such an ascent, Mount Thor is located in the Auyuittuq National Park which is perfect for hiking and seeing breath-taking Arctic wilderness such as fjords, ice fields and glaciers. The most common backpacking route used to be the Akshayuk Pass, however, Summit Lake flooded and washed away Windy Lake bridge. Hiking routes are now limited to either side of Weasel River. People who wish to visit the Auyuittuq National Park need to register at the park office in Pangnirtung or Qikiqtarjuag before attending an orientation session.
Oymyakon, Russia
Known as the coldest inhabited place on Earth, Oymyakon is a small Russian town with a population of 500. Before it became inhabited, it used to hold political exiles. However, for those who wish to visit this town, there is skiing, ice fishing and ice hockey to participate in; this is because with the winter temperatures averaging at -58 degrees F, the town is permanently frozen all year long.
There is one hotel for those visiting, and the cold is not for the faint hearted. When traveling, people try to walk on foot as opposed to car – this is because the engine can freeze over in the space of a minute. For those are visiting, it is also advisable that they refrain from touching metal and drinking water when outside.
Larapinta Trail, Australia
The Northern Territory's Larapinta Trail's total length covers 223 kilometers from Alice Springs to Mount Sonder. The trail takes you through spectacular bushwalking and across the MacDonnell Ranges, and is considered one of Australia's most unique attractions. During the summer, temperatures can exceed to 45 degrees Celsius, putting hikers at risk of dehydration and heat strokes. Therefore, most people will walk the trail during winter when days are cooler and there is less risk.
For those who wish to trek the trail, it can take up to 14 days, and is split into 12 individual sections which some stages consisting of a challenging 20 miles of walking. The trail is well marked with posts detailing the distance to the next campsite or section as well as the total distance left for you to walk. There are noticeboards detailing potential dangers and future inclines or changes in terrain; there are also reasonable amounts of water along the trail – either trucked in or to be found naturally.
Fujikawaguchiko, Japan
Although there are many towns surrounding Mount Fuji, Fujikawaguchiko is one of the better bases for climbing the iconic volcano. Travelers can also explore Lake Kawaguchiko (one of the Fuji Five Lakes), as well as the other four; it is also near the infamous Aokigahara Forest. With the abundance of parks, sights and shrines on offer, visiting Fujikawaguchiko during the Sakura is idyllic and picturesque. Hidden gems to explore on the outskirts of this resort town are the Chureito Pagoda and a day trip to Hakone – home to Lake Ashinoko, Mt. Hakone and the well-visited Kuzuryu Shrine Singu found in the lake.
Angel Falls, Venezuela
Known as the world's highest, uninterrupted waterfall with a massive height of 979 meters, Angel Falls is one of Venezuala's most recognized tourist spots. Although many travelers will focus on the waterfall itself, the Canaima National Park is spectacular with its dense rainforest. The best way to explore the Canaima National Park is by hiking, climbing, or via a guided tour boat. The area is inhabited by monkeys, pumas, lizards and jaguars, and visitors will be able to spot various exotic, colorful birds amongst the foliage. For those who have a taste for adrenaline, the surrounding sandstone mountains provide a chance for mountain climbers and trekking. If you're planning on visiting, the best time to see Angel Falls is in the middle of the rainy season (October to November); avoid visiting during the dry season as the rivers will be running low on water and the waterfalls will be less impressive.
Gansbaai, South Africa
Many people visit South Africa's Gansbaai for its most notorious tourist attraction – cage diving with great white sharks. Due to its dense population of great white sharks, this is the number one destination for those who wish to get up-close-and-personal with these terrifying predators in the wild. However, for those who are terrified of sharks and wish to experience something a little more calming, whale watching from Pearly Beach is an equally popular pastime in Gansbaai. Other popular activities include tidal pools, the Duiwelsgat hiking trail and the Platbos forest trail. 
The Alps, South of France
The French Alps, most known for its mountainous landscape, offers many activities and sights for its visitors. Of course, professional and trained mountaineers can scale these mountains, however, for those who can't stomach the climb, they can explore Lake Garda, Lake Como, and take the cable car to Aiguille du Midi's summit in Chamonix. From there, you can witness views of the Alps, as well as sights of Mont Blanc and parts of Italy. For more views of Mont Blanc, catch the Montenvers train for scenic vistas.
Additionally, Annecy (nicknamed 'Little Venice') is a charming French village, filled with pavement cafes, picturesque streets and home to Lake Annecy, where you can swim in the presence of surrounding mountains. Activities in the Alps include nature walks, arts and crafts, wine tasting, wild marmotte spotting and folk dancing.
Hokkaido, Japan
Located north of Japan's main islands, Hokkaido is known for its volcanoes, onsens and, most notably, its skiing. This is because Hokkaido is ideally located: cold air is brought across the Sea of Japan from Siberia, resulting in dry powder and consistent snowfall – ideal for keen skiers. Travelers can also take a break from the cold by visiting and dipping into one of the many onsens on offer (however, make sure you abide by their rules), and boat rides allow you to spot wildlife such as eagles, wales and exotic fish. Hikers can trek up Mt. Asahi, and take a hot spring bath in the Toya Onsen. As always in Japan, there are many parks, shrines, zoos and museums for tourists to visit.
Livingstone, Zambia
Livingstone has a lot to offer, from nature, famous landmarks and extreme sports. Home to Victoria Falls, one of the Seven Natural Wonders of the world, this magnificent waterfall and its surrounding national parks (Mosi-oa-Tunya and Victoria Falls) can offer an abundance of nature, wildlife and attractions. Adventurous swimmers will want to experience Victoria Fall's famous and naturally formed "armchair" (also known as "Devil's Pool"), located on the edge of the fall. Due to the formation of a rock barrier and minimal current, people can swim and soak on the top of Victoria Falls, a few feet from where the water cascades over the top, relatively safely.
Adrenaline seekers can also gorge swing, abseil, paraglide and skydive. If there's a group of you looking to skydive, treat everyone to matching skydive t shirts to prove your thrill-seeking nature. You'll be the envy of all your friends and family as you dive back to Earth with beautiful vistas of Livingstone and Victoria Falls surrounding you.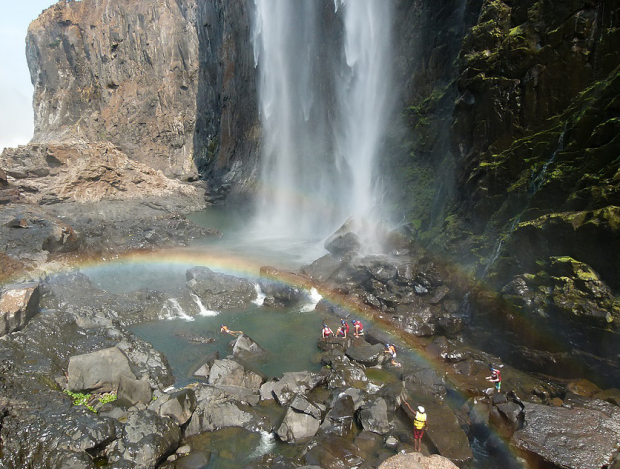 Franklin River, Tasmania
There's a primal beauty to Tasmania's Franklin River, located within Franklin-Gordon Wild Rivers National Park. It is a region of rugged mountain peaks, dense and beautiful rainforests, and deep river valleys. Franklin River, now a World Heritage Site, is perfect for those who love white water rafting, camping and the chance to push themselves physically and mentally. River rafting is incredibly challenging, and there are many river rafting companies able to take you and push you through the difficulties The Churn, Thunderush and The Cauldron have to offer you. Tours can last you hours or days, and some offer the chance of wild camping. There are also chance encounters with the local wildlife, meaning you could spot platypus, wallabies and quolls while on your adventures. Although part of Australia, Tasmania can seem like a different planet in parts.
Tortuguero, Costa Rica
Tortuguero, part of Tortuguero National Park, is located on a rainforest-covered sandbar, whose beaches are frequently nested by green turtles from July to the middle of October. Other wildlife you can encounter include jaguars, manatees and tapirs, who are sheltered by the Park's freshwater canals, forests and wetlands. For those who wish to witness exotic animals, there are many nature and wildlife tours available; there are also hiking and camping tours, and the chance to kayak and canoe.
However, to fully explore and experience the surrounding rainforest, you need to network the canals, rivers, beaches and lagoons; therefore, hiring out a boat, or joining a tour via boat, is a relaxing and peaceful way to experience the nature Tortuguero has to offer. An advantage of exploring this region with a tour guide also means they can assist you in spotting the local wildlife. For those wanting to see the nesting turtles, night time tours are also available so you do not disturb the animals.
The Galapagos Islands
Fans of Charles Darwin and the 'Origin of Species' will hear the calling of The Galapagos Islands. Considered of the world's best destinations for wildlife, this is ideal for anyone wishing to view exotic animals and plant species – many of which cannot be found anywhere else. Noteworthy species to be on the outlook for include the marine iguana, sea cucumbers, blue-footed booby, waved albatross and Galapagos sea lions. Due to the Island's defenseless wildlife, visitors must be careful not to bring in any foreign species.
Although most of the islands are devoid of vegetation, these volcanic islands and their fragile ecosystems are a breath of fresh air when it comes to humans – however, the island's towns are slowly developing to help accommodate tourists. Due to the eighteen main islands (and four minor islands) being small in nature, travelers can easily see all islands with a simple, uncomplicated itinerary. Tourists must fly to either San Cristobal or Baltra, before exploring via boat.
Belize
Belize, found on the eastern coast of Central America, has Caribbean Seas shorelines and dense jungle. It's also home to the massive and spectacular Belize Barrier Reef, dotted with hundreds of low-lying islands and inhabited by exotic marine life. Belize is a popular tourist destination for divers, as many will visit to experience and dive in the Blue Hole – a deep, dark blue circle which is 1,000-feet across and 400-feet deep. Those wanting to dive in the Blue Hole should book a trip between January and May; therefore, you avoid the rainy season, experience dry, warm and pleasant weather, and can see tropical flora. To reach the Blue Hole, you will want to book a tour guide, and have an expert take you there.