Why Are Electric Trikes Best for Seniors?
An electric three-wheeled bike can be a beneficial alternative if a conventional two-wheeled bike is too unstable or difficult to ride due to other limitations. For seniors and those with disabilities, such as people with balance problems, riding a two-wheel bicycle may no longer be practical or safe, they may carry a risk of falling, which is unsafe for the rider and other road users.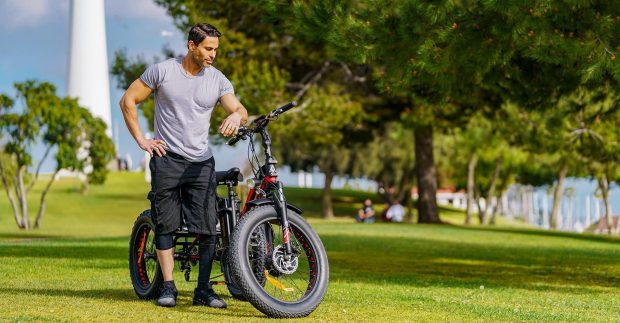 Also, It is difficult for them to get on and off the bike. For the sake of safety and convenience, a three-wheel electric trike can be a good choice. 
What Makes An Electric Trike Best For Seniors(Compared To A Standard E-Bike)?
Using a tricycle instead of a two-wheel e-bike is more stable.
Even if you're cycling at a sluggish pace, you won't lose your balance on a tricycle.
A tricycle won't fall over if you leave it still.
A tricycle makes it simple to get on and off.
The inherent balance of a tricycle eliminates the need for further balance training.
You don't have to dismount if you're (mostly) stationary. Thus you can safely cross without doing so.
When you ride a tricycle, you may enjoy the freedom of being mobile and independent for extended periods, whether you're going shopping or on a biking trip.

 
What To Expect From An Electric Tricycle? 
Large Rear Basket
Using an etrike and worried about where to store your essentials? Thanks to the large rear basket, you may bring your belongings to work or school on an electric tricycle. Shopping bags, outdoor gear, and pets can all be transported this way. Using the rear racks regularly will be a pleasant experience. 
Additionally, electric tricycles are now being utilized for critical errands like delivering food and other goods. Small and large businesses have been aided in decreasing travel costs and adopting a more ecologically friendly and sustainable way by using these services. 
Powerful Motor And Large Battery
A Bafang hub motor in the front wheel can produce 750 watts of continuous power while ramping up to over 1,000 peak watts for hill climbs and faster acceleration. Calculating your remaining mileage is easier with this method, but it is not essential. 
The adult fat tire electric tricycle runs on a 48-volt system and has a 17.5Ah battery for an estimated max mileage up to 55 with pedal assist. The battery can lock in place and is removable making it easy to charge. 
Fat Tires
With a 3-wheel construction and fat tires, you can comfortably travel the uneven terrain and cruise around the beach, hill, grass, or gravel roads, allowing the riders to find and explore more outdoor adventures.
Addmotor's M-360 e trike comes with Kenda 20" x 4" fat tires, which are also resistant to slip and puncture. You don't need to worry about the awkwardness of getting a flat tire in a middle way.
Semi Recumbent Design
Semi-recumbent trikes are pleasant and easy to ride. The semi-recumbent design lowers the rider's center of gravity, the relaxed seating enables riders to ride with ease and enjoy the fun of riding.
 Accessibility helps people with disabilities. Trikes are better than bicycles for anyone with back, shoulder, hip, or pelvic problems. Semi-recumbent trikes are more comfortable. 
Addmotor semi-recumbent electric tricycle M-360 allows people with back difficulties to ride more comfortably and for extended periods. Reclined seats let you enjoy the journey without moving your lower back. 
Integrated Front And Rear Lights 
Both the headlight and rear lights are powered by the main battery pack. The rear light features a brake light that is activated any time the brakes are applied. 
With the right light, you can head out before dawn or after dusk when you're off work. And, by riding at these times you'll enjoy a wonderful escape from the scorching sun and crowded trails. But for safety reasons, don't ride alone at night. If you absolutely have to go solo, tell someone when and where you're riding, and when you expect to be back. 
Conclusion
Even with a whole basket of shopping bags or other possessions, adults and the elderly find electric tricycles convenient. Most people worry about pedalling an electric tricycle. Riding is natural. You won't feel pushed forward by the motor, just faster. Due to their natural feel, accessible transportation, and electric support, electric tricycles are appreciated.