What Is Motorcycle Racing
Motorcycle racing is also referred to as moto racing or motorbike racing. It is a sport that involves racing of motorcycles. 
Motorcycle racing has been around for a long time. It is an exciting and dangerous sport that draws people from all walks of life. Motorcycle road racing, off-road racing (on circuits or open courses), and track racing are the most common types. Hill climbs, drag racing, and land speed record trials are among the other categories.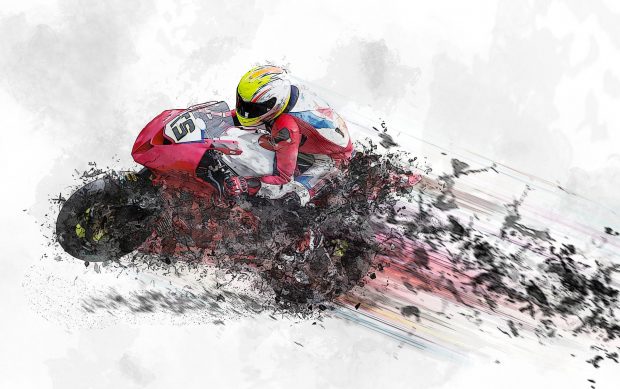 What is The Objective of Motor Cycle Racing?
Motorcycle racing is a competition between riders, usually two or more. The main objective of the race is to be the first person to cross the finish line or finish the course in the shortest amount of time. 
Motorcycle racing is an excellent opportunity to hone your riding abilities as well as your physical and mental conditioning. It may also be a terrific method to meet new people and create new friends. There's also the excitement of competition.
Furthermore, it is an exciting sport with something for everyone. Whether you enjoy the fast-paced action of Grand Prix racing or the challenging terrain of motocross, there is a race for you. Anyone can participate in this exciting sport with the proper equipments (like helmets, knee guards etc) and training.
If you're interested in such a sport and are looking for awesome equiments you can have a look at these motorcycle helmets under 300 or these racing suits.
History Of Motor Cycle Racing
Many of the ancient town-to-town vehicle road events, such as the Paris-Vienna race, had a motorcycle class. In 1897, the de Dion tricycle dominated the sport, but two-wheelers like the Werner quickly laid the way for an altogether new type of racing. The international cup was established in 1904 by the Federation Internationale du Motocyclisme (renamed the Federation Internationale Motocycliste [FIM] in 1949) to unite five nations: Austria, Denmark, France, Germany, and the United Kingdom. The first international cup race was held at Dourdan, France, in 1905. However, the Tourist Trophy (TT) event became the most famous of all European motorcycle races. The inaugural TT race was held in 1907 on the Isle of Man, on the world's most famous track.
Moto racing first appeared in 1894. with the invention of motorbikes in Germany The sport was developed in Europe. Following WWII, the FIM was formed, which established the road racing format that is still in use today. The first Japanese motorcycle racer won in 1960.
In 1905, the first international road race was held in Douran, France. The most notable race is the Tourist Trophy, which was founded in 1907 on the British Isle of Man. Motorcycle racing in North America began in 1903, and the Daytona 200-mile (320-kilometer) race has been the top U.S. race since 1937.
The professional road racing league was once known as World GP, but since 2000 it has been known as MotoGP.
Historically, "road racing" referred to a race on a closed public road. This was previously frequent, but just a handful similar circuits remain now, especially in Europe. The races are held on public roads that have been temporarily closed to the public due to legal directives issued by the local legislature.
There are two championships: the International Road Racing Championship and the Duke Road Racing Rankings. The latter accounts for the vast majority of road events held each season, with a prize for the top finisher. On lengthy circuits, notable road races include the Isle of Man TT, North West 200, and Ulster Grand Prix. Many road racing courses in Ireland are still in operation. Road races are also held in the Netherlands, Finland, Spain, Belgium, Germany, the United Kingdom (Oliver's Mount), the Czech Republic, Ukraine, New Zealand, Indonesia, and Macau.
Motor Cyclist Gear and Preparation
If you think racing is about buying a motorcycle and hitting the track, you're mistaken. There's a lot more to it than that. Riders must be in peak physical condition, and their bikes must be adjusted for maximum performance. Furthermore, motorcyclists must wear the proper gear to protect themselves in the event of a mishap.
You'll need a sturdy helmet, gloves, boots, and protective gear as well as protective clothing. Because your helmet is the most important piece of equipment, ensure sure it fits properly and is certified by a trustworthy authority. The rest of your gear should be comfortable and allow you to move about easily on the bike.
Physical preparation begins with increasing strength and stamina. They must be able to tolerate lengthy hours in the saddle, therefore they must visit the gym and spend time on the treadmill or elliptical. As race day approaches, they must continue to perform particular motorbike workouts to strengthen the muscles they will utilize while riding. Remember to remain hydrated; dehydration can cause weariness, which is harmful on the racetrack.
They'll need to be mentally focused and relaxed. On race day, try to be as relaxed as possible; stress will make it more difficult to ride at your best.
How To Become a Motorcycle Racer?
The Federation of Motor Sports Clubs  maintains around authorized schools that teach beginners the fundamentals of track racing. "It's on-the-track training where a coach follows you around and sorts out your mistakes." The three levels of instruction cover all of the fundamentals required to ride on a track."
To apply for an FMSCI licence, you must first get certification from one of the recognized schools. A guardian's consent is also necessary for people under the age of 18 to get a licence.
Begin As Soon As Feasible
"If a rider is under the age of 18, he or she must obtain permission from a guardian to race." However, at that age, the benefit is that a number of teams will look after the rider and manage all expenditures. Honda, for example, has a distinct category where they work with riders at the grassroots level and train them over time."
Professional Training
If you want to go into racing, you must have a personal coach. When riding alone, the emphasis is solely on the timings that you register. With an experienced rider in front of you, a lot of learning comes just through observation." Aside from track practise, it is also necessary to undertake a lot of off-road training around the house. It not only improves your understanding of your wheels, but it is also a terrific method to increase your fitness levels."
Strive To Secure a Sponsor Early in Your Career
Motorcycle racing is a costly sport. Each season, the rider must make a baseline investment in order to join a team. If you put in excellent performances on the track, there's a chance a sponsor will back you up in the future. "A cyclist is only paid when he is signed by a factory team."
If you race in the Stock class, it's still doable. Once you're in the Pro Stock category, you'll need a lot of time to create the bike throughout the first year. When you get into this category, it becomes really pricey. After that, maintaining the bike requires money each season."