Vacation Ideas for The Thrill Lover In Everyone
For some people, the perfect vacation involves lying on a sandy beach, cocktail in hand, soaking in the sun's rays and just chilling out. For others, that idea sounds like the worst getaway ever. Instead, their dream trip would be somewhere where they could get active and experience some real thrills and adrenaline rushes! If you're the latter rather than the former type of vacationer, here are some of the top ideas to consider for your next break. Whatever type of activities you enjoy, one of these options is sure to be right for you.
Macau – For Bungee Jumping
Always wanted to experience the exhilaration of bungee jumping? Then there's no better place to head than Macau – home to the AJ Hackett Macau Tower. Measuring an impressive 764 feet in height, this bungee jump is the highest in the world, and if you really want to feel the adrenaline rush, why not try it at night?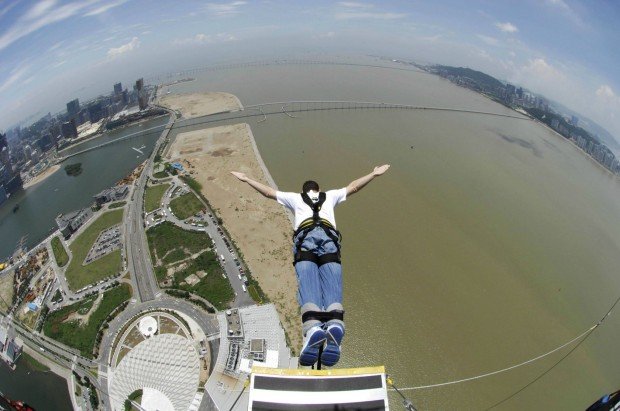 Bolivia – For A Thrilling Downhill Bike Ride
If mountain biking is your idea of a thrill, head to Bolivia for your next vacation. Just about 60 minutes outside La Paz you'll find the world's most dangerous road. Taking a treacherous and narrow route down the mountainside, this road snakes up the La Cumbre mountain which stands at 4760 meters. Ride downhill on special bikes equipped with hydraulic disc brakes and double suspension on a road which kills around 300 people every year! Now that's a serious thrill!
Chile – For Sandboarding
Fancy trying something new and different? Then why not head to Chile's Atacama Desert for a spot of sandboarding? This brand new adventure activity is like snowboarding but on sand rather than snow. Even more extreme, the Atacama Desert is the world's driest location so you can have an out of this world experience.
Canada – For Whitewater Rafting
The Yukon is well known for its spectacular wildlife, rapids, glaciers and icebergs. Why not head to this part of Canada to enjoy whitewater rafting on the Tatshenshini River. It's a seriously exciting experience and you'll be able to take in some amazing sights too.
Zambia – For The Ultimate Infinity Pool
Every summer, the Zambezi River's level drops just enough so that visitors can walk along the edges of the famous Victoria Falls and take a swim in the Devil's Pool. This small rockpool appears on the edge of a 355 foot sheer drop on the falls' edge. Sometimes called the ultimate infinity pool, it's an amazing place to swim.
Mexico – For Scuba Diving
If you love the idea of heading underwater for a thrill experience like no other, head to Mexico's Riviera Maya where you can experience the excitement of scuba diving in one of the many cenotes. Some of this underground caves are truly spectacular and offer an exhilarating experience in near blackness. Make sure you go well-prepared with a camera and watch that is safe to wear underwater. You can find out more about how to choose the best watch for you when you visit Scubalist.pro now.
Zakynthos – For Base Jumping
If you're keen to head to Europe for your thrills, why not head to the Greek island, Zakynthos. Sometimes known as Zante, this beautiful tourist spot is famous for its white sandy beaches and clear waters. However, if you'd rather try something a little more adventurous than just a dip in the pool or a cocktail in a local bar, head to Navagio Beach. Here, you'll find the ultimate base jumping experience from the 650 foot-high cliffs. You have 5 seconds before you need to pull your parachute ripcord and float serenely down to the sand where you'll find a picturesque shipwreck.
If your idea of a perfect vacation is to experience the most exciting thrills and adrenaline rushes out there, these destinations showcased here are among some of the very best places to visit. Whether you like to get wet or stay dry, whether you want to push yourself to the limit or try something brand new, one of these ideas is sure to hit the spot and help you to have the vacation that you've always dreamed of with all the thrills you can manage!