TOP 10 Skydiving destinations
Xtremespots.com presents the ten most famous destinations among its followers for skydiving around the globe.
1) Zadar, Croatia
Zadar is a city with rich cultural heritage, located in Croatia on the Adriatic Sea. It is the center of Zadar County and the wider northern Dalmatian region. Zadar is the place where Croatian culture begins as well as where the most exciting activity can be performed, skydiving!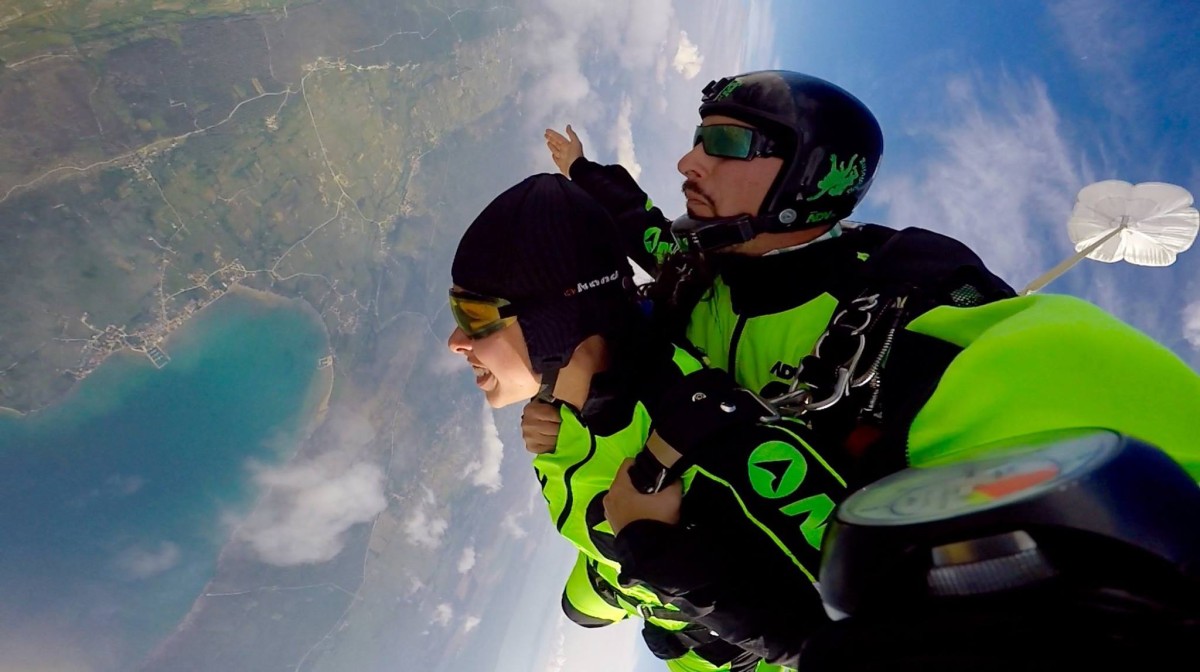 Skydiving over Zadar, Croatia – https://adventure-driven-vacations.com/
2) Homestead – Miami, USA
Miami is a gifted with tropical climate cosmopolitan city, located on the Atlantic coast. Located just a few miles away from the main city, Homestead is situated between the Everglades National Park and Biscayne National Park. This is a perfect location for skydiving because as you take off with a Cessna Caravan airplane from the General Airport, you fly above impressive landscapes and a network of forests and wet lands while catching a glimpse over Miami's blue horizon.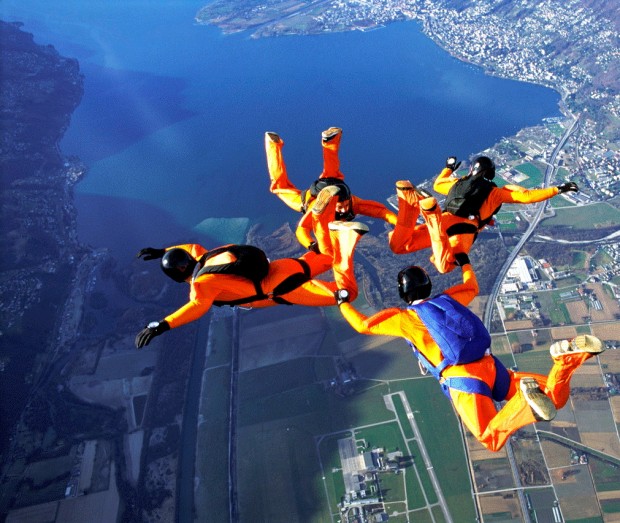 Skydive over Miami
3) Victoria Falls, Livingstone, Zambia
Victoria Falls, in southern Africa, the natural borderline between Zambia and Zimbabwe, offer a spectacular drop zone for skydiving. The magnificent Zambezi River on the ground, the imposing Victoria's' Falls on the horizon, the layers from water bubbles created by the momentum of the water are the indescribable panorama whilst sky diving. With more than twenty years of experience, the area is established like a fascinating  sky diving destination. The sport by itself can be a unique moment but sky diving in Victoria Falls, over the Zambezi River, can become for any diver a life time experience.
Catch your breath before jumping over Victoria Falls, Zambia – www.siyabona.com
4) Kastro, Greece
Kopaida Airport is located close to Kastro, a small farming village in Viotia Region, just a few miles north from Athens. Surrounded by the large fertile plains of Thiva, Cheronia and Kopais, as well as small rivers and the natural lake of Yliki, the area boasts endless grasslands as far as the eye can see.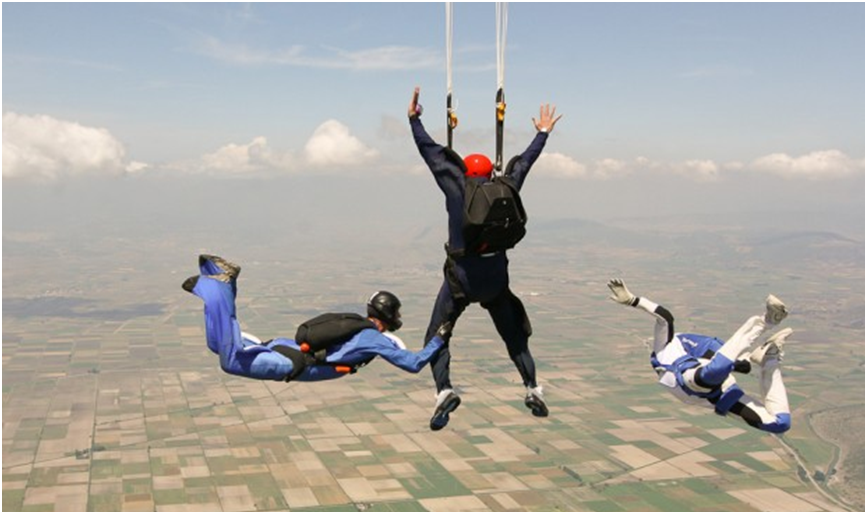 Skydiving in Kastro, Greece – www.gffc.gr
5) Wiener Neustadt, Austria
Wiener Neustadt is a town which is situated in the south of Vienna, within the state of Lower Austria in the northeastern Austria. Especially at the airport of Wiener Neustadt West (an old military airport), skydiving is being practiced almost every weekend! When the airport was operational, it was the oldest and biggest grass – only airport in Europe.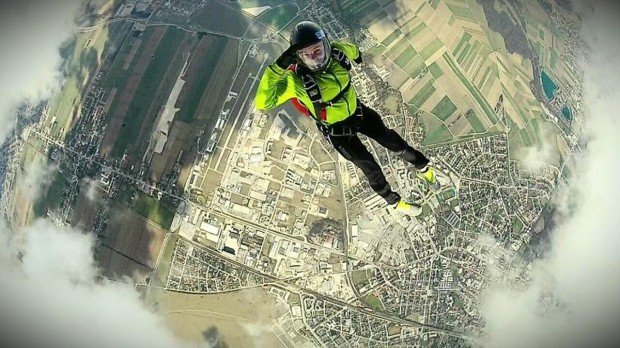 Backward skydive over Wiener Neustadt
6) South Padre Island, Texas, USA
South Padre Island is a resort town in Cameron County, Texas, U.S.A. giving you the opportunity to reach the adrenaline at the highest level by performing the most exciting activity, skydiving. Get adventurous while you jump from a 11000 ft/3352.8 m height. Feel completely out of the ordinary and free-fall for 60 seconds, speeding at 150 m/h – 241.40 k/h. The only thing you have to do is to trust your instructors and try to be in a world of your own for those 60 seconds.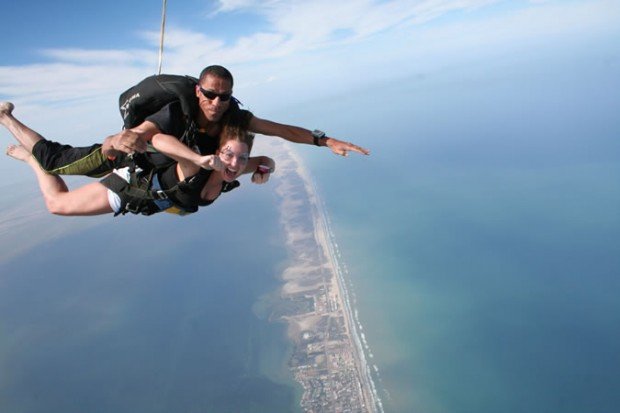 Skydiving over South Padre Island, Texas, USA from above – http://www.southpadreislandskydiving.com/
7) Taiping, Kuala Lumpur, Malaysia
Take on the experience of your lifetime by skydiving the Tekah Airstrip in Taiping, almost 3 hours in the north of Kuala Lumpur. The thrill is just awesome as you fall from up above the sky and letting loose like nothing matters in the world… only the overdrive of your senses!!! Feel the adrenaline rush as you ascend 10000 ft/3048 m on a Cesna 206 and landing is safe with all relevant precautions adhered to. You can't miss to enjoy breathtaking views even at a speed of 190 kph/118 mph.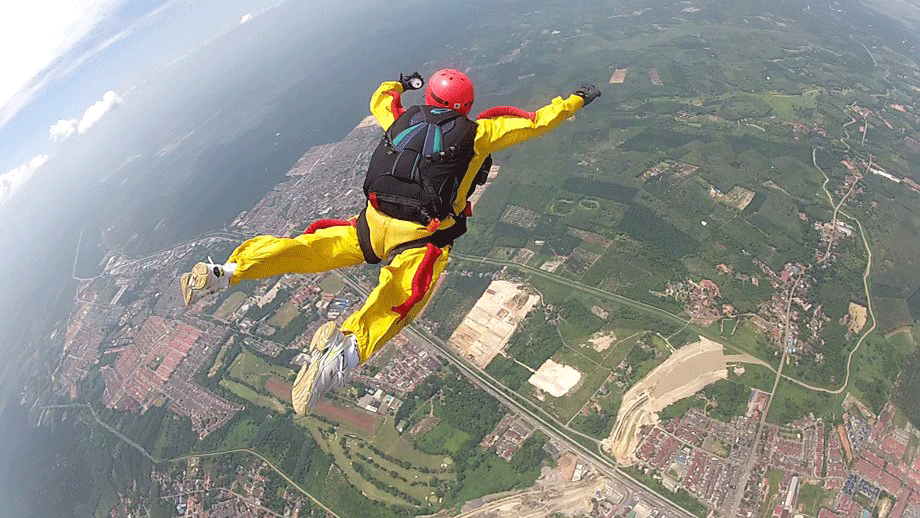 Skydiving over Taiping, Malaysia – http://kualalumpurskydive.tripod.com/
8) Aamby Valley, Maharashtra, India
Aamby Valley City is a unique place located in Pune district, nestled at the foothills of the Sahayadri mountain range, only a few miles away from Mumbai. Aamby Valley Airport is the city's airport and has an asphalt runway of 3937 ft/1200 m long and 99 ft /30 m wide. Once you get in the turbine aircraft, you will reach a height of up to 10000 ft/3048 m to 15000 ft/4572 m, depending on the weather conditions and your experience, while enjoying incredible views.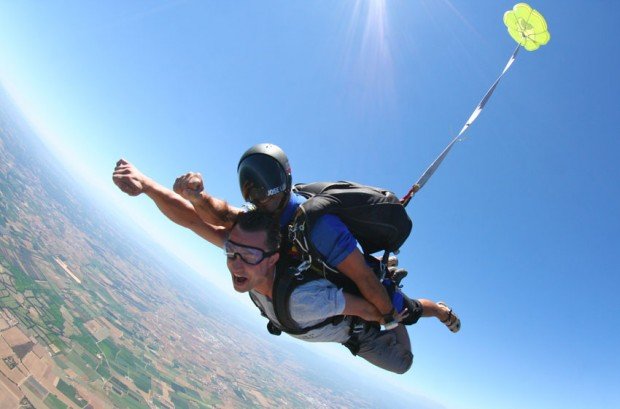 Skydiving over Aamby Valley, Maharashtra, India – www.redbull.in
9) St. Kilda Beach, Melbourne, Victoria, Australia
 St Kilda is a suburb of Melbourne at about 6 km/4 mi in the southeast of Melbourne's CBD (Central Business District). Live the most unique and exhilarating lifetime experience with skydiving. Make the extreme jump at  14000ft /4270m high and enjoy the breathtaking views of the Luna Park and the magnificent St Kilda beach for about sixty seconds at a speed of approximately 200 kph/124.27 mph.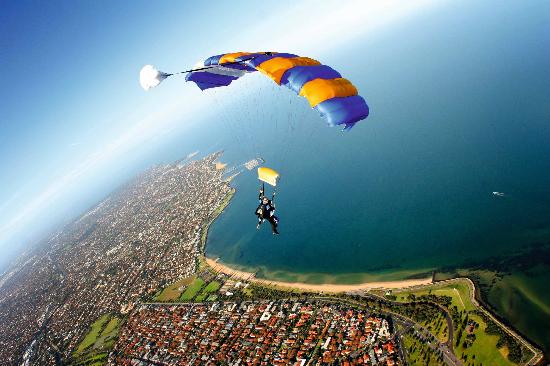 10) Barra da Tijuca, Rio de Janeiro, Brazil
Barra da Tijuca is a southwestern borough of Rio de Janeiro in Brazil, known for its natural and opulent beauty. Barra's beach is the longest of Rio de Janeiro's beaches extended to a distance of 18 km/11 mi long.  So, what is the most exciting way to admire Barra's magnificent view from above for adrenaline seekers? A skydiving experience, of course! Taking off from Jacarepagua Airport, you' ll have the chance to jump off the plane, flying over 12000 ft / 4000 m and live a breathtaking experience, enjoying the amazing view of the area, while your adrenaline reaches the highest levels.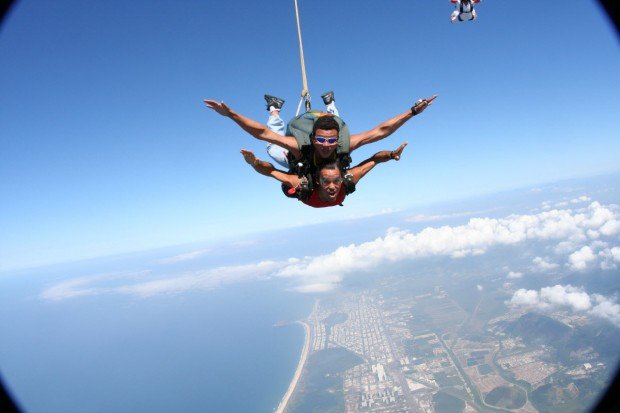 Once landed in Barra de Tijuca, it's uncertain you can go for a samba dance. – www.skydiverio.com.br/