Top 10 backcountry skiing tips
You've seen the skiers, as you pass overhead in the chairlift, you've seen them bounce in the powder, giant clouds of snow and style that is truly enviable. Or maybe you've seen them at apres ski, telling tales of adventures far from the marked pistes? Do you want a slice of that pie? Us too- that's why before you head off into the unknown, we thought that we should put together a quick fire guide of the top 10 best backcountry skiing tips to set you up for your backcountry expedition.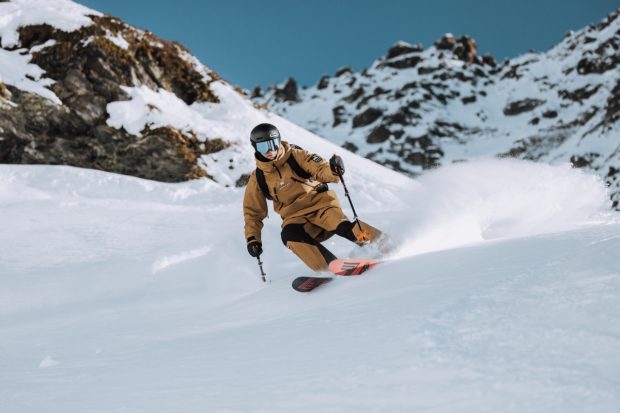 How to prepare, what you need to know, how to make the most of the experience and stay safe. All the need-to-know information in one place.
Getting started
Backcountry skiing is not for the faint of heart; without getting too philosophical about it, it's for those with a sense of adventure; for those who don't mind working for their line, hiking a little further and discovering less traveled parts of the mountain. 
Crucially, it's a skillful and technical aspect of skiing. Therefore, a strong skill level is essential and a willingness to learn. This quick-fire guide of the top 10 backcountry tips is an excellent place to start but be sure to 1, do your research, 2, practice and 3, carry the correct equipment and know-how to use it. 
Learn to ski & off-piste technique
The best place to start is learning to ski off-piste, right? By this point, you've experimented with the trails between the slopes, had your first taste of the euphoria from the soft fluffy snow, and adapted when the conditions aren't great. After that, you should feel confident and ready to progress. 
So here are a few of the basics. 
Don't lean back too far! Or too far forward, for that matter. Get comfortable with being centered on your skis.
Applying equal pressure to both skis will help you stay in control.
Steering your skis with your feet/ legs and keep your upper body strong.

 

Getting used to being a little off-balance and correcting without losing stability.

 
Ski jacket & pants
No matter how experienced you are, the rookie error is not wearing the right gear. You can hire the basics like the transceiver (beacon, beeper- however you wish to call it), the shovel and probe, borrow a backpack from a friend and even swap your skis to some big powder skis, but your ski jacket and ski pants are worth investing in right away. You want to look like you're the best skier on the mountain as well as staying warm and dry. You never know what the elements will bring you when you're out there in the backcountry, and the weather can change so quickly, so come prepared with high-quality ski jackets and ski pants that will stick with you no matter what the mountains throw at you. Brands like Montecwear offer a large selection of ski clothes for all types of adventures.
Check the conditions
Always check the weather and avalanche conditions before you leave and plan your route out in advance. This is great to do over a morning coffee with everyone who's heading out on the adventure. Chatting and planning before builds the team bond and confidence, you all know exactly what to expect. The conditions can drastically alter throughout the day so it's good to have a plan b; check weather sites and the lift pass office website. 
Take an avalanche course
Taking an avalanche course is the best place to get started on avalanche and mountain safety. Focus on how to use the basics like how the transceiver, shovel and probe work and what to do in an emergency. You'll also acquire vital skills like navigating the mountain and planning a safe and fun day out in the backcountry.
Fuel up & don't forget snacks
Stay hydrated on the mountain and bring lots of snacks. Backcountry skiing is thirsty work, and you'll certainly work up an appetite. Try to kick start the day by having a breakfast high in carbohydrates and protein to offer slow-release energy throughout the morning, and bring snacks like trail mix to the mountains for that extra hit of sugar after hiking! Fueling your body with the right food and water will keep you alert and set you up for an epic day!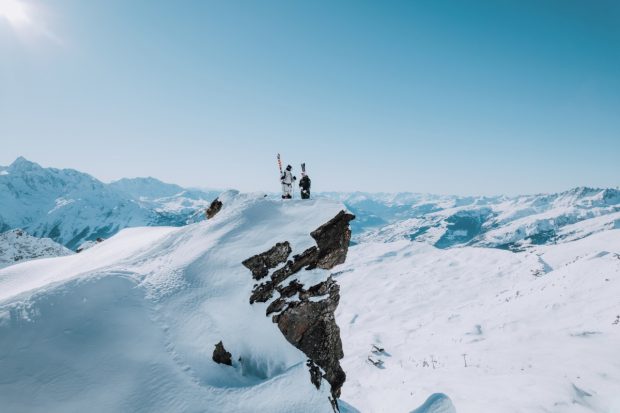 Build up your endurance
Maybe don't start with three-day hiking, touring, camping and downhill trips into the wilderness away from civilization. Instead, build up your endurance, knowledge, skills and fitness. Start with small boot packing hikes or shorter ski tour runs that lead to stunning runs down. Then, if you have a good incentive like some magical untouched turns, you'll be able to build on the effort you put in and, over a period, build up your endurance. Skiing and especially backcountry skiing is an extreme sport and working on your fitness is part of the preparation for an extreme sports holiday.
Go with a guide
Local mountain guides are the best people to take you on your first few adventures. They know where all the best lines are, plus how to access them without a brutal hike. In addition, they'll be able to share skills and plenty of knowledge to build your technique, such as how to put on your skins if you are touring, how to store them, hiking best practices etc. So take a guide and explore for real!
Pick a buddy & work as a team
The people you choose to ride with have a massive impact on the success and safety of the day. Build a bond of trust and strong communication; after all, you are all in it together for better and worse. Try to ride with slightly more skilled and experienced people to push you to be a better backcountry skier. 
Choose your skis carefully
Choosing the right backcountry skis is super vital. But where do you start, and what's most important? Your skis could be any pair that you enjoy using in the terrain where you traverse and ski. It could be as easy as picking their favorite resort ski, then mounting a touring binding on there, and off you go. But it's good to know your favorite ski brand probably also makes touring-specific skis made from lightweight materials that find the balance between light and durable for the uphill but strong and powerful for the descents. So the type of backcountry you do makes a difference. Do you focus more on the up or down? 
 Conclusion
There you have it, the quick-fire basics backcountry skiing tips. It's a great place to start before you head off on your first adventure. One thing we do know for sure is that after that first hike and those incredible powder turns on the way down, you'll never look back and probably, just like us, spend the rest of your time chasing that high with more adventures with good friends