The Best Outdoor Activities and Locations For Binocular Use
A pair of binoculars can be a handy tool for every kind of observer especially those that want to see the wonder in nature. Among biologists, geologist, and even hunters, binoculars are the most used optical instrument. Anyone who spends a lot of time in the outdoors should own a pair of good binoculars as they'll use them a lot. This guide should help you find out which outdoor activities and locations you can use your binoculars for.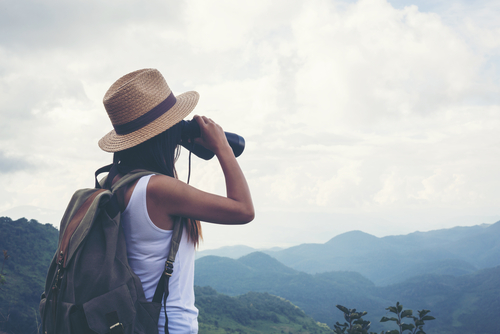 1.Bird Watching
One of the best outdoor activities you can use binoculars for is bird watching. A common activity for people who own binoculars is to appreciate and view birds and wildlife. Because of this, a hobby called bird watching came to life. Binoculars allow people to observe birds in great detail. But, make sure your binoculars have a central focus wheel and diopter focus adjustment for this kind of activity. If your binocular lacks these, you may not be able to see clearly for bird watching. Here's some great areas to go bird watching:
Manu National Park, Peru
Kruger National Park, South Africa
Grand Isle, Louisiana USA
2. Star Gazing
Although usually a telescope is used for star gazing, a less bulky and portable alternative would be binoculars. Especially if you're just starting out with star gazing, a pair of binoculars is more ideal. If you're just outside of your home or vacation cabin, you may opt to bring your binoculars along for the trip to see the stars. Even inexpensive binocular models can give you a view of the craters on the moon and enhance images of the stars and planets. In addition to that, your binoculars also allow you to explore the Milky Way. This is one of the best outdoor activities you may also explore with kids. If you're in luck, you might even catch meteor showers during your view. Some great areas to go stargazing include:
Goldendale Observatory State Park, Washington
Big Bend National Park, Texas
Mauna Kea, Hawaii
3. Smartphone Zoom Lens
An unconventional use for a pair of binoculars is to use them as smartphone zoom lenses. To do this, you just need to place the camera lens to the right eyepiece of your binoculars. There you go, you have a zoom lens for your smartphone. Now, you can update your social media such as Facebook or Instagram with high-focused images of wildlife and nature.
4. Watching Opera and Theatre Performances
 Let's face it, in a typical theatre or opera house you don't always get a front seat. Many of the seats are also located in the back area. Because of this, most of the time, the audience at the back has a difficult time seeing the performance. The best way to remedy this situation is to bring out your pair of binoculars in order to see the performance more clearly.
5. Hiking and Camping
 One of the activities you can embark on to observe wildlife and nature is to go hiking and camping. With both activities, you'll need your binoculars for navigating and observing wild creatures despite the distance. It's also easier to look for your friends during this trip with a pair of binoculars. Some great hiking and camping areas in the world include:
Acadia National Park, Maine
White Mountain National Forest, New Hampshire
Minnewaska State Park Reserve, New York
6. Sports Games and Concerts
Sports tournaments and concerts are usually held in large arenas or fields with a lot of people. A similar problem is posed which is not being able to see what's happening in front unless you're part of the VIP section. In this case, binoculars are the best tools to watch the game or concert easily.
7. Hunting
One of the best ways to use binoculars is also for hunting. Binoculars are ideal for hunting because they can spot the animal a mile away. You don't need to be close to the animal to be able to hunt it. This can also be a great bonding experience between parent and child. Some areas that allow hunting include:
Selous Game Reserve, Tanzania
Pilanesberg Game Reserve, South Africa
Kruger National Park, South Africa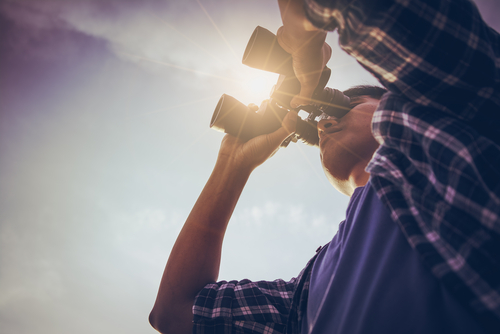 8. Scenic Areas
In fact, binoculars are the best tools anywhere you go with a scenery. If you're still on the look out for locations, here's a few suggestions:
Cherry Springs State Park, Pennsylvania
George Washington and Jefferson National Forest, Virginia
Death Valley National Park, California
Big Bend National Park, Texas
Yosemite National Park
Zion National Park
Teton Crest Trail, Wyoming
Conclusion
If you're out looking for a pair of binoculars and don't know which one to get, begin by looking up binocular reviews online for some tips. Whether you're a beginner or a veteran at any walk of life, binoculars can be your best friend. Hope this article was able to give you ideas on the best outdoor activities and locations you can use your binoculars. As you can see, there's numerous outdoor activities for binoculars, so explore away and enjoy the view.