If there's something in this world that always always always (can't say this enough!) pays off, this is hard work, focus, dedication and dreaming big! If you add to the above humbleness and a bighearted smile, you have Dimitris Kyrsanides!
Red Bull sponsored athlete DK, as they call him, did it again ladies and gents! The local hero had an amazing free-run in the final of the Red Bull Art of Motion tournament and become for the second consecutive year the ultimate free-running champion. His combination of flow, creativity, difficulty and execution put him in the lead of the third heat, securing him a spot in the final of six other amazing athletes from all over the world.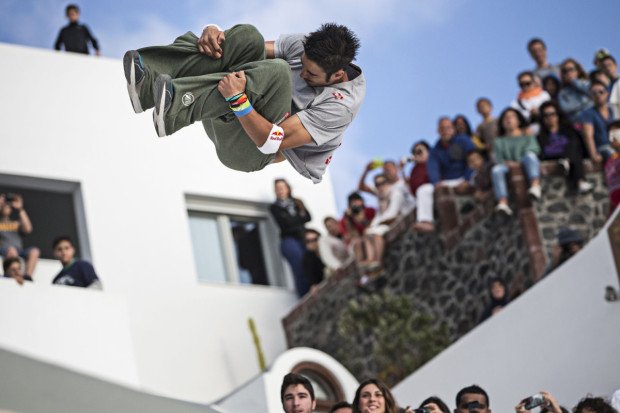 DK competing in last year's event – Red Bull Art of Motion 2014
Competing fifth in the final he had to overtake quite a few high score to find himself on the podium. Pavel Petkuns of Latvia, who competed first, set the heat of the final sky high, but DK managed to flip over it and got himself the top spot of the podium. With one athlete left competing after him, DK had to anticipate another 90" before celebrating his title as champion of the Red Bull Art of Motion.
Upon completion of the final, the local fans literally glorified their local hero who still couldn't find the words to express his feelings at the moment. The humble free-runner mentioned in his interview right after the completion of the final, that he didn't feel like a winner as he still hadn't realized his win. He thanked Greece and all the fans for the support and God for everything, mentioning that for next year's Red Bull Art of Motion event we should wait of him something entirely new! Can't wait to watch the real Cinderella man next year, especially after hearing he didn't even use all his moves in this year's event.