How To Choose The Best Street Skateboard
The skateboarding industry has designed different skateboards to suit the needs of a diverse range of skaters. Fortunately, the standardized nature of skateboards makes it easier for beginners to find the best one for them.
Getting the right board is an essential step to improving your skateboarding skills. You also have to ensure that your board is appropriate for street terrain and other urban surface textures. In light of the features included on all skateboards and your preferred riding style, you can approach your skateboard selection in a variety of ways.
Here are some factors to consider when choosing the best street skateboard:
Type
If you're new to street skateboarding and are still figuring out your style and stance, you can choose a board with a type and deck shape that is appropriate for you. Skateboard types are classified into three main groups, with each having a different functionality, build, and ability.
The most commonly bought type is the standard skateboard because it can be used on a variety of surfaces, including sidewalks and rough, gravelled streets. They also function well in skateparks that have smooth surfaces and are equipped with ramps, pipes, pools, and bowls.
A standard board made with traditional wheels can be used by both starters and professionals. Electric skateboards, on the other hand, are more suited to street skaters who use skateboards to commute. Because you don't have to constantly push the board to move, these electric skateboards are perfect for long distance riding.
Other types of boards you can choose from are cruiser boards, longboards, and penny boards, which are ideal for coasting around for fun and manual commuting.  These are made with softer wheels that enable you to roll faster on street surfaces.
Deck Shape And Length
Many beginners make the mistake of assuming all boards have the same deck. If you look closely at the boards, you'll notice that they vary in form and length. Skateboard decks have different forms that include flat, radial, curved, concave, and asymmetrical. They also come in shapes that are called pintail and fishtail as well as drop throughs and drop downs.
The standard street skateboard has a near-symmetrical and popsicle-shaped deck, also known as a twin tip, meaning it has a shape that's similar on both ends that measure about 28-33 inches long. Additionally, most will have a concave of various steepness on the nose and tail to help keep your feet balanced on the board, even when performing tricks.
There are also old-school kicktail boards, such as a penny board with a wider nose that curves on the edges and has a long kicktail of about 22-29 inches long. You can choose these if you're a transition skater who will be skating verts on both flat and vertical surfaces.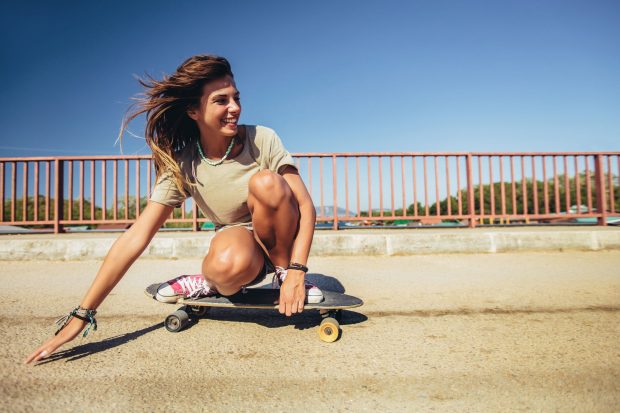 Riding Style
Since the purpose of buying a skateboard is to support your preferred skating type, then choosing a skateboard according to your riding style is the perfect place to start. There are a few main categories that riding styles tend to fall under. These consist of vert, freestyle, longboarding, downhill, cruising, and one of the most popular forms—street skating.
Performing tricks and stunts in urban environments such as the street, rails, and staircases is the most common riding style for street skaters. This is why many choose the board with a narrow deck of about 8 inches and smaller wheels of 54mm that make it easier to do ollies and land switches better.
However, if you're a more dynamic street skater who transitions from the street and skateparks for vert and freestyle, you can opt for a wider deck. Longboards and cruiser boards with bigger wheels will be more suitable if you enjoy street skating downhill and cruising for sport and exercise.
Size
Skateboards come in different sizes to accommodate the height, weight, and body sizes of each skater. Thus, you can choose a street skateboard by examining and measuring it yourself and factoring your age to determine the best deck width for you. Pro skaters generally recommend using your shoe size as a starting point to ensure your foot and stance fit correctly on the board.
For shoe sizes 2-9, a deck width of seven inches or a 'mini' sized board is suitable. These are typically made for kids under 10 who are about four inches tall. Medium-sized decks, mainly for young teens of about 7.5 inches, work well for skaters with shoe sizes 6-8 and are about 5.2 inches tall. If you're an older teen or adult with a shoe size of 9 and taller than 5.3 inches, you can choose the full-sized deck that is the standard 8 inches wide.
Conclusion
You can choose the best street skateboard by its type, deck shape and length, and size. You can also examine your riding style or purpose for skating to discover which board is suited for it.
Overall, street skateboards mostly come standardized in the classic popsicle shape, and 7.7 wide boards as these dimensions make them versatile for rough surfaces and transitioning to skate parks. Finally, keep in mind that the best skateboard for you should make you feel comfortable, balanced, and in control. Don't be afraid to tinker and try out different boards until you find one that fits your lifestyle.