Choosing the best electric tricycle which offers the best value for money
There are many electric tricycles currently on the market with a wide range of prices and features, generally the price of an electric trike is higher than their two wheeled counterparts, so deciding which make & model to purchase is a big decision and not to be taken lightly!
We have found the Scout electric tricycle to be the most complete machine, offering all the features one would require at a truly unbeatable price, we are still not quite sure how they manage it, we are informed a lot of the assembly is done in the U.K which keeps shipping costs down over other brands.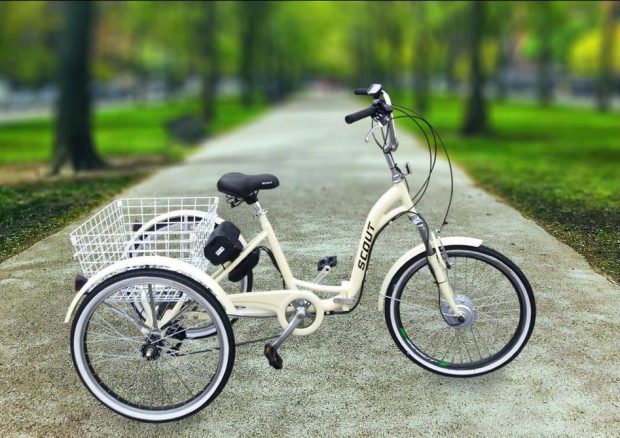 Most notable Features
Available in a full rainbow of colours, everyone should be able to have their favourite colour applied to their new freedom machine.
A sleek & lighter weight aluminium frame keeps the weight down under a total of 30kg which for a tricycle let alone electric trike is no mean feat! 
Folding mechanism enables easier storage or transport.
Usually, the Scout e-trike includes 5 levels of assist. Which means if you want to assist you up to 5 MPH, you can use level 1. In the same way, level 5 will assist you up to 15 MPH. This way, you can build or develop your  fitness levels by cycling long distance journeys or carrying the useful load.
Powerful lightweight (2.2KG) 12.8Ah battery with easy detach provides the option to charge up anywhere you have a socket. (And charger).
An LCD screen that comes in multiple brightness settings can enable visibility on sunnier days and able to track your speed, distance & battery levels.
Whenever you press the brake levers, the safety cut off brake levers will turn the electric assist off. Therefore, you don't have to take any stress about accelerating while you need to stop. to get the ultimate stopping power all you need to do it using front & rear disc brakes and that's it.
Front suspension makes the English roads more bearable, and we feel a vital addition to any electric trike
The Scout 24" folding electric tricycle specifications
Top Speed: 25km/h
Charge Time: 3-4 Hours
Weight: 29.5kg
Max Range: 45km

Screen:

LCD Screen along with 5 pedal assist levels

Motor: 250W front hub motor (road legal)
Battery: 12.8Ah Battery with LG cells
Brakes: Front & Rear disc brakes
Gears: 6 Speed shimano tourney gears
The scout electric tricycle is more than capable of handling your every day needs, whether shopping, work or leisure this powerful workhorse will not let you down.