Choosing a Dirt Bike for Kids: the Ultimate Guide
Dirt biking is an exciting game not only among adults. It has created a massive craze among the kid generations too. And if your kid is also a fan of dirt biking, then buying the right dirt bike can help your kid sharpen biking skills and unleash the hidden biking talent.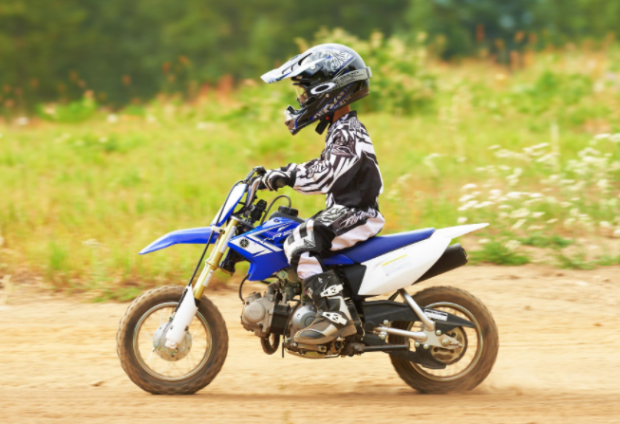 To choose a dirt bike for a kid, you should start with determining what type of bike you want? And then, you should move forward to look for all the available safety gears attached to the bike to ensure your kid's safety.
Fortunately, we've sorted out the top features and made a complete guideline to lead you to the perfect dirt bike for your kid. So keep reading for more details about dirt bikes for kids.  
Dirt Bikes for Kids
Physical activities from a young age help boost kids' growth by accelerating the oxygen supply in the blood. Opting for dirt bike riding will help your kid be more active and creative in daily activities.
Among other sports, bike riding is an exciting and fun activity for kids to do in their playtime. But the bike has to meet some conditions before a kid can ride it. Primarily the condition includes safety measurements and ride comfort. Let's say a perfectly suitable for a 13-year-old dirt bike should come with adjustable height so the 13-year kid's leg can touch the ground.
Choosing Dirt bikes for Kids
The first question that'll pop in your mind when you want to get your child a bike is,  how do I find the perfect dirt bike for my kid?
We'll break down a kid's dirt bike's features and components for you to choose easily from all the available options.
Seat
To start with the feature, you should look at the seat size of the kid's dirt bike. Dirt bikes are vastly used for racing purposes. And the racing track for these bikes is usually mountain and terrain. This is why manufacturers tend to place the seat in a higher position than regular bikes. 
The rational approach to choosing the seat is according to your kid's height. Children's height differs from person to person, even at the same age. 
If you're wondering how can you ensure the right seat height size for your kids, then here's what we suggest you to do-
Tell your kid to sit down on the bike seat without putting any shoes on.

 

Observe to see if the kid's feet are touching the floor or not.
If the feet are touching the ground, then you've got the right size dirt bike to ride on. But make sure not to pick a seat that will allow your kid's feet to touch the ground properly. The size will outgrow in an instance for your kids as they'll ride the bike wearing boots.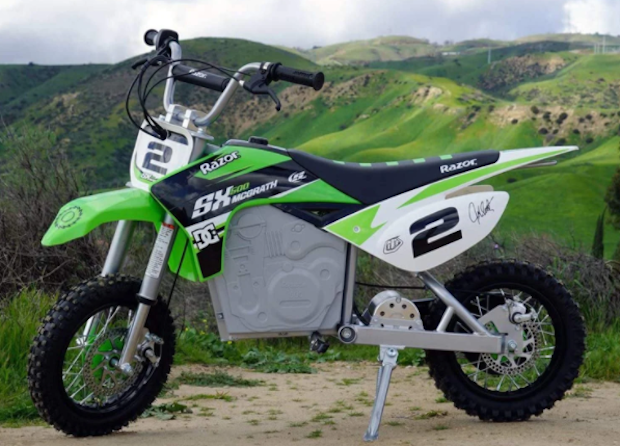 Wheel
You can spot two types of wheels among the dirt bike. First is the small type, weights lighter than regular wheels and allows you to shift and turn the bike swiftly. The smaller size usually comes with a front-wheel sized 17-inch and 15-inch rear wheel.
And the other type is large, which allows the kid to control the bike more efficiently. Not only control, but large size wheels also dodge the bumps in the road and give you a smooth and stable ride. You can find typical large-size wheels in the 19-inch front and 17-inch back wheel size.
For kids, it's always better to stick with the larger size wheel as they offer a higher rate of stability during the bike motion and movement.
Engine
Assuming that the dirt bike will be your kid's first one, you should try to choose a lightweight and less power-consuming engine. A 50cc engine bike will be best for a starter as they give the rider more control over the throttle. But if your kid is more than 7 years then consider opting for 65cc or higher.
Type
You will find 2 strokes and 4 stroke engines available in the bike shops. The difference between 2 and 4 strokes is that a 4 stroke engine doesn't require a spark plug for fuel burning. 
That's why it's better to choose a dirt bike with 4 stroke engine when it comes to younger riders.
Batteries
Rather than going for conventional fuel engines, you can choose batteries as the fuel cells for the engine. Batteries are rechargeable and will cost less than the amount you've to spend after buying fuel. Dirt bike engines with lithium-ion batteries last longer for bike rides and take less time to recharge fully. 
Display
Conventional bikes come with an inbuilt display monitor placed between the handlebars. The display monitor shows the speed limit, fuel quantity, and other numbers related to bike rides. The display should be a decent size for children to have a clear vision of both the road and the numbers.
Modern dirt bikes have transferred the display monitor into smartphone apps so that the parents can also monitor their kid's movement and riding speed.
Shifting Gears
Shifting gears are responsible for how the rider can control and move the bike on the track. It gets trickier to control the movement when it's a dirt bike. For rookie riders and especially when they're kids, it takes a lot of practice and obviously an adequate bike.
A multiple gear dirt bike is a better option for kids as it's not bound to limited speed and performance like single gear. However, if your kid wishes to learn bike stunts, consider going for 3 or 4 gear because they have more control options over the speed.
Start Mechanism
Kids dirt bikes regularly start with pushing a button resulting in a less hassling starting mechanism for a kid. But as you move to higher cc engines or displacements, the starting option will change into kick start from buttons. 
So for the novice rider, choose bikes with an electric switch option so they can start the bike without having any trouble.
New dirt bike vs. Old One
If you're tight on budget, you can surf the internet in your local market for second-hand dirt bikes to buy. But we suggest purchasing a brand new one as it's about your kid. 
Not all used bikes come with defective bike components. So it's better to buy a new one so you can have maximum safety with brand new and intact bike parts.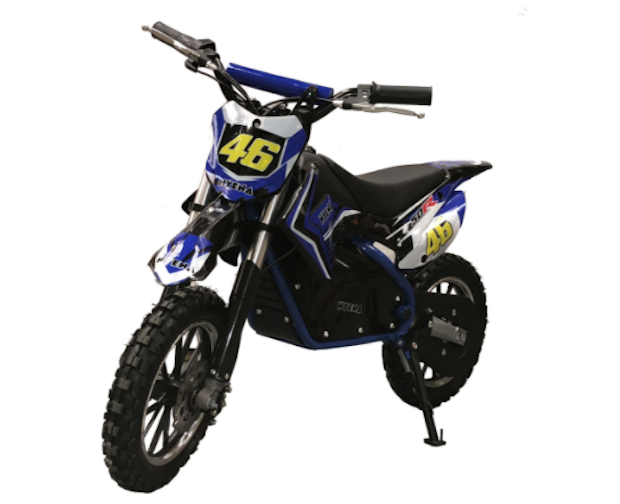 Other things to Look for
Till now, we've talked about all the necessary features of a dirt bike you have to consider so your kid can ride safely. Now it's time for some extra features you should consider when the bike has already met the binding requirements.
Color
There's no doubt that kids love colors. And owning a colorful dream dirt bike will excite them more to practice and adapt to new stunts. Try to choose blue, yellow, pink, or any bright color dirt bike for your kid while buying one.
Design
Funky designs or your kid's favorite cartoon character drawn on the bike's body can add more. Some bike brands offer the customers to customize bikes' designs; you can customize your bike by providing the designs you want to add.
Maintenance
Maintaining a bike is not easy as it might seem. A kid's bike needs extra care. You have to keep the bike clean regularly, change parts whenever it is needed. And most importantly you might even have to change the bike within a year as children grow rapidly. So make sure the Maintenance cost is bearable for you.
Final Thought
Dirt biking for kids is super fun like any other biking if done with proper safety measures. That's why choosing the right dirt bike for a kid takes a lot of time and features to judge on. But once you understand the essential components and their working methods, finding the right bike will become much easier.
Before hovering over the dirt bike, ensure that your kid is wearing safety gear such as helmets, knee pads, etc. 
We hope the article gave you proper knowledge about the features you should look for in a kid's dirt bike. You can share or suggest your thoughts regarding the topic in the below box.