African Kite Racing Championships in Soma Bay|Race Day 2
Soma Bay, June 25, 2014: The African Kite Race Championship 2014 stayed true-to-form on the second race day at 7Bft Kite House in Soma Bay with more exciting competition between some of the world's top kite racers.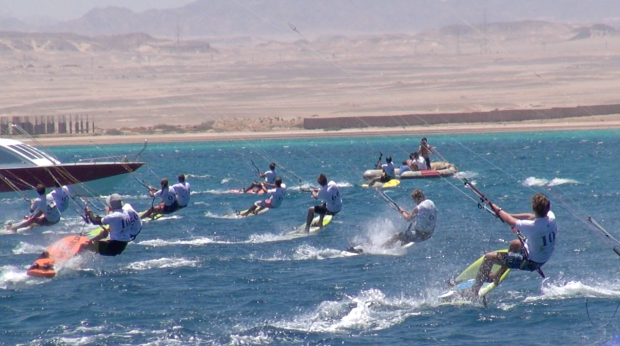 The winds were strong again and gave the kiters the chance to really show off their skills. Following the first day's races, indisputably dominated by Riccardo Leccese and Elena Kalinina, Florian Gruber and Steph Bridge, their top competitors, plotted their strategy for Day 2. Everyone's been watching their fellow kiters' strategies and today they came well prepared to match them.
Leccese came in first in every race on day 2, leaving him with a perfect score. While confident in his skill, he knows Gruber is serious about winning this championship and would not make it an easy race today. Florian Gruber is holding second place but is confident that with 3 days to go in Soma Bay he is still primed to reach his goal.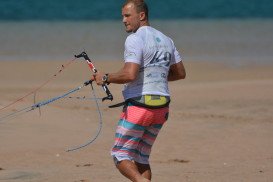 Riccardo Leccese / Italy: "Today was another amazing day for me. Usually your competitors always watch what you do so you have to compensate your strategy. Today I noticed they were playing my game and it was working. I've been training and I was committed to what I had to do today so I changed my game as well. It worked. Catching up from behind is really important for me and it builds my confidence."
Florian Gruber / Germany: "The first 2 days are over and I am currently on a solid second rank. This is super as it was my overall goal to occupy at least one of the first three places. Now we will see if I can attack Riccardo who is currently first, I am going into doing some fine-tuning and it will be a tough couple of days ahead for me."
Likewise, Kalinina from Russia was pleased with today's results. After a successful morning, she briefly fell behind only to emerge victorious in the final race and is enjoying the rivalry with last year's defending champion, Steph Bridge, who does not deny that Kalinina is a tough and worthy competitor. Kalinina: "Today were good races for me. I have a great fight with another girl from England, Steph Bridge, and it was good because we were racing together."
Steph Bridge / UK: "For me I got 2 better results and 2 OK results against Elena the Russian girl who seems to be kicking my butt here in this event and I think we are fighting harder and its getting tougher."
This year's top riders are familiar with Soma Bay's kite conditions which provided them with an amazing race in 2013. It seems tomorrow will take an interesting turn as the winds will become lighter and the racers will have to change their strategy once again, a challenge they are looking forward to.
Kalinina: "The forecast says tomorrow and the day after tomorrow the winds will be lighter. I train a lot on such conditions so I hope it will be a good race for me."
Leccese: "When I left Egypt last year I said I had to come back to this amazing place because the conditions were epic. Last year there were some strong wind and some light wind days. I think that is very important for the competitors. I hope to run through all the conditions. I will prepare my formula to keep leading."
Soma Bay – one of the world's best kite spots
At Soma Bay, the best elements of the sea and desert converge at 7Bft Kite House's world-famous kite spot. Not only naturally beautiful, the spot offers the flat-water conditions and side-shore and off-shore winds perfect for world-class kitesurfing events. Soma Bay's five resort hotels, luxury spa, championship golf course, and vast house reef are what define it as an ultimately relaxing and exciting destination.
Organizers and patronage
Organized by the Egypt Sailing and Waterski Federation and the International Kiteboarding Association, chaired by the Egyptian Ministry of Youth and Sports, the Formula Kite Class and the TwinTip:Racing invite kiteboard sailors to take part in the 2014 Formula Kite Course Racing African Championships under specified conditions laid down by the International Kiteboarding Class Association in co-operation with the International Sailing Federation (ISAF).
Further information: