5 Tips for Traveling With Baby or Toddler
Traveling with a baby or toddler isn't always the easiest feat to master as a parent. There's no need to panic when it comes to traveling because we have listed 5 easy tips for you to make it through any trip without experiencing any hassle!
Babies can require a lot of things especially when packing. Our list of tips is going to make your trip easier and will blow your mind with some of the things we think you should leave at home.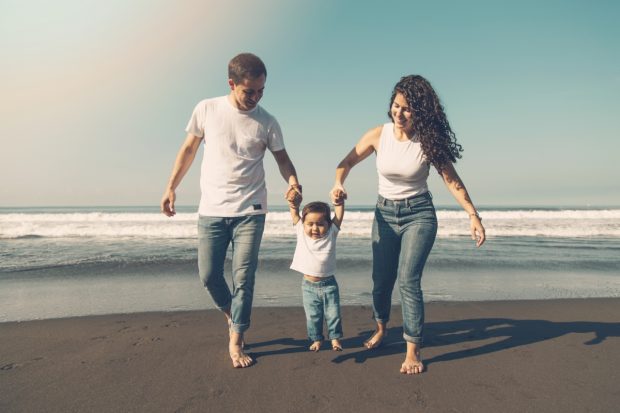 Whether your hopping on an airplane or simply taking a car ride to grandmas following our guide will make any trip a breeze. Start booking your trip because it will be tons of fun!
1. Wear your baby
If you are a family that loves to participate in outdoor activities like a hike then you will need the right gear to carry your baby during a hike!
Not only does this give you the ability to bond with your baby, but it also leaves you completely hands-free during the activity. It is much easier and lighter than having to pack a stroller, which can take up space you need for luggage within your car.
Having your child in a carrier also allows them to nap easier and anywhere during your outing. It can also make nursing them in public places easy to do because most carriers come with a nursing cover for privacy.
2. Rent a car that has a car seat
If you intend to travel by plane rather than taking your car then you will opt to either rent a car or take the train. If you choose to rent a car opt for one that comes with a car seat included in the rental.
If your rental includes the car seat that alleviates you from having to carry your own personal seat around with you. This can also save you the cost of having to pay an airline to store your child's seat on the flight.
If you intend to bring along a stroller ask the rental company the model of their car seats. This will help you to determine whether or not the seat will click easily into your stroller should you need to remove it from the car for a specific outing.
3. No diapers
The first thing most parents do when they think of taking their child on a trip is to load a bag full of diapers. Instead of packing a ton of diapers just pack enough for the traveling piece of the trip.
Then once you make it to your destination look for the nearest place to purchase diapers and wipes. You can get them anywhere, so why waste precious luggage space by dedicating a whole bag to diapers and wipes.
4. Ask the hotel for a crib
Another item you will think your child can go nowhere without is their crib or bassinet. Before you begin to break down their crib ask your hotel if they have any available for you to use.
Most hotels will provide families with either a pack n play or a crib for their child to sleep in. All you have to do is ask. And by eliminating the crib or bassinet from your packing list you have once again lightened your already heavy packing load.
This is great for parents that are active or like extreme sports. You can pack other much-needed gear. If you have to pack your own crib or bassinet opt for one that is lightweight and easy to assemble and takedown.
5. Move around less
When you didn't have a baby or toddler it was easier to pick a destination and hop all around the city doing places. Once you have a child this is just simply not the case.
Pick a destination that has things you and your family will want to do close by. Take into account that at any moment your little ones may become overtired and need to return to the hotel for a nap.
Moving around less ensures that you are able to take in sites and activities without going too far from the place you've chosen to stay. It also means you won't have to deal with your children becoming restless during long car rides.