Who said Mexican food could not be healthy?
Rice is one of the most complete and nutritious foods today, that is why it is included in the diet of a large part of the world's population. Not surprisingly, rice is the second most-produced cereal worldwide, and goes up to the first place when it comes to global consumption.
A traditional staple in Latin American cuisines
If we talk about the gastronomy of Mexico, strong and spicy dishes such as tacos, burritos, enchiladas, all heavy and high in calories meals will come to mind. However, there are dishes in this country that are healthy and light,  in contrast with classic Mexican preparations such as "Arroz Rojo" or "Spanish rice" as it is also called.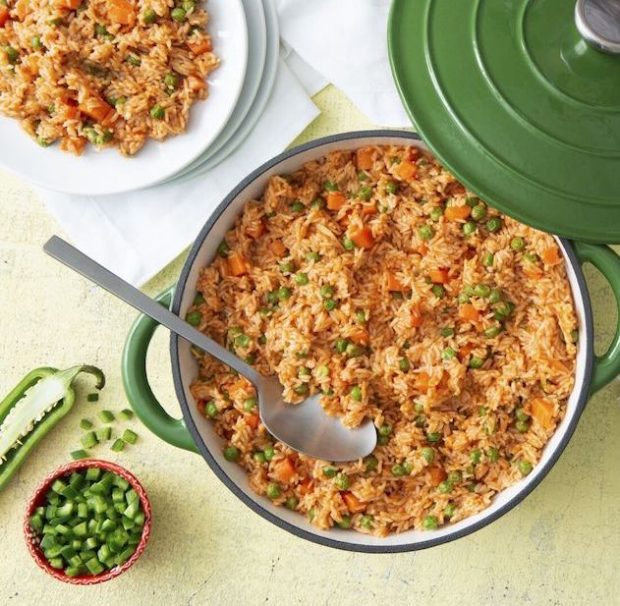 So if you consider yourself a person who likes sports, follows a healthy lifestyle and wants to keep your calorie intake at moderate levels, this dish is an excellent choice.
Next, you can learn how to prepare homemade Mexican rice too.
A healthy and tasty dish
The following recipe will teach you how to make a healthy but tasteful Mexican rice dish. This is another version of the typical "Spanish Rice" with ingredients that make it the most nutritious option.
Ingredients
1 cup (200 g) of brown rice.
1 chopped brown onion.
1/4 chopped small red onion.
1 deseeded and chopped red capsicum.
2 crushed garlic cloves.
1 tbsp of olive oil.
2 tsp Mexican chili powder.
2 cups (400 g) canned black beans (rinsed and drained).
10 oz (300 g) of canned corn kernels.
7 oz (200 g) chopped grape tomatoes.
2 tbsp fresh lime juice.
1 small avocado.
5 oz (150 g) of crumbled feta cheese.
Fresh coriander
Lime wedges.
How to prepare
Cook the rice in a saucepan with water at boiling point for 25 minutes until the rice is tender. Let it cool down.
Store in a plastic container and refrigerate for at least one hour.
In a frying pan, heat over medium heat. Add the brown onion and capsicum and sauté until soft. Sauté the garlic with the chili powder, stirring frequently, for 40 seconds or until the ingredients release their aroma.
Take the rice from the fridge, pour it and cook, stirring constantly, until the rice is lightly fried and well integrated into the mixture. Add the corn and the beans, stir a little to mix well and let it cook. You can add the lemon juice at this point.
Mix in the tomatoes and the red onion, sprinkle some salt and pepper.
Finally, serve the rice and add the tomato and onion mixture and top with the feta cheese, coriander, and sliced lemon.
Useful tips
To make this dish easier, you can cook the rice in a rice cooker or an instant pot, and you can even sauté the onions and garlic in the instant pot as it has a function for it.
This rice style is an excellent alternative filling for tacos and burritos if you are looking for a healthier option than the classic beef.
Health benefits of rice
Rice is a food rich in nutrients, especially carbohydrates, which have great benefits for the human body.
Carbohydrates, specifically starch, are a source of energy for proper body functions, such as brain and muscle activity. Carbs help fats and proteins metabolism as well.
Another type of carbohydrate present in rice is fiber. Unlike starch, fiber is not absorbed in the human body but passes through intact. Some functions of the fibers in rice are:
Helps normalize bowel activity: improves intestinal tract and stool evacuation.
Helps intestinal health: it reduces the risk of suffering colon irritation and hemorrhoids.
Reduces cholesterol levels: which lowers the risk of heart diseases and, thanks to its low sodium content it's a very healthy food for people who suffer from hypertension. Also, its manganese content helps raise HDL cholesterol.
Helps control blood sugar levels: fiber slows the absorption of sugars, therefore reduces the risk of type 2 diabetes.
Lowers the risk of articulation diseases: its selenium content helps to avoid arthritis. Rice has calcium among its nutrients, which helps bone development.
It doesn't have purines, so it will not raise the uric acid index in blood.
Helps maintain body weight: when consumed, fiber is more filling than other non-fiber foods, which helps reduce food intake.