Tips For Motorcycle Riding In The Rain?
No matter how many miles you have covered in your life, rainy weather can be challenging at any time to you. If you're the most seasoned rider, you have to take different types of precautions on rainy roads than the dry roads. 
First, you must ensure that you have some weather-proof gears like helmets, jackets, pants, boots, goggles. Always watch out for the extra slippery spots; these can cause falling. While crossing the road, be careful and look at the other drivers for your safety.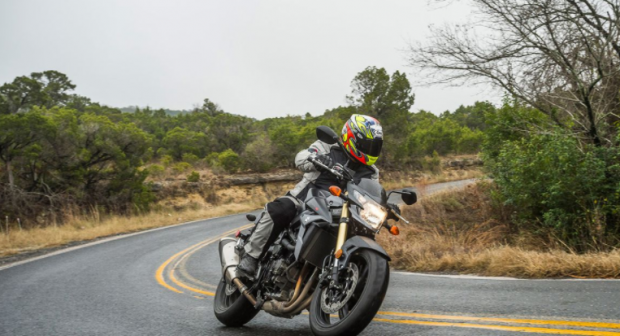 Here we've provided some essential tips for rainy day riding. All of these are designed to keep you safe in this type of bad weather like heavy rain and allow you to enjoy your ride. 
Tips for Motorcycle Riding in the Rain?
Riding in the rain is much fun if you take all the precautions with some tricks. While next time you're craving for riding in the rain, fulfill your desire, but first make these essential tips to help you on your ride in the rainy weather- 
Before you leave home to ride, protect yourself with appropriate riding gear and attire. While trying gears, you'll find two different types of clothes. They are water-resistant and waterproof. Water-resistant clothes are tightly woven so that water doesn't get through. On the other hand, waterproof materials offer a complete barrier to water. Here we'll describe some water prevention gear for your convenience- 
As all the helmets don't have the same quality, you can't choose any helmet for the rainy season. A good helmet will protect you in rainy weather for driving comfortability. You can choose from the best motorcycle helmet for rain to get the full freedom to enjoy the monsoon. Some of them come with pinlock shields, dance shields as well as waterproof construction. Select the best-suited helmet while you're finding the helmet for rainy weather. 
While It's raining outside, you are covered up with a jacket, pants, and a one-piece suit. Try a zipper with a flap that will not align directly with the zipper and cover your zipper completely. The cuffs of your jackets should have a cinching mechanism such as a hook-and-loop section and be long enough to cover your gloves. To keep yourself heated and dry try to wear some warm clothes. 
If you choose waterproof boots and gloves, they can be effective to prevent water. Each of them needs to be tight enough and that will hinder the exposed areas for water to find a place through. 
To protect your watch or mobile phone you can carry a plastic bag and protect those elements.
If you have a tank bag with your motorcycle, you can carry some extra dry clothes. Or even you can carry a small backpack or saddle bag for that.
Inspect Your Ride Before You Start

 
Before you go for the rainy ride, inspect some more things to get prepared well- 
You have to inspect your tires first as they will do the real work. Commit sure that their pressure is proper for your motorcycle. Check if the tire is under or over-inflated because it will react totally distinctively in the rain than the other weather.
In the rainwater, both of your brake pads must possess a lot of brake material. This will help you to stop smoothly while riding in the rainwater. Ensure that you check your brakes regularly as they need to be in good condition.
Before going for a ride ensure that there is no leakage in your motorcycle's oil tank or brake fluid. Though leaking oil in a dry place can't do anything major, when it is mixed with water can be the cause of the slippery.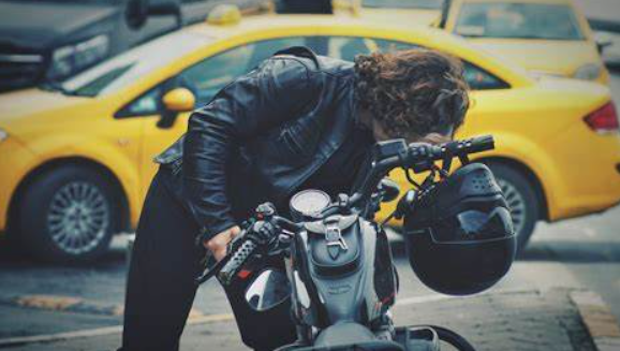 Prepare Yourself Before Starting Riding
If it's raining heavily into a downpour and becomes a difficult situation, then you can change your route. Or even you can take shelter until the situation is under control. Before starting your journey, mark some rest spots or alternate routes so that you can quickly get into a safer place.
In heavy rain or wet conditions fogging should be a good concern as it can cause any incident. Your helmet visor, goggles along with windshield can fog up in the rain. You can wipe all this equipment with an anti-fogging treatment.
Areas to Avoid

Be careful when leaning on the side of the road as the rain may contain all the gravel and dirt in the corners.

 

Don't ride near the dividers.
Hydroplaning on Wet Pavement
When you see rainwater on the road and ride through it, the tire can ride up in this like a water ski. At that moment, your tire can lose contact with the pavement. This can happen with worn tires. For this reason, you should skip standing water on the road. As an alternative, you could slow down and try to keep your bike upright. Try to avoid making any throttle or brake while you ride through the puddle.
You should select your clothes while bearing in mind that they have to be visible to others while you're on the road. Most manufacturers made rainy suits with bright colors as well as reflective highlights. Put on your rain jacket while riding at night to increase visibility in any weather.
Watch Out for Extra Slippery Spots
When it rains, asphalt can become slicker and more dangerous for you than other roads. Remember you should never stop in the middle of the lane if you see a rainbow. This is caused by the oil and diesel residue which is slicker than any slippery thing that you find on the road.
When you decide to ride in the rain you should know your limits and comfort level. Remember to put safety before doing anything. Keep in mind that every smart rider builds a little extra time before they decide to go in the rain. When you're on your motorcycle, and it's raining let's follow these things- 
When stopping or slowing down, check if there is a lot of space.
Be more prudent with your clutch, throttle, steering as well as brakes.

 

Be careful not to react suddenly.
Always be on the lookout for other drivers and your surroundings.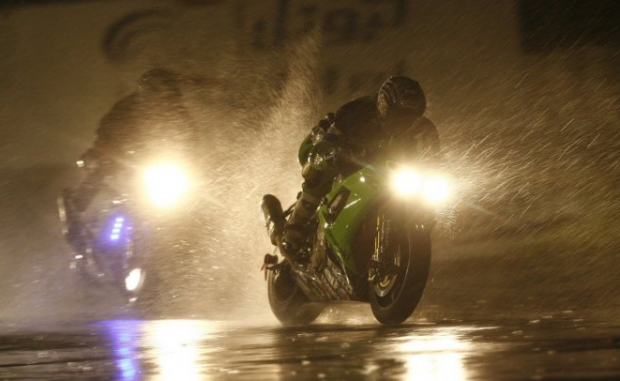 How Can You Prepare for High-Risk Motorcycle Situations?
It is important to remember that not all roads are created equal. When you ride a motorcycle keep your eyes open to avoid any kind of slip. Be careful when you ride on railroad tracks, over the manhole cover, in the crosswalk lines, or even in the steel construction plates. Be confident and prepare with your driving skills in some situations. While driving in these challenging situations you have to be very careful and do the best circumstances.
When riding at night
When riding in the rain
Riding in the cold weather
Long-distance riding
Wrapping Up 
Hope all these tips for motorcycle riding in the rain will assist you to be safe. Take your time when you're going to face this kind of bad weather. If you plan to cover a certain number of miles, then in rainy weather, you can change your plan. 
Never store your motorcycle while it is wet because fungus can grow anytime. Make sure the motorcycle dries thoroughly before storing it. Ensure that your accident insurance, as well as the motorcycle insurance, is valid. So that you'll be covered financially. If you love this write-up, just take care of the essential points that we've mentioned here and ride carefully.