Stand Up Paddleboarding: Golden Rules You Should Remember
Stand up paddle boarding is a fun and relaxing activity. But, it may not be as easy as it seems, especially for beginners. The activity isn't as simple as standing up on a paddle board and rowing. It requires a particular level of skill and athletic ability, along with specific pieces of equipment, to become efficient at this particular endeavor.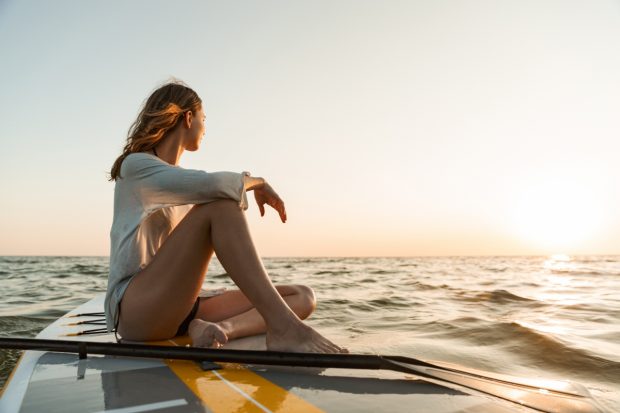 So, here are the golden rules of paddle boarding you should remember if you want to take up this activity:
Pick The Right Type Of Stand Up Paddle Board
Paddle boards come in different shapes and sizes. But, don't make the mistake of buying conventional paddle boards as these models tend to be too small for standing up on the water's surface.
On the other hand, a stand up paddle board is thicker than the average surfboard, although both pieces of watersports equipment have roughly the same length. Also, take note of the different types of stand up paddle board to understand which variant suits your preferences and current level of skill. Some of the paddle boards you can find on the market include:
All-Around Stand Up Paddle Boards
All-around models are excellent for beginners and veterans alike. These models are ideal in different water conditions, including ocean waves and calm lakes. Paddle boarders may also use all-around boards for yoga, fishing, and surfing.
Inflatable Stand Up Paddle Boards
An inflatable stand up paddle board is, perhaps, the best type to own if you find it challenging to bring regular-sized paddle boards on trips. This particular type of paddle board deflates and rolls up to the size of a regular sleeping bag for easy carry. But, the material might not be as rigid as other paddle boards, making footing more challenging than intended.
Fishing Stand Up Paddle Boards
Paddle boards made for fishing tend to have broader deck pads than all-around models. These models may also have additional attachments, like fishing rod holders and bait trays.
Yoga Stand Up Paddle Boards
Are you a yoga practitioner, but don't have a quiet place to practice the art?  If so, why not do it at the center of a calm lake?  Yoga stand up paddle boards can be your best friend in this regard. These boards tend to have an expansive deck pad to give their users additional room to do different yoga poses.
Aside from deciding which type of stand up paddle board to purchase, make sure to buy a high-quality model to gain excellent value for money. Perhaps, the last thing you'd want is for the board to break while in the middle of a fishing, paddling, or yoga trip.
You can search the Internet for excellent paddle board guides to help you choose the best model for your preferences. For example, you can use search strings, like "Paddle Board Surf", to give you reliable online sources.

Work On Your Core
Before you head out to open waters with the stand up paddle board you picked, you need to gauge if you have a relatively stable core. Again, standing up on a paddle board may not be as easy as it looks, especially if you have a weak core.
Attempt to gauge your athletic performance by holding a plank for a minute. If you find yourself huffing and puffing after that minute, chances are you still need to work on your core. Paddle boarders with weak cores tend to fall a lot. You might even get frustrated because of the number of times you slip over your board.
So, work on your core on land before hitting the open waters with the stand up paddle board. Several exercises exist to help you in that regard. One example is planking.
Aim to hold a proper plank for about a minute without getting exhausted after the period. Also, remember that every exercise needs to have an appropriate form for the action to provide the best benefits.
So, to hold a proper plank, start in a push up position with your core engaged as you tighten your glutes. Tightening your glutes supports the core, ensuring that your stomach doesn't rise or droop while doing the exercise. Then, maintain that straight line from your shoulders to your legs while going down to your elbows. Maintain that position for one minute before resting. Repeat another one-minute repetition before completing the exercise.
Do core exercises correctly and regularly, and you should find a better-than-average balance than before. As a result, you don't have to worry too much about falling once you stand up on your paddle board.
Know How To Stand Up On The Board
Many beginners find it extra challenging to begin paddle boarding because they can't stand up on the board. Thankfully, you can practice standing up on your paddle board on land.
Start by laying the paddle board on a flat, level, and slightly elevated surface. If you put the board on the ground, chances are you're not going to get a good balance from it because the fins will hinder the board from becoming straight horizontally.
Once you lay the board on an ideal surface, stand alongside the board while holding the gear by the edges. Work your way up to a kneeling position while maintaining an area behind the center of the board.
Next, keep your hands to the sides for stabilization. Move your back foot to the front foot slowly. Finally, use your chest to raise your body to maintain proper balance. If you use your legs to stand up, chances are you're going to lose balance and fall.
If you still find it challenging to stand up on the paddle board even when you're still on land, chances are you bought the wrong size. Thus, it's essential to get a stand up paddle board with the correct size to minimize this issue significantly.
Conclusion
In summary, make sure to purchase the right type of stand up paddle board, work on your core muscles, and practice standing up on the gear. Follow these golden rules of stand up paddle boarding, and you'll be on your way to becoming an expert in this water-based activity.