MTB Fort William 2015 World Cup course
Any mountain biker, amateur or professional, has been certainly tempted to challenge once himself to perform in the most demanding and difficult track, the Fort William bike track.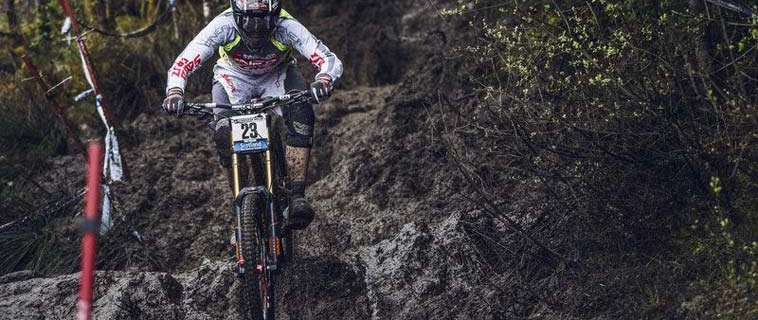 Muddy part of Fort William track offers ideal thrill for any dirt MTB athlete – www.redbull.com
Also known in Scottish Gaelic as ''The Garrison", Fort William is the center for hillwalking and climbing due to its location close to Ben Nevis and other Munro mountains, yet following Inverness as the largest settlement in the Scottish Highlands.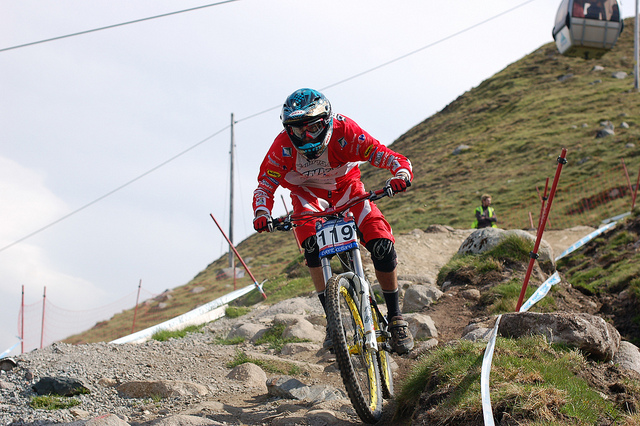 Downhilling the Fort William track is the toughest ride a MTB professional can ever experience – www. redbull. com
Situated just outside the town, close to the Nevis Range Gondola, Fort William is a large downhill mountain bike track, attracting thousands of visitors every year, including international competitors and fans. Since 2001, Fort William is the host spot of a round of UCI Mountain Bike World Cup while the UCI Mountain Bike & Trials World Championships has taken place on the spot in 2007. Trials competition is being held every year at its various courses at the bottom.
This challenging track, one of the oldest of the circuit, is 2.82km long and it is considered to be one of the longest, toughest and roughest tracks around, with lots of rocks, ruts and technical woods – it goes without saying that the course is varied and physically demanding.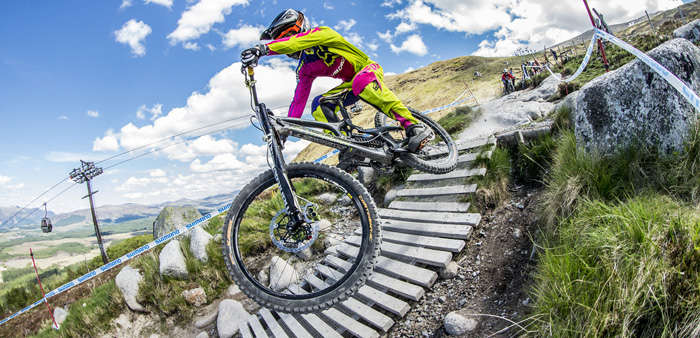 Claudio rides part of the challenging Fort William track – www.redbull.com
The most ideal person to initiate you in the Fort William's track is certainly Claudio Caluori, a talented Swiss mountain biker, who discovered his passion for mountain biking at a young age. Claudio entered the MTB rides competitions at the late 1990s, accomplishing important riding milestones until 2012. Currently back at the start hut of Fort William, Claudio is in charge of his infamous Red Bull Bike/ GoPro course previews sessions and filming.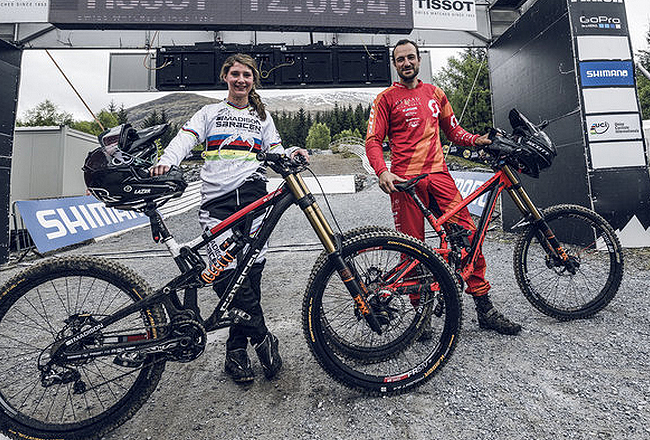 Manon and Claudio strike a pose at the finish line on the bottom of Fort William downhill track – www. redbull. com
Manon Rose Carpenter is a professional racing cyclist specialising in downhill mountain bike racing, riding for the Madison Saracen Downhill team. Inspired to follow this sport by her father, Jason, a BMX track builder who is also her coach, Manon attended and won in 2011 the Junior UCI Downhill World Championship and the Junior UCI Mountain Bike World Cup overall.
In 2013, Manon has been ranked third in the UCI Mountain Bike World Cup overall while in 2014 Manon finally became a double world champion by winning the UCI Mountain Bike World Championship and the UCI World Cup Mountain Bike Downhill Series.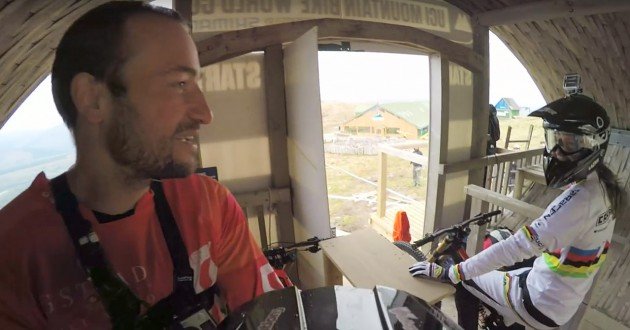 Claudio and Manon in the start hut of Fort William before attempting the downhill
Claudio Caluori together with the 2015 world champion Manon Carpenter, introduce us to the Fort William 2015 World Cup downhill course, by a head-on camera on Claudio's and going after Manon, while commenting this out of common experience and urging any follower to go down the dirt-hill.
While Claudio's commentary footage may make any viewer to burst into laughs, one would immediately realise that this is not a piece of cake downhilling. Catch your breath and watch how Claudio attempts to catch up with Manon's ability to hit the track of Fort William.