Leccese and Kalinina win African Kite Racing Championships in Soma Bay|Race Day 5
Leccese and Kalinina win African Kite Racing Championships in Soma Bay
June 24-28, 2014: Race Day 5
Soma Bay, June 28, 2014: The African Kite Race Championship 2014 began its fifth and final day with one last twist: with a significant drop in wind, the kiters seized their last opportunity to defeat their top rivals with a new challenge.
It had been a tough four days between German world champion Florian Gruber and his rival Riccardo Leccese. Leccese's determination to take the title from Florian Gruber was his drive in this competition and on Day 5 he achieved his goal.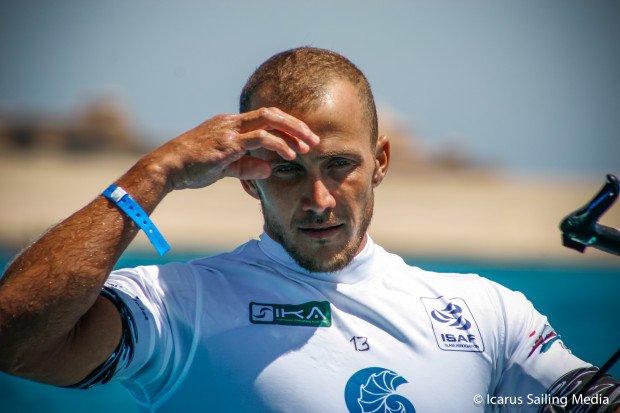 Riccardo Leccese / Italy: "We just finished the African Championships and I am stoked I won the event, I can't be more happy than I am right now. This event was very important for me and for my sponsors because it was the first event of the year where we are using the new gear. Soma Bay gave us the best conditions because we went through all the sizes and all the situations, like pretty strong and gusty winds and on the last day on the finals, we got pretty light wind, so we went through all the sizes and everybody had the chance to ride in their conditions and I managed to keep my head clear, the excitement down and I am pretty stoke that my scores were almost pretty clean all the way, 11 bullets, and then I was consistently second and now I am happy that I got the title and hopefully good things are coming from now."
Florian Gruber / Germany: "Today was the last day, and it was going great for me. I won the first race and in the second race I came 4th, my final result is runner-up, I am super happy with that, now we are going to the award ceremony and straight afterwards I will start training for the next races. I had a great time here."
In the women's division, Steph Bridge found herself thriving in the light wind conditions of Day 5 and overtook Elena Kalinina in both medal races. Overall, the week's challenges and conditions proved to be in Kalinina's favor and she defeated seasoned pro Steph Bridge placing first.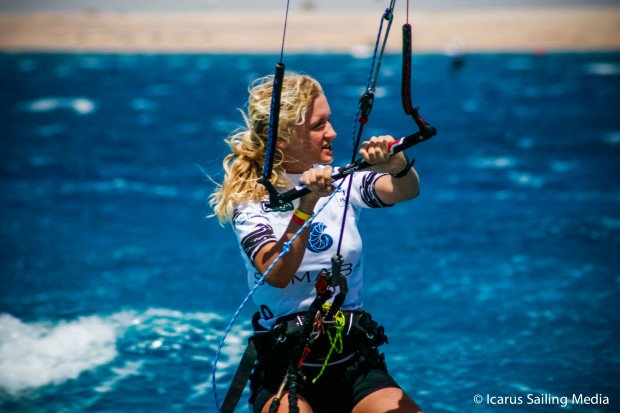 Elena Kalinina / Russia: "The African Championships are finished now, it was a really good competition, we had a lot of good races. I was racing with Steph Bridge and Aga from Poland and we were always fighting but finally I won, I am very happy about this and I wish that next year we will have this competition in the same place here."
Steph Bridge / UK: "After five days of racing we finished today with two medal races. The girls were in the platinum fleet. I was really happy because the wind was about 7 knots. I was on a tube kite and won the first race and I got second in the second medal race. That brought me closer to Elena but it wasn't enough to beat her so I'm overall second with Aga in third. To be honest it's been the most fantastic event because we've had a mixture of wind and light wind so it's been really good training for the world championship."
Oliver Bridge, who came in 23rd in 2013, made an amazing comeback in 2014 and held a steady 3rd place for a majority of the week. However, the light winds did not favor Bridge on the final day. Spain's Alejandro Climent Hernandez had been close on Bridge's tail and finally overtook him and landed himself in the third rank overall.
Alejandro Climent Hernandez / Spain: "I am 5th in the world ranking, I worked really hard towards this event, I finished third in the African Kite Championships and I am very happy about that because in the first days I did not feel so well and came on the 5th or 6th position and then I did all my best to take the podium."
Oliver Bridge / UK: Today we had some light winds so we were using big kites. I had some OK results, I got one 5th place and one 7th place. It wasn't too good for my ranking, I dropped down on to 4th in the overall ranking, I was not really able to keep up with the guys on the big foil kites so I got pushed down to the 4th place."
It has been an exciting week in Soma Bay as The Breakers Diving & Surfing Lodge, 7Bft Kite House, the IKA and the Egyptian Sailing and Water Ski Federation came together to take advantage of the incomparable kiting conditions of Egypt and the world-renowned skill of some of the world's top kiters to create an amazing week of heavy competition and pave the way to the World Cup final.
Markus Schwendtner / IKA: "It's the second time we are in Soma Bay for the African Championships. It has been a fantastic event. Four days full of wind, the last day was unfortunately a little bit light but it was good racing: the top riders in the world are here. Everyone was very excited and everyone wants to come back. This year we have a very nice event together with the Egyptian Sailing and Water Ski Federation and again we had great support from Soma Bay. Logistics, boats, everything worked out well."
Stefan Reichl / GM The Breakers Diving & Surfing Lodge: "Five days of racing are now over and we consider this as a really successful week for the racers, for Soma Bay and for sure Egypt. There was a lot of wind and it was a lot of fun and I think this is the most important part for all. I want to say thank you to the Egyptian Sailing Federation, Tourism Ministry, Ministry of Youth and Sports, and for sure to 7Bft Kite House and The Breakers for hosting the event and to all the riders. We will have tonight the prize ceremony and we are looking forward, with the band and the DJ, to have a nice evening together."
Soma Bay – one of the world's best kite spots
At Soma Bay, the best elements of the sea and desert converge at 7Bft Kite House's world-famous kite spot. Not only naturally beautiful, the spot offers the flat-water conditions and side-shore and off-shore winds perfect for world-class kitesurfing events. Soma Bay's five resort hotels, luxury spa, championship golf course, and vast house reef are what define it as an ultimately relaxing and exciting destination.
Organizers and patronage
Organized by the Egypt Sailing and Waterski Federation and the International Kiteboarding Association, chaired by the Egyptian Ministry of Youth and Sports, the Formula Kite Class and the TwinTip:Racing invited kiteboard sailors to take part in the 2014 Formula Kite Course Racing African Championships under specified conditions laid down by the International Kiteboarding Class Association in co-operation with the International Sailing Federation (ISAF).
Further information: