JACKALOPE action sports festival More action, more performance!
Montréal, Wednesday, July 2, 2014 – After an unprecedented success with MUD ROCKER last weekend, which welcomed some 18,000 people, Tribu Expérientiel  and the Action Sports Association are set to amaze and entertain the public once again during the 3rd edition of the JACKALOPE action sports festival, presented by AMNESIA Shops. From July 18 to 20, on the Esplanade Financière Sun Life at the Olympic Park, in Montréal, come see local and international athletes show us their serious skateboard, wake skate, freestyle motocross, fixed gear, parkour, slackline, and longboard skills. New this year:  the festival is proud to announce that it will be the host of the Canadian stop for World Cup Skateboarding 2014. Canada hasn't hosted a World Cup event for seven years, and now Montréal will welcome athletes from about 10 countries. Organizers are also announcing that an innovative urban aquatic competition will also take place, inviting wake skate professionals to compete in 200,000 litres of water! The event is free for the public.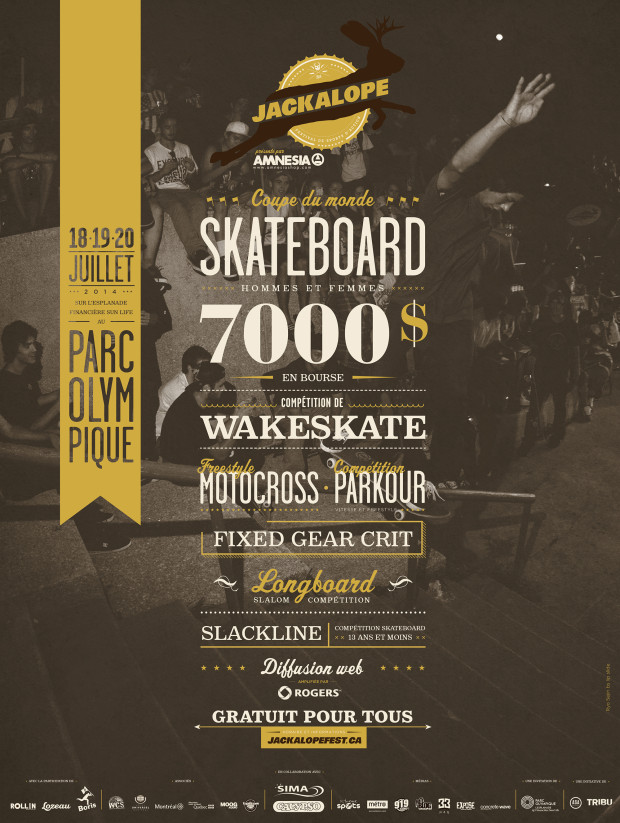 MORE NEWS
The winners of the 2013 World Cup Skateboarding—Kelvin Hoefler (Brazil), Tomas Vintr (Czech Republic) and Ryo Seiri (Japan)—will automatically qualify for the semi-final round at JACKALOPE 2014. JACKALOPE will also invite the winner of Far'n High (France), another stop on the WCS circuit, to attend the event. What's more, spectators can count on the appearance of extremely popular World Cup Skateboarding announcer, Dave Duncan, to bring eveything even more to life throughout the festival.
"JACKALOPE feels extremely privileged to be granted a spot on the WCS circuit—the only one on Canadian soil. The event will welcome world-class athletes from around the globe, which will raise this year's event to a whole other level," says Micah Desforge, JACKALOPE Promoter and President of Tribu Expérientel. "The festival is also opening up a category for female skateboarders and will present a junior competition for athletes under 13."
Making a splash this year:  an urban wakeskate competition that's sure to impress… not just by the prowess of the athletes but by the infrastructure as well:  two basins of water measuring 60 by 30 feet, totaling 200,000 litres of water, separated by a central module to show off unbelievable tricks. Spectators can also enjoy these installations throughout the weekend and over the course of numerous contests.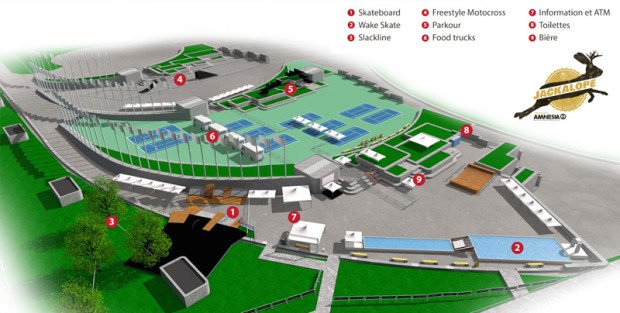 COMPLETE PROGRAMMING
Extreme acrobat experts will race to watch demonstrations put on by world freestyle motocross icon, Ben Milot. Urban cyclists will also be able to sign up for a fixed gear criterium (short course) competition. In addition, a longboard slalom competition is being held, and finally, amateurs and professionals in slackline and parkour will be showing us what they've got throughout the festival.  SCHEDULE>>> VIDEO >>>
The public can follow JACKALOPE live online, amplified by Rogers, and can also enjoy the DJ, food trucks and Boris Beer. JACKALOPE hopes to inspire festival goers with a video contest starring its action sports as well as surfing, wakeboarding, waterskiing, and kayaking. The video, featuring the 10 finalists, will be shown July 18 at 9pm, followed by an awards ceremony honouring the top winners.
ABOUT JACKALOPE
The festival take its name from the jackalope, a mythical animal of North American folklore resembling a jackrabbit with antelope horns and a symbol of self-mockery. Like the festival, it inspires creativity, strength and performance.
JACKALOPE is an initiative of Tribu Expérientiel and the Action Sports Assocation, presented by AMNESIA Shops and amplified by Rogers, in collaboration with Sima and Calypso. JACKALOPE receives invaluable support from the Esplanade Financière Sun Life at the Olympic Park, the ministère de l'Éducation, du Loisir et du Sport, as well as the City of Montréal. The event is also made possible by the participation of Boris Beer, Rollin Boardshop, Lozeau, World Cup Skateboarding, TopGrom, Moog Audio, and Hôtel Universel. Media partners are 33 mag, MTL Blog, RadioX, Exposé, Concrete Wave, Extreme Sports, and the Métro daily.
Follow JACKALOPE on Facebook @JACKALOPE and on Twitter @jackalopefest.
ABOUT THE PROMOTER
Tribu Expérientel is an agency specializing in youth experiential marketing that brings together companies and 13- to 34-year-olds through online strategies and concrete initiatives translating in positive word-of-mouth communication. Tribu Expérientiel reaches people who are, and remain, forever young. http://tribuexperientiel.com/en/
ABOUT AMNESIA
Amnesia, a Quebec retailer, provides an authentic retail environment that embraces our customers' individuality; who seek to express themselves through fashion, music and an active lifestyle. Passion is what fuels us to identify with and fulfill each customer's vision of themselves. http://www.amnesiashop.com/en/index.php