Discover Jackson Hole's Stunning Natural Beauty and Exhilarating Outdoor Adventures
If there's one thing Americans don't joke about, it's vacations. During summer, vacation gets to the top of everyone's scale of preference. And that's fine because engaging in outdoor activities enhances productivity. It's a fact that going on a vacation re-energizes, reinvigorates, and revitalizes everyone. That's why the revenue from vacation rental services in the US is projected to reach $18.517 million by the end of 2023.
There's a good chance you're also planning to go on vacation. That's likely the reason you're on this page in the first place. Are you considering heading over to Jackson Hole, Wyoming? Great! Keep reading to find out about vacation rentals in Jackson Hole.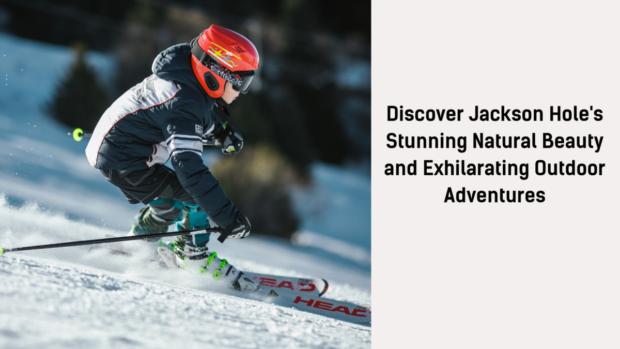 When choosing a vacation rental, most people prefer a well-equipped home in a serene environment. That's exactly what you'll get in Jackson Hole luxury lodging. You may continue reading to find out what you can do and where you can visit Jackson Hole, Wyoming.
What to Do in Jackson Hole
1. Visit the Grand Teton National Park
You'll immediately understand why it's one of the most beautiful attractions once you enter the park. Hikers can't resist the beckons of the picturesque trails at the park. Of course, the trails aren't meant for only hikers. Bikers can have their piece of the pie in the 200-mile diverse trail systems.
Furthermore, everywhere in the location is picture-perfect. That's why you should never hit the park without your camera handy. With lush vegetation, alpine terrain, beautiful lakes, and wildlife in its natural habitat, Grand Teton remains a popular vacation destination for a diverse range of tourists.
Whether it's summer or spring, the park always welcomes visitors with a warm embrace of mountains and fun-filled campgrounds. The sight of the park will set hundreds of ideas flying around in your mind.
2. Spend Some Time at Jackson Town Square
The arched elk entryway of this park is a piece of attraction itself.  Also, it has enough space for your kids to run around and expend some energy. Furthermore, you may want to grab a meal in one of the restaurants therein after checking out the art galleries.
Your kids will never turn down a combination of a covered wagon ride and some homemade Moo's Gourmet ice cream. The fun never stops.
3. Do You Mind Horseback Rides?
You might want to unleash your inner cowboy. There are a couple of ranches to enjoy some hours on horseback. It's all for fun. You can choose Mill Iron Ranch or Spring Creek Ranch. The former is rated #1 in the United States. It offers about 2,000 feet of horseback rides during which you'll enjoy some nice views of the Teton Range and Snake River Canyon.
However, this adventure is not for the faint-hearted. It's for the bold. Besides, it's not fit for kids that are younger than 6. Nevertheless, an hour of horseback riding will linger in your memory for a pretty long time.
4. Get Aerial Views in an Aerial Team
Even if you're familiar with the views around Jackson Hole, experiencing an aerial view is a whole new level. You may not understand the difference until you get some aerial views. And the best way to get some breathtaking and picture-perfect views is to ride on an aerial team.
The team will ascend to the mountain peak, reaching about 2,700 feet in approximately 10 to 12 minutes. While your ascent to the mountain top is mesmerizing, the real fun lies in some mountain-top views of Jackson Hole like the Teton alpine terrain.
At the top of the mountain, you can choose to get off the tram to engage in other mountain-top activities like paragliding, skiing, or hiking. And you can follow the tram back to the base of the mountain. Whichever option you choose, loads of fun await you.
You can go for this any time of the year. Worried about where to lodge? No worries – there are jackson hole home rentals that will remain open throughout the year. So, you're free to storm Jackson Hole anytime and get some mad fun.
5. You Could Enjoy Whitewater Rafting
Your vacation wouldn't be complete without spending some peaceful time floating on water and capturing the breathtaking views of Jackson Hole through your camera lens. Of course, it will be fantastic to float on water through whitewater rapids in Snake River Canyon.
You can raft through numerous stretches of the river and enjoy the calm and serene surroundings. On top of that, you'll get to see animals like elk, deer, moose, pelicans, osprey, and eagles. Experience a 3-in-1 adventure in a single raft trip.
Now that you've got several ideas of what to do in Jackson Hole, let's talk about where to stay in Jackson Hole.
The Beauty of Jackson Hole Luxury Cabins
Jackson Hole luxury vacation rentals offer several amazing cabins in awesome locations. Staying in one of Jackson Hole's luxury homes is a vacation activity on its own. And this is why?
There's Lush Vegetation
Some luxury cabins in Jackson Hole, WY are surrounded by rich vegetation in its natural form. Such an environment offers tranquility for those who want it. You'll also have access to some wildlife. In that case, you could sit in front of your Jackson Hole luxury vacation cabin for hours because there are a lot of sights to keep you busy.
All Jackson Hole Luxury Vacation Apartments Are Well-Equipped
Jackson Hole luxury vacation rentals offer cabins that can best be described as a home away from home. Yes, You'll find virtually everything you need in a home within the luxury cabins. Whether it's Wi-Fi, cable TV, a fridge, or a fully-equipped kitchen, you'll get it in these rental apartments.
The fact that all the homes have both air conditioners and heaters means you can pop into any of them any time of the year. You're always welcome. Comfortable beds, ample sitting areas, and laundry facilities complete the package.
There are Ample Outdoor Paces
If you're the type that spends several hours outdoors, Jackson Hole luxury cabins have ample outdoor spaces for you to lounge around and for your kids to run around. The surrounding scenic views will heighten the fun around your vacation apartment.
You'll get Adequate Privacy
As a standard, luxury home rentals in Jackson Hole, Wyoming, offer multiple-bedroom apartments. So, even if it's a group or family vacation, everyone will enjoy some level of privacy in their separate bedrooms. Of course, you may want to meditate for some minutes or hours. You can do that right in your bedroom.
There's adequate safety and security
The safety of lives and properties should be paramount always. That's why Jackson Hole luxury vacation rentals offer several safety measures for the safety of guests and occupants. There are adequate lighting, functional smoke detectors, secure locks, and other safety measures in and around these vacation cabins.
Now that you've seen what to do and where to stay in Jackson Hole, when should the city expect your arrival? Why not add Jackson Hole to your list of possible vacation locations now?