A Top 10 List of the Best Fat Tire Bikes to Buy in 2019
Chronic back, neck, and shoulder pain are common health issues for a lot of dentists.
If you're part of this group, you ought to make regular exercise a top priority. Exercising can help to correct muscle imbalances and reduce discomfort caused by sitting and hunching over all day.
One of the best workout options you might want to try is known as fat tire biking.
Never heard of this sport before?
Read on to learn more about it. You'll also get information on some of the best fat tire bikes you might want to purchase in 2019.
What is Fat Tire Biking?
Fat tire bikes are bikes that have very wide (or fat) tires. Because of their size and shape, these tires make it easy for folks on bikes to navigate through difficult terrains, such as sand, mud, rocks, and even snow.
Fat tire biking isn't about speed, as these bikes move much more slowly than other bikes. However, it does allow you to get out in the fresh air and explore areas that you wouldn't be able to access otherwise.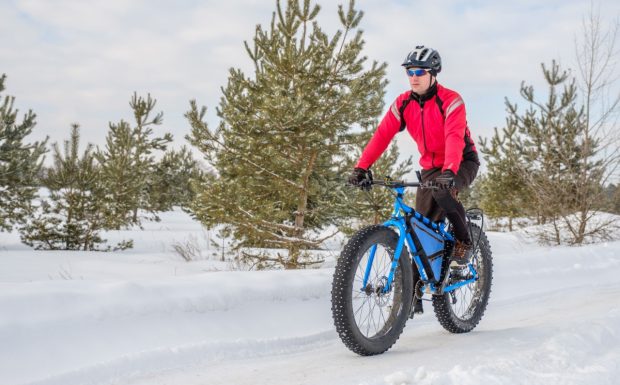 Best Fat Tire Bikes of 2019
Now that you know more about what fat tire biking is, does it seem like something you might want to try? If so, here are ten of the best bikes you ought to consider purchasing:
1. Mongoose Dolomite Fat Tire Bike
Mongoose is one of the best and most well-known bike companies in the world. A list of top bikes (fat tire or otherwise) wouldn't be complete without mention of a Mongoose or two.
The Dolomite Fat Tire Bike features front and rear disc brakes that allow for fast stopping. It also has a Shimano 7-speed gear that makes difficult trails much easier to navigate.
2. Mongoose Malus Fat Bike
Another good Mongoose option is the Mongoose Malus Fat Bike. This bike is a little flashier than the Dolomite, with a stylish silver body and dark gray rims.
Its cruiser frame design allows it to perform well on sidehills and all kinds of unique terrains. This bike is great for daredevils, but it's still beginner-friendly and is a good option for those who are new to the sport.
3. Gravity 2018 Bullseye Fat Bike
The Gravity 2018 Bullseye features a sleek and stunning black finish, so it's perfect for those who want to ride in style. Its 27-inch tires and 6061 aluminum frame allow for miles and miles of smooth riding action, too.
This bike is easy to modify and upgraded to fit your specific preferences. It also comes at an affordable price point, making it a good fit for those who are new bikers and don't want to invest a ton of money upfront.
4. Framed Minnesota 2.0 Fat Tire Bike
The Framed Minnesota 2.0 is one of the most comfortable and reliable fat bikes on the market.
With its lightweight frame and all-weather fat tires, you'll have no trouble controlling this bike while navigating even the toughest of terrains. It's very responsive, too, making it a great choice for beginners.
5. Framed Minnesota 2.2 Bike
The Minnesota 2.2 is another great option from Framed.
This model is similar to the 2.0, but it features an added 2×10 gearing and an enhanced control system for even more precision. It also has even better brake power than the 2.0.
If you want the latest and greatest that Framed has to offer, the Minnesota 2.2. is worth considering.
6. Salsa Beargrease
If you want a bike that is perfect for snow-riding, you can't go wrong with the Salsa Beargrease.
This bike features rack, bag, and pannier mounts for bikepacking and can accommodate tires up to five inches.
It's perfect for snowy trails and very technical areas, and its drivetrain is 1x specific, so it's easy for mountain bikers to adjust to it.
7. Pivot LES Fat
The Pivot LES Fat is lightweight and very versatile.
It's also highly customizable. You can easily adjust the tires to fit your specific preferences, and the frame accommodates tires up to five inches wide. It features great power transfer, too.
8. Canyon Dude CF 8.0
The Canyon Dude CF 8.0 is a carbon bike with a lightweight frame and low gearing that makes it easier for you to power up steep hills. It's also much more affordable than a lot of other fat bikes.
The components of this bike are considered entry-level, so you may have to upgrade them at some point as you become more advanced. You'll definitely want to hang onto the frame, though.
9. KHS 4 Season 500
With its aluminum frame and Shimano drivetrain and hydraulic brakes, the KHS 4 Season 500 is a highly reliable fat bike perfect for those who want a high-performing ride.
It does well on sand and snow as well as on trails and comes in four different sizes.
This bike is heavier and comes with a steeper price tag than a lot of other options. Considering all that it offers, though, it's still a great deal.
10. Surly Big Fat Dummy
With a name like the Big Fat Dummy, this bike has to be a good option, right?
The Surly Big Fat Dummy is perfect for anyone who wants to go on long biking trips while enjoying all the benefits of fat biking listed in this article.
The Big Fat Dummy provides tons of cargo space. It's perfect for taking on long biking or camping trips, and you can also use to haul groceries back from the store. The possibilities are endless!
Try Fat Tire Biking Today
Are you ready to take a break from your work in your dental practice and do something fun and active? Fat tire biking is a great option that will get you out in the fresh air and give you a chance to burn some calories at the same time.
Now that you know more about the best fat tire bikes on the market, it's time to pick one up. Keep this list in mind and it'll be easy for you to find a great fat tire bike that meets all your needs.
Don't forget to check out some of the other physical and mental health-related articles on our site, too. They feature lots of information to help you find a good work-life balance.