ABOUT THE SPOT
RELEVANT ACTIVITIES & OFFERS
Wind Surfing in Diani Beach, Kwale, Coast Province Kenya
Water:
Flat, chop and Waves
Diani Beach is located at 30 km/18 mi south of Mombasa town, 45 km/27 mi from Mombasa International Airport and 5 km/3 mi from the Ukunda airstrip. The beach stretches at about 25 km/15 mi long with stunning coral reef and huge marine life. The pearly white sand blends into warm blue waters making it a perfect spot for beach holiday!!
Diani Beach offers perfect conditions for all levels of winsurfing. Wind conditions at Diani Beach are ideal with two major wind seasons providing great surf. The Northerly winds commonly known as Kaskazi (December-April) and the Southerly winds known as Kuzi (June to September).
During the northerly winds, days get as hot as 35°C/95°F with wind strengths of 16-22 knots while during the more harsher season of the southerly winds temperatures range between 22-28°C/71.6-82.4°F with wind strength of 20-28 knots. The beach offers a 984 ft / 300 m reef from the shoreline and has a lagoon type condition for beginners. For the more advanced surfers, the reef also provides superb wave riding and jumping ground.
Wind surfing at Diani Beach has its peak seasons which is normally June and September
Relevant activites based in
Kenya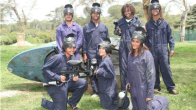 Paintball session, Nairobi
Tuesday to Saturday the charge  is 13$ for 100 balls per head. On Sundays we give a discount whereby the charge is 10$ for 150 balls per person, which is inclusive of the protective gears and all the equipment used in the game.
We also have lunchbox packages that go for 20$ and salad packages for 15$ inclusive of the game. Each game session goes for 1 hour and  30 minutes.
We are open  from 9.30 am to 4.30 pm.
+ More
Sundays 10$ for 150 balls per person