ABOUT THE SPOT
RELEVANT ACTIVITIES & OFFERS
Kayaking in Cape Point, Cape Town, Western Cape South Africa
Without doubt, Cape Town is one of the most beautiful cities in the world, boasting striking mountains, a long stretch of the Atlantic Ocean coastline and an intriguing working harbour. Located at the shores of Table Bay in the Western Cape province of South Africa, it enjoys an ocean Mediterranean climate with mild moderately wet winters and dry warm summers.
Cape of Good Hope is all about peace and dazzling beauty, contrary to the stereotype "Cape of Storms", earned by the early days navigators.
Experience the magic of the Atlantic Ocean while kayaking and being surrounded by the sea cliffs and immense sea life. Kayaking at this spot is weather dependant and normally conducted under clear and bright weather, with no signs of any wind. The trip lasts 3 hours with a paddling section just above 4 km/2 mi. Maximum pax is 6 for better management and it is advisable that an individual is of high level of fitness, with some paddling experience. Some of the sea life to be admired includes jelly fish, whales, dolphins, seals, gannets just to mention a few.
Since paddling depends on the weather, it is advisable to make advance bookings and in case the weather does not permit, you will be always notified.
Relevant activites based in
South Africa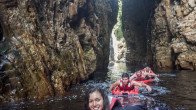 Rafting/Kayaking, Tsitsikamma
/
South Africa, Storms River Mouth, Tsitsikamma, Western Cape
This 2-3 hour adventure is the most popular adventure activity where you can experience the best that Tsitsikamma offers! If you are keen to explore deeper into the Storms River Gorge, and experience the deep, long, quiet pools with ancient forests and deep caves then the kayak and lilo trip is for you!
+ More