ABOUT THE SPOT
RELEVANT ACTIVITIES & OFFERS
Wind Surfing in Watamu Beach, Malindi, Coast Province Kenya
Watamu Beach is located at 120 km/74 mi in the north of Mombasa and 28 km/17 mi in the south of Malindi, the nearest big town.
The shoreline of this area consists of white sandy beach and offshore corals forming three bays, namely Watamu bay, Turtle bay and Blue Lagoon. The bay is protected by a coral reef almost 0.5 km/546.81 yd off the shore. The reef provides with calm waters within the reef along with amazing waves.
Winds are reliable most through the year allowing for amazing windsurfing experience. Best time to go windsurfing here is from January through to April and July through to September with winds howling between 16-25 knots.
June, July and August have the strongest winds giving the advanced surfer an opportunity to explore the reef with swells between 2-3 m/6-9 ft. Warm water throughout the year allows for marvelous wave riding and no need for wet suits, just don't forget your sunscreen cream due to the heat.
Relevant activites based in
Kenya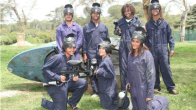 Paintball session, Nairobi
Tuesday to Saturday the charge  is 13$ for 100 balls per head. On Sundays we give a discount whereby the charge is 10$ for 150 balls per person, which is inclusive of the protective gears and all the equipment used in the game.
We also have lunchbox packages that go for 20$ and salad packages for 15$ inclusive of the game. Each game session goes for 1 hour and  30 minutes.
We are open  from 9.30 am to 4.30 pm.
+ More
Sundays 10$ for 150 balls per person