ABOUT THE SPOT
RELEVANT ACTIVITIES & OFFERS
Mountain Biking in Arabuko Sokoke Forest, Malindi, Coast Province Kenya
Difficulty:
Moderate to Hard
Altitude:
200-400m/656-1312ft
Watamu Beach is located at 120 km/74 mi in the north of Mombasa and 28 km/17 mi in the south of Malindi, the nearest big town. The shoreline of this area consists of white sandy beach and offshore corals forming three bays, namely Watamu bay, Turtle bay and Blue Lagoon. The bay is protected by a coral reef almost 0.5 km/546.81 yd off the shore.
For bikers who love to spice up their rides, Watamu offers several routes but the recommended path for the ultimate experience is the Arabuko Sokoke Forest path.
The main access is at the Gede Forest station at 1.5 km/1640 yd from Watamu and at an altitude in between of 200 m/656 ft and 400 m/1312 ft.
The trail starts at 6 km/3 mi from the Gede entrance and runs for 30 km/18 mi.  Level of of difficulty here is rated moderate – hard. The path is woven through spectacular coconut groves and mango plantations with some sandy  stretches and peddling can sometimes be impossible. The biking expedition is a guided tour with a qualified guide.
Relevant activites based in
Kenya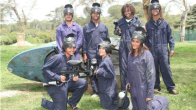 Paintball session, Nairobi
Tuesday to Saturday the charge  is 13$ for 100 balls per head. On Sundays we give a discount whereby the charge is 10$ for 150 balls per person, which is inclusive of the protective gears and all the equipment used in the game.
We also have lunchbox packages that go for 20$ and salad packages for 15$ inclusive of the game. Each game session goes for 1 hour and  30 minutes.
We are open  from 9.30 am to 4.30 pm.
+ More
Sundays 10$ for 150 balls per person