ABOUT THE SPOT
RELEVANT ACTIVITIES & OFFERS
Jet Skiing in Bamburi Beach, Mombasa, Coast Province Kenya
Water Temperatures:
28-29°C/82.4-84.2°F
Bamburi Beach is a 20 minutes drive from Mombasa town and 45 minutes from Mombasa International airport. It overlooks the calm waters of the Indian Ocean and within the Mombasa Marine Park. The calm crystal clear waters offers an overwhelming sea experience.The beach is calm due to an offshore reef and during high tides it can get narrow at places and also seaweed infested.
Given that the best months to visit the spot is from January to March, when days are dry and humidity at very comfortable levels, jet skiing in Mombasa is conducted most of the year even during the rainy season.
It should be noted that there are fine days with almost 9 hours of sunshine. Sea temperatures are warm and range between 28-29°C/82.4-84.2°F. It's worth getting on the jet skiing adventure and be able to discover one of the many hidden creeks behind mangroves and experience the unique freedom of riding through these areas at the Bamburi beach.
Relevant activites based in
Kenya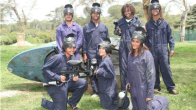 Paintball session, Nairobi
Tuesday to Saturday the charge  is 13$ for 100 balls per head. On Sundays we give a discount whereby the charge is 10$ for 150 balls per person, which is inclusive of the protective gears and all the equipment used in the game.
We also have lunchbox packages that go for 20$ and salad packages for 15$ inclusive of the game. Each game session goes for 1 hour and  30 minutes.
We are open  from 9.30 am to 4.30 pm.
Comments / Reviews
+ More
Sundays 10$ for 150 balls per person