ABOUT THE SPOT
RELEVANT ACTIVITIES & OFFERS
Kiteboarding / Kitesurfing in Galu Beach, Kwale, Coast Province Kenya
Wind Factor:
10-22 kn/18.5-40.7 kph
Having earned itself the name "Maldives" of Kenya, Galu beach is situated at 5 km/3 mi away from Diani Beach. The spot is calmer than the busy Diani Beach and boasts an indigenous flora. The white sandy beach incorporated with the clear turquoise waters offers a perfect choice for an amazing beach holiday.
The beach space galore and offshore winds makes it a great kite-surfing spot. Galu beach is a convenient and safe for all levels of kitesurfing. For beginners the flat water within the reef allows for perfection and control while for the more adrenaline filled, the reef which is located almost at 800 m/2624 ft offshore, offers waves up to 1-2 m/3-4 ft.
The wind seasons at Galu are basically into 2, Kaskazi (Northerly winds) and Kusi (Southerly). Kaskazi blows from December  to May with winds on average 10-14 kn/18.5-26 kph in the morning and up to 16-22 kn/30-40.7 kph of warm trade winds in the afternoon. During the Kusi season, which kicks in from June to November, winds are much stronger and waves much larger and temperatures at this season normally would range between 24-28°C/75.20 to 82.40°F giving an ultimate kitesurfing experience.
Relevant activites based in
Kenya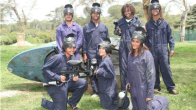 Paintball session, Nairobi
Tuesday to Saturday the charge  is 13$ for 100 balls per head. On Sundays we give a discount whereby the charge is 10$ for 150 balls per person, which is inclusive of the protective gears and all the equipment used in the game.
We also have lunchbox packages that go for 20$ and salad packages for 15$ inclusive of the game. Each game session goes for 1 hour and  30 minutes.
We are open  from 9.30 am to 4.30 pm.
+ More
Sundays 10$ for 150 balls per person